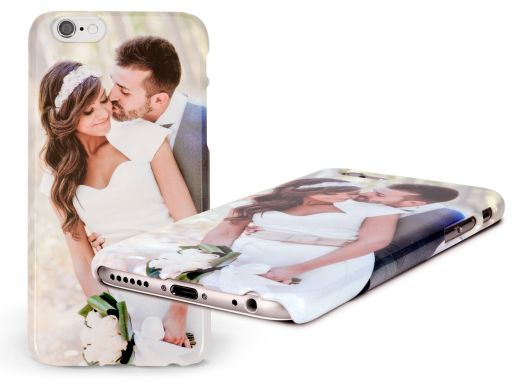 Personalised iPhone 6/6s Case
from £2.99, shipped Monday 25th
Full image wrap around the sides to suit the Apple iPhone 6, 6s or 6 Plus Smart Phone. Design your unique iPhone 6, 6s or 6 plus case online in minutes using our simple editor
Cut outs at top and bottom and side for button/charging access
Sturdy protective case
Scratch resistant
Gloss finish
iPhone 6s

£14.99

£8.92
iPhone 6

£14.99

£8.92
Delivery information and costs for this product range;
Standard delivery - Royal Mail Non tracked service
Estimated 3 to 8 working days
from £2.99
Courier Standard - Parcel Force
Estimated 2- 4 working days
from £9
Priority Tracked - Royal Mail
Estimated 2 - 4 working days
from £7.98
Courier Standard - Parcel Force
Estimated 2- 4 working days
from £18.60
Priority Tracked - Royal Mail
Estimated 2 - 4 working days
from £7.98
Courier - Ireland
Estimated to 2 - 5 Days
from £6.32
Standard delivery - Royal Mail Non tracked service
Estimated 3 to 8 working days
from £2.99
Courier - Priority
Estimated next working day
from £6.60
Priority Tracked - Royal Mail
Estimated 2 - 4 working days
from £7.98
Customer reviews
4.9/5
Based on 267 customers
This is the second photo cover I have bought from you - great quality and no problem fitting

I ordered my phone cover whilst I was away visiting my new born grandson after seeing that my daughter had ordered one recently. I ordered it whilst away for a few days and by the time I got home it had been delivered. The quality and service is very good and there was no way my case was going to get damaged as it was very packaged. I would highly recommend pixaprints and will definitely be ordering from them in the future.

Excellent quality, service, price, and delivery - thank you

Excellent phone case, very good price, photos are wonderful!

The black and white photo that I chose for my phone case reproduced somewhat darker than expected. I may decide to reorder.

Another great product here and undoubtedly not the last I'll be getting through pixaprints. However this one did have an odd green hue to it that kind of dulled the image slightly so I cant give a perfect score. Otherwise great all round.

From ordering online, to me messing up my own order, contacting you, then you responding immediately to help me correct my mistake, to delivery. Absolutely superb!

The best quality case I've received, I have previously tried a few other branded companies for the same product and none compare. Excellent service, speed and quality. Would definitely recommend

Bought as a gift ! Recipient well impressed with result. Communication good and arrived on time.

Fantastic quality, easy to design and order, would definitely recommend

Came really quickly and good quality!

All good and quick lead time

Great iPhone cover for my wife with pic of the dog I know where I am in the pecking order

The photo quality is very high definition , the colours are true to the image and the case itself is strong and durable. Very good quality, smooth finish and overall looks great!

Absolutely love this phone case it's such a strong case and the gloss finish makes it much better would definitely order more from pixaprints highly recommend

Has been the best quality photo phone case I've ever bought as a gift. Wish I didn't stray to another company last year for the better price because the quality was rubbish and has cracked several times. Thumbs up.

Great finish, speedy delivery - would recommend

Photo is extremely high quality and has a beautiful all over glossy finish.

Arrived promptly, super smart

my 13 year old son loves it. has his football teams badge on it, was a gift for xmas and its never been of since. 6.months later and still is in excellent condition.

Great quality strong case. Fits phone perfectly.

Amazing design and finish. Always kept up to date with my order and delivered super fast! Extremely happy and would definitely recommend, I will be using Pixa Prints more in the future no doubt about it!

I am really pleased with my phone case I love it

Easy to upload pictures from my phone and fast delivery!

Very pleased with this phone case, great design and quality finish.

Got this as a mother's day present for a nanny from grandkids...she will love it

The product arrived within days of ordering and looks great. The case fits well and the design I asked to be printed is exactly what I ordered. Thank you xx

Super easy to order, Super easy to customise! Definitely recommend. I also really love how they suggest wether the photos being used would be good quality or not, really helped.

Couldn't be happier with my phone case!! Nice glossy finish, sturdy and picture quality excellent

This is the second phone cover we've ordered and the quality is fantastic! We wil definitely be ordering more from you in the future :)

Great Xmas present that was highly loved. Will definitely order again

Brilliant phone case, perfect fit & arrived very quickly

Came very quickly and was so impressed with my case

Looks really good and delivery was speedy even in the run up to Christmas it only took a couple of days to arrive

Product easy to design Came quickly Looks excellent, great finish.

iPhone 6s multi photo cover Orders as a gift. Great service, speedy delivery, great product. Really looks lovely

Really really happy with this product ! I cannot believe how well it came out. My partner is going to be thrilled ... especially when it's so sentimental and warming. Something he can cherish ??

I have ordered plenty and can honestly say these are the best on the market. Very well made and hardwaring.. last well over a year

It came out better than expected

I order an iphone 6 picture case quality was amazing loved it definitly would purchase again

I'm really pleased with the quality of my phone case and I will be sure to use again to order in the future

I got this for my boyfriends birthday present; I was really worried about the quality as I hadn't used this site beforehand but I was so amazed by how it turned out. Great quality and really did the photo justice of his dog that had just passed. Very grateful!

Quick and easy to make, fast delivery and even money off from points earned!

Quick service and very good quality have ordered another.

Absolutely love my iPhone case. Fantastic quality Quick service and delivery Will definitely be using again

Soo happy with what i got exactly what i ordered great costumer service

I love my iPhone case really great quality and it's fits really well all my friends love it

Just as always, absolutely delightful printing!

I am so happy with the service and the quality of the product.

Would definitely use this website again, it's probably the best money I've spent on a case and it's reliable.

Very happy with the quality of the picture and how quickly they could deliver.

This is an excellent product. It fits my iPhone 6s like a glove. The whole process of design and ordering was very easy and the design options were plentiful. To all this add in the price which was very reasonable for a unique and very personal product, and I was able to use my points from a previous order to get a discount!

Picture quality is great, but I really don't appreciate how the case doesn't cover the top or bottom of the iPhone 6s. Because of this I am not willing to use it as my phone case & it is a waste of money to me.

Love how this looks and have had some great comments so far, hope to be ordering many more in the future.

I ordered myself a phone case off here and showed my mum and she fell in love with it. I ordered my mum one and she loves it! Amazing quality. Will continue to get products off this website!!

My iPhone 6 phone cover came out better than I ever expected! I am so so happy with it and would recommend this site to everyone

Fits perfectly great design and my partner loved it for his Father's Day gift would highly recommend using your most favourite pictures to create a priceless gift for a loved on or even yourself

This is now my 6th phone case. Great service excellent picture quality. Highly recommend

Super speedy delivery, really happy with phone case better than expected

Very good quality excellent

Came out better than expected. Very good quality. Made a lovely gift. Thank you

I wanted a new case fro my Iphone 6, so found a good pic and had it made. It was really easy to do, and inexpensive compared to buying an ordinary one. It arrived very quickly and I am delighted with the result it looks fab. I show it to everyone and it gets a great reaction

I ordered a phone case late on Tuesday 6th June and was given an expected delivery date of Friday 9th June. The case arrived on the 8th which is super quick!! It was for my daughters birthday, she is so pleased with it! The quality seems really good too. Thank you for a great service!!

Fantastic customer service Very quick Superb quality

Was a present for my husband he was thrilled .thank you

Very happy with the whole process from the great, easy to use, website and editor tool through to the swift delivery and high quality finish to the case. Will be purchasing again.
100% satisfaction guarantee
High quality printing
Fast delivery ,
shipped by Monday 25th