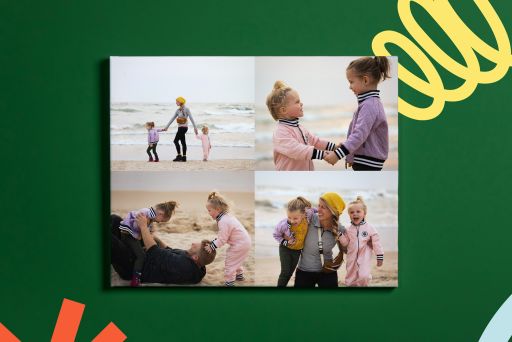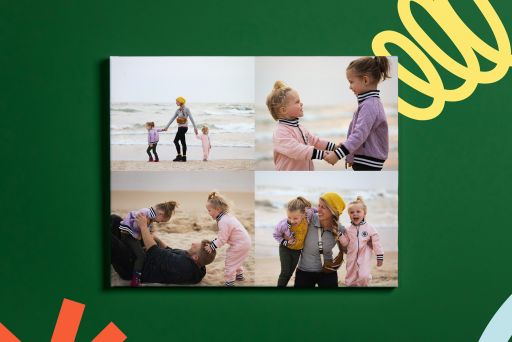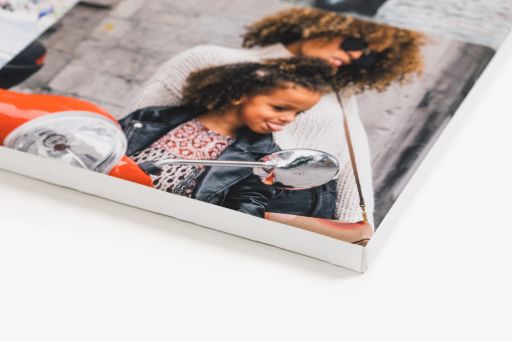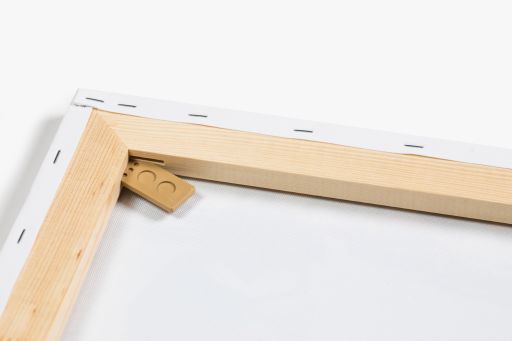 Collage Canvas Prints
100% satisfaction guarantee
Looking for wall art but don't know what to choose?
Want to capture memorable moments, have a favourite photo and don't know how best to display it?
Order a collage canvas print from us at Pixa Prints and choose from a selection of photo layouts.
Each collage canvas is hand-stretched onto 18mm or 36mm bars and is available in portrait or landscape orientation for greater choice.
Our beautiful photo collage canvas prints are;
Ready to deliver in 24 hours
Available in a range of collage canvas layouts
Printed on high-quality canvas print, priced low every day!
Able to be printed with a background colour
Created with super quality, ten colour HDR printing
Shipped with a hanging kit for ease of installation
The ideal decor for any gallery wall
The same price for 36mm as our 18mm (for a limited time only)!
Get your next canvas print from Pixa Prints. Wall art has never been easier to create -buy a custom premium canvas print -or more- for your gallery wall!
Square
| | |
| --- | --- |
| 25cm x 25cm (10in x 10in) | £10 |
| 30cm x 30cm (12in x 12in) | £15 |
| 40cm x 40cm (16in x 16in) | £18 |
| 50cm x 50cm (20in x 20in) | £28 |
| 60cm x 60cm (24in x 24in) | £33 |
| 75cm x 75cm (30in x 30in) | £42 |
Rectangle
| | |
| --- | --- |
| 30cm x 40cm (12in x 16in) | £15 |
| 40cm x 50cm (16in x 20in) | £20 |
| 40cm x 60cm (16in x 24in) | £22 |
| 50cm x 75cm (20in x 30in) | £30 |
| 60cm x 91cm (24in x 36in) | £42 |
| 75cm x 100cm (30in x 40in) | £51 |
Delivery information and costs for this product range;
RM standard Non Tracked service
Estimated 3 to 5 days
from £4.80
Parcelforce Tracked Courier Service
Estimated 2 to 3 days
from £8.99
Royal Mail Special Delivery
Estimated 1 to 2 days
from £9.60
Priority Tracked - Royal Mail
Estimated 3 to 5 days
from £7.98
Priority Tracked - Royal Mail
Estimated 3 to 5 days
from £7.98
Courier - Parcel Force - Channel Islands
Estimated 3-4 working days
from £18
Courier - Ireland Tracked service
Estimated 2 - 3 Working days
from £9
RM standard Non Tracked service
Estimated 3 to 5 days
from £4.80
Instore Collection - Banbridge
Mon-Fri 9am -3.30pm
from £3
Courier - Priority
Estimated next working day
from £7.20
Priority Tracked - Royal Mail
Estimated 3 to 5 days
from £7.98
RM standard Non Tracked service
Estimated 3 to 5 days
from £4
Priority Tracked - Royal Mail
Estimated 3 to 5 days
from £7.98
Courier - Parcel Force - Highlands & Islands
Estimated 3-4 working days
from £15.60
Customer reviews
5/5
Based on 239 customers
I've just returned from an amazing cruise and I wanted to display some of my photos and after a lot of research I came across this company. It's my first time using them and I will definitely be using them again in fact I have a couple of designs in my basket ready to go. I had a few questions about things and they were answered and dealt with promptly. Delivery was earlier than expected as well and they come packaged safely. Excellent company and definitely recommend.

I was delighted with the easy of creating my canvas, and the overall service including responding to questions. I placed the order around 16:00 on Tuesday 18th and the canvas arrived around 13:00 on Friday 21st, excellent service and very well packaged. Will be ordering another as soon as I get organised - sorry not showing pic as it includes others

this product after sent out arrived 4 days early with the slowest shipping. the product is amazing quality it does not feel like it will break and also has an amazing print quality even in my case where the reference image was 2m-2m. would recommend.

Great product at a great price. One very happy customer

Was a christmas gift and ordered late so really surprised it arrived before the big day. great quality and very quick delievery

The canvas picture are awesome and really good quality from the print to the frame itself. Fantastic value.

Would highly recommend. Super fast made and delivered. Beautiful personal picture of my dogs

Many thanks, family have been delighted with them. Looking forward to ordering more!

Canvas was exactly what I expected

I only had trouble going the picture in the order I wanted as would go into the wrong box but other then that it was great and would order again

This is my 7th collage canvas, and I continue to be delighted. So quick to design, drag photos in & order - all done with ease. The quality of the photos is fab. Would recommend

Great product. About to order another one !

My collage canvas was excellent. My friends was so surprised and happy because this Was gift for them ????

Had so much fun designing it. My first canvas with pixaprints. Simply stunning x

Lovely canvases and quick delivery highly recommend

Great service as usual from Pixa Prints. Wouldn't order from anywhere else now.

Quick delivery, amazing quality and I would totally recommend buying from this company, I certainly will be again

I love my canvas its perfect, great quality. I always use pixa prints for all my canvases and just order loads more gifts for xmas!

So pleased when I ordered a calendar I was happy to also order a collage canvas

It was really easy to create the canvas painting, even on a mobile device. The notes on the image quality once added to the painting helped to ensure I am not selecting any that would be blurred once printed. Delivery was on time and it was a great pressent

I made this for my best friends 21st birthday. He loved it. It was so easy to upload the images and I could even drag an image onto the background

The website it so easy to use . The product is great quality and looks fantastic. It was great I could order last minute and the order arrived exactly when promised.

Once again an excellent canvas produced from my photos.

I love my canvas you did a great job

Could not say anything bad about this item..

very good quality very happy came in time for Christmas

The whole process from designing to delivery was excellent. The final canvas image quality was superb. I was very happy overall.

amazing canvas - excellent colour and focus. Quick turn around and packaged very securely. have already shopped with pixa

Came exactly as expectated, very quick service and delivered before the expectated date. Very pleased and will be using again!

Excellent Canvas and excellent price the pictures look fab and its looks amazing on wall

Super quick delivery from placing order. Whole canvas prints are excellent. Really good quality frame. Love it!

It's the first I used pixaprints for canvas for my parents Anniversary, and the they loved the canvas, quality of pictures were amazing even tho we used one of old black white picture. And they delivery was very quick so definitely recommend pixaprints.

Easy to create. Really like the way you can enlarge the photos and it automatically lets you know the quality of the photo. Brilliant.

I ordered a canvas print of my dogs, when it came it was lovely. Arrived earlier than expected too. Great product and great service.

Really good quality canvas would definetley use again

My collage was for display at my father's memorial service to tell the story of his life. Some of the photos were old, creased and very small and I was warned when placing them that they were low quality and might be blurred so I was worried that the finished result would be less than great. I need not have worried. The finished result was absolutely brilliant. It became the focal point after the service and was much admired. I will definitely use this service again - for a happier occasion this time!

great quality canvas, will order more in the future!

Was well packaged and great quality! Another happy customer!!

I was very surprised at just how much control you have over designing your own product. Changing shapes, sizes and number of photos on the collage canvas. Very easy to do, swift delivery and great product. Love the fact it also tells you the quality of your photo so you know if it will work out well or not. Will absolutely be using again and recommending.

Iv ordered from this company several time each time iv be more than impressed the quality is amazing ease of ordering is brilliant and delivery is very fast I'd recommend this company to everyone ????

Absolutely love my order. Will be returning to order more. Many thanks

Lovely canvas picture. Great service. Can't fault it.

Great product it loooks lovely couldn't be happier. It is an exellent present just what i wanted.

Good quality product. Excellent for gifts.

Looks really good on my wall

I'm very happy with this product. It was got my son's 18th birthday and it is so great to see some of his special photos from birth all on 1 display with great quality. Super fast delivery too. Thank you!

Happy with the service from start to finish. .

Really happy with how the quality of the picture(s) have come out on the canvas, I will defiantly be ordering more product, Especially love the fast delivery!

Would recommend to others

Would highly recommend this.. it arrived super fast and I'm thrilled, I incorporated pictures of the whole family and now we will always be together.... it's bright, cheery, and a real feel good piece, quality and print are superb

Lovely quality, so happy with it. Will definitely do another one.

The build and quality of the frame, together with the superb reproduction of my prints are really fabulous quality. Highly recommended and I will certainly buy another in the future.

the canvas I ordered looks absolutely beautiful I am so so happy with it!

Very happy with the communication I received. Quality of product was great

Easy to use website. Great delivery, well packaged and delivered by royal mail within 3 days. Ca t fault it and the finished product looks great

This was my second collage canvas ordered in the same design. It was easy to create and I was even able to enhance the quality of my photos for it. Excellent quality and packaging, and I was kept informed of progress from the minute I ordered it to it being delivered. Excellent value for money.

Best canvas maker I've been to my nan loved her 90th birthday present

I am absolutely thrilled with my canvas. Excellent quality and good value for money. Dispatched fast and received within acouple of days. For anyone considering ordering believe me you will not be disappointed. Id definitely use pixa prints again in the future

Great canvas for the price really good size and well packaged and really fast service

Very pleased even thou some of pictures were over 50 years old ???? Will definitely use you again Thankyou

My order was delivered very fast, and I'm so happy it's a Christmas present for my daughter and she is going to be over the moon. I didn't expect it to be so high quality for the price but it was more

Purchased this frame/design as a Birthday gift. I was a little sceptical considering the price I paid but need not have been. My only gripe is the delivery cost which is not shown until you are at check out, if you have an introductory code if may be absorbed by the delivery charge. Whoever...... The whole process from choosing frame to payment was a breeze, and the online tools, though basic worked well, a nice touch is a traffic light quality system based on the image so you get an idea of the quality in real time. Overall I am am happy and so was the person who received the item. Clean and clear quality prints with crisp, vibrant colours. Easy to use website from design through to payment.

Ordered as a present for my mum. Love it!

Highly recommend Pixa Prints. Very handy your "design service". We are happy with the results. Now we have nice collage of family photos.

I'm really very happy with my purchase and everyone is commenting how great it looks
100% satisfaction guarantee
High quality printing
Fast delivery ,
shipped by Tuesday 5th
More about Collage Canvas Prints
Collage canvas prints are a perfect way to showcase your memories. Photo gifts are a thoughtful reminder of past events. If you're struggling to pick a photo, a collage canvas is your best option as it allows you to add a selection of images.
With a collage canvas, you can use multiple photos as a montage. The larger the canvas size layout, the more detail can be displayed. Simply use our online collage template software, and you'll see it form in front of your eyes.
Finishing options
Gallery Wrap image
Gallery wrap is the default method we use for our canvas prints. With gallery wrap, the photo or image is printed and stretched around the sides, ensuring no white canvas is shown.
This method gives a modern looking finish; however, it does crop part of your artwork, so works best with a photo that has plenty of scenes. Part of the image is shown on the sides of the frame of the stretcher bars, and this is proving to be the most popular style of canvas for buyers.
White-sided canvas frame
If it's a struggle to fit all of the details on your collage canvas print, a white-sided canvas picture is the best option. Cropping is reduced to a minimum, and the sides of the canvas will be white.
If you're planning to frame the photo collage, a white-sided finish is the best choice. A wooden frame will inevitably hide some detail on display compared to that of a gallery wrap finished canvas.
Ten colour HDR Print
Pixa Prints photo prints provide 'high dynamic range' (HDR) printing. HDR offers precise colour and tone printing for clarity of image, producing canvas prints in breathtaking detail.
For your perfect canvas and perfect gift, choose Pixa Prints!