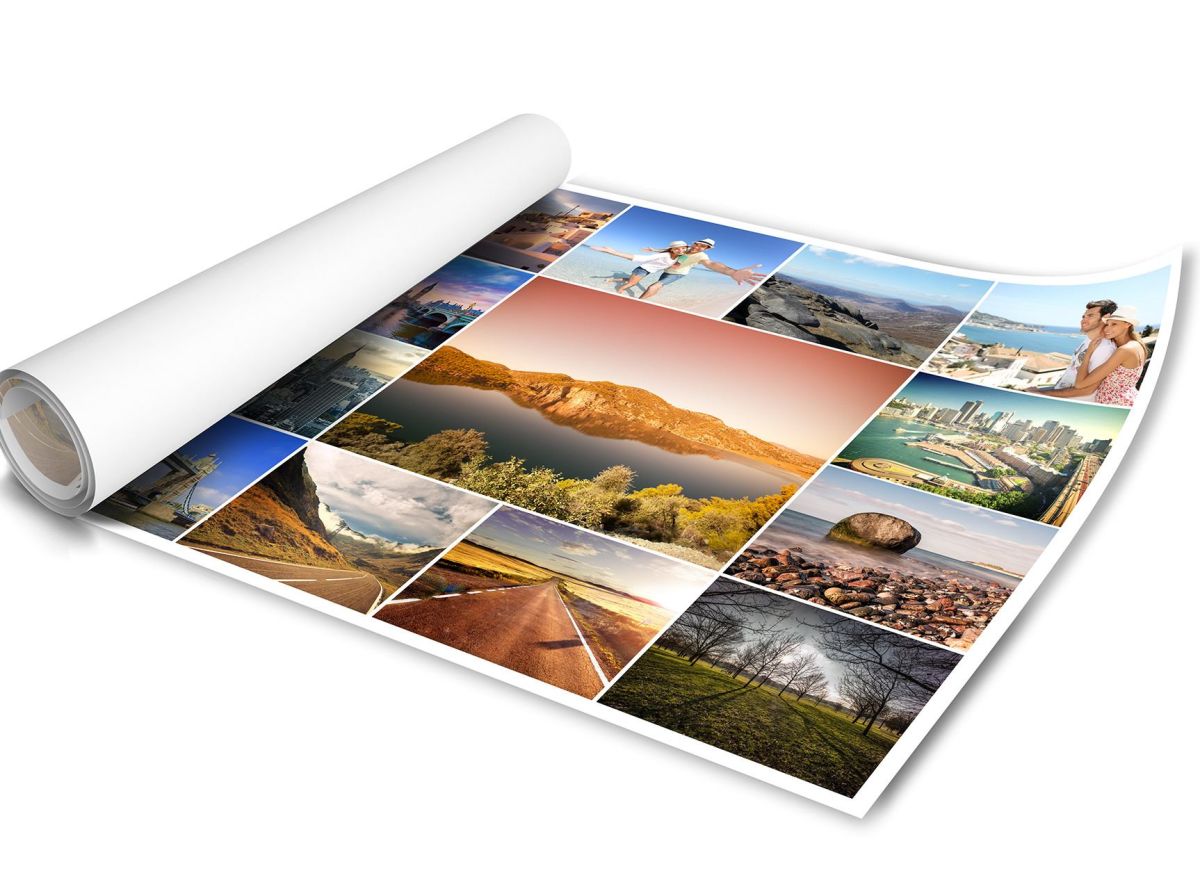 Collage Poster Prints
High quality photo collage printing on 300gsm lustre photo paper. Superior quality printing. Design your very own unique collage online instantly using our simple software. Select from a range of layouts or make your own.
Add text to your collage
Select from a range of themes
Coloured borders and backgrounds
Square
| | | | |
| --- | --- | --- | --- |
| Product | 1+ | 5+ | 11+ |
| 30 x 30 cm | £6.50 | £6.00 | £5.00 |
| 40 x 40 cm | £7.90 | £7.50 | £6.50 |
| 60 x 60 cm | £20.00 | £18.00 | £15.30 |
| 76 x 76 cm | £22.20 | £18.30 | £16.20 |
Portrait/Landscape
| | | | |
| --- | --- | --- | --- |
| Product | 1+ | 5+ | 11+ |
| 30 x 40 cm | £7.70 | £7.40 | £6.40 |
| 40 x 50 cm | £12.50 | £12.00 | £10.50 |
| 40 x 60 cm | £16.20 | £12.00 | £11.80 |
| 50 x 76 cm | £20.00 | £18.00 | £15.80 |
| 30" x 40" | £22.50 | £21.80 | £21.00 |
| 36" x 48" | £31.50 | £28.50 | £27.00 |
Delivery is calculated and displayed at the basket. We combine orders where possible to ship items together. If items belong to the same shipping group we combine the number of items and only charge one fee. Prices shown below are the delivery fees for the category this product belongs to.
Channel Islands
| | |
| --- | --- |
| | 1 - 20 items |
| Parcel Force - UK 48hr Excludes Highlands & Islands | £18.60 |
| | | |
| --- | --- | --- |
| | 1 - 4 items | 5 - 9 items |
| Royal Mail Special Delivery | £9.60 | £12.00 |
| | | |
| --- | --- | --- |
| | 1 - 4 items | 5 - 9 items |
| Royal Mail Priority Tracked | £7.98 | £9.00 |
France
| | | |
| --- | --- | --- |
| | 1 - 1 items | 2 - 9 items |
| Royal Mail International Tracked | £9.96 | £12.36 |
| | |
| --- | --- |
| | 1 - 50 items |
| Courier International | £21.60 |
Germany
| | | |
| --- | --- | --- |
| | 1 - 1 items | 2 - 9 items |
| Royal Mail International Tracked | £10.00 | £12.36 |
| | |
| --- | --- |
| | 1 - 50 items |
| Courier International | £21.60 |
Ireland
| | | |
| --- | --- | --- |
| | 1 - 50 items | 51 + items |
| Courier - Ireland | £7.22 | £14.45 |
N. Ireland
| | | |
| --- | --- | --- |
| | 1 - 1 items | 2 - 2 items |
| RM 1st Class Not Tracked | £2.99 | £4.49 |
| | | |
| --- | --- | --- |
| | 1 - 50 items | 51 + items |
| Courier - Northern Ireland | £6.60 | £14.40 |
| | |
| --- | --- |
| | 1 - 4 items |
| Royal Mail Priority Tracked | £7.98 |
Scotland Highlands & Islands
| | | |
| --- | --- | --- |
| | 1 - 50 items | 51 + items |
| Parcel Force - Highlands & Islands | £18.00 | £30.00 |
UK (Mainland)
| | | |
| --- | --- | --- |
| | 1 - 1 items | 2 - 5 items |
| RM 1st Class Not Tracked | £2.99 | £4.49 |
| | | |
| --- | --- | --- |
| | 1 - 50 items | 51 + items |
| Parcel Force - UK 24hr | £15.60 | £31.20 |
| | | |
| --- | --- | --- |
| | 1 - 50 items | 51 + items |
| Parcel Force - UK 48hr Excludes Highlands & Islands | £9.00 | £18.00 |
| | |
| --- | --- |
| | 1 - 4 items |
| Royal Mail Special Delivery | £9.60 |
| | | |
| --- | --- | --- |
| | 1 - 4 items | 5 - 9 items |
| Royal Mail Priority Tracked | £7.98 | £9.00 |
Why pick just one memory to decorate your home? Capture your baby's first year, celebrate an anniversary or show a handful of memories from your family holiday. Have a colleague leaving the team at work? Why not surprise them with a collage of great memories from their time in the company. Or maybe your friend is heading off to university and you want to send them off with a collection of memories from their hometown to put up in their new bedroom.
Printed on 300gsm lustre photo paper, your photos will look fantastic thanks to the superior printing quality and range of possible layouts to choose from. There are various opportunities to make this collage your own, from adding text to your poster to selecting one of the pre-designed themes, or adding a coloured border or background. There are countless ways to celebrate the bigger picture with a hand-picked selection of photos crafted into an impressive, professionally printed poster. We have a wide range of sizes available too, so your collage can be as big and bold as you need it to be.
Designing the poster itself couldn't be easier. Using our simple software, all you need to do is choose your images, make sure you're happy with the placement, add any design features you want to include and complete your order to have your customised print created for you. Your personalised collage is the perfect way to preserve your family's memories for years to come.
Customer reviews
4.9/5
Based on 231 customers
Great service and amazing picture quality. Definitely reccommend and use again.

Amazing quality and value for money myself and family and friends couldn't be happier with the gifts I've got them from here ! Would recommend to everyone

Have ordered this item before and it did not disappoint, it is already in a frame

I'd like it if there were more templates to choose from as I had to add lots of windows which was a bit fiddly. I'd like to be able to zoom right in too to check the joins between photos. Other than that it was easy to create a collage and I'm very happy with the end result. Excellent value for an excellent product.

These products are always excellently made We use them for holiday photos but also professionally to publicise our charity events They arrive promptly, well packaged (never damaged) and they have the wow factor when you open them up

Easy to use and when collage arrived the picture's were of good quality.

Easy to upload and change picture if you decided on another picture.

So easy to upload the pictures, but could be doing with the sizes of each picture in the collage poster.

Exceptional! Delighted with my collage Great service and super quick delivery

Fun and easy to create my collage of 12 photos. Very sharp images when enlarged. Highest quality paper. Delivered on second day after ordering. It was a great success as a gift. I will certainly use Pixaprint again. PHP, Devon

Really happy with the quality and finish of the collage. Thanks

Bought a customised collage print A1 size of pictures of my fiancee and I growing up to display at our wedding. Really easy to upload photos and very quick delivery. Item arrived well packaged and the quality was excellent..better than I intisipated. Would recommend and can't wait to order more after our wedding.

Love the finish on these prints, speedy delivery.

Really good value for a high quality finish. Really impressed and I'll be ordering more to display my wedding photos in a fun but professional way.

I created a collage for my Nans birthday and i was surprised how easy it was to do especially on iPhone, when delivered came in good packaging and photos were really high quality and vibrant this was my second order and I have recommended to friends and family and will certainly be ordering again in the future, Thankyou for the amazing prints ! Highly recommend

As all my 3 collages came in the same cardboard tube delivery costs seem a little high. Product however is very good, no complaints.

This was a poster of photos for my father's funeral - the quality was great and the product arrived quickly.

Easy to use site, good quality photographs and excellent delivery service.

It can be difficult to get larger square photos printed so I am delighted. Good quality and have made a great wall gallery in my house.

Order product as displayed.Delivery on time.Very well packed.

Great product, not many online companies seem to offer the size i wanted. Fairly easy to upload photos & i did it from my phone as that was where my photos were. Can change layout & crop with the individual photos too. Great protected packaging & arrived exactly when it said it should, in time for a Christmas present.

Ordered a collage print for my little girl with some happy memories. Arrived a couple of days later and looked absolutely amazing, thank you!

thanks very much loved the product

Really happy with this poster and it was really easy to design, only issue was one of the photos bled into another when it was supposed to have a boarder, its not hugely noticeable but once you have seen it, it annoys you!! would be good for the software to pick up on this.

Very impressed with this company. Got my order within 2 days, and was kept updated throughout. The quality of my posters were absolutely fantastic. This is the first time I have used this company and I shall certainly be using them again and recommend them to anyone! First class!

After a very enjoyable holiday in Canada I wanted a collage of several prints. This one fitted the bill and reasonably priced too with a discount. Arrived quickly and well packaged. Very pleased with the end result.

So pleased with my order. Everyone commented on how lovely it is. Much better than other firm's I've used.

Ordered a collage poster for display at my husband's 60th birthday party. It is easy to put the collage together though I couldn't use all the photos I'd wanted as they weren't all up to the quality required. Excellent value. Arrived really quickly. This is my third order and I will definitely use Pixa again.

fantastic!! Easy to use, fast delivery, lovely clear pics on collage poster! And a good price! Would definately use again

Fast photo upload, Variety of collage templates & sizes. Easy to use system. High quality product, fast delivery. 10/10 Very happy with the result.

Easy ordering, excellent quality, good communication and quick delivery

Great product really happy, good quality, very helpful staff when phoned with a query. Only problem when doing a collage with multiple photos, it would have been helpful to have a sort of ruler guide to measure the photo size when scaling a photo up & down to know what size each photo will be on the collage when doing a free hand designed collage of multiple photos. Im sure that's prob sophisticated software.

Tried to make a photo collage with another online print company and gave up. This one was soooo much easier and good value too. Arrived within 2 days of ordering as well so really pleased.

Wanted a collage poster for my mum's 80th. The product was excellent. Quality paper and well packaged. Needed 24 hour delivery and even with postage the price was excellent. Be aware that when you place the photos it will tell you how good the resolution is and really you want it to be good or excellent for best results. Quality of resolution may change with the size too. Some of the older photos came up as poor resolution but after editing and improving them I was able to use most of them. Would certainly use this service again.

Loved the collage print. Service was brilliant.

Im so happy with the product will surely order again!

Im so happy with the product, it's very lovely.

Im happy with the product, looks lovely!

First time, user will be back great quality

Really happy with my first order. Quality is very good and delivery was super quick.

Absolutely fantastic product. It arrived so quickly, the size is perfect and the quality of the photos is spot on. Thank you so much!

Bought as a gift - the quality of the images is great and it is a good price for the size. I got one of the photos wrong and when I phoned hastily to see if I could correct it I was given excellent help and it was put right. Great service and product.

Easy to use collage template, excellent communication with regard to delivery and would highly recommend to family and friends.

Really happy with the quality of the collage print and It looks great in the photo frame.

Excellent service, easy to create collage print

I love how easy to design my poster is and how To make edits. This year the turnaround was so quick I received my order just 2 days after placing it. The packaging is ideal (large brown tube) and the quality is perfect and it's not very expensive either. Would highly recommend and will be back again next year for the same.

I had brought several collage frame and because of the odd sizes I was finding it difficult to find photo prints that would fit my frame. I then came across Pixa Prints and the collage posters sizes fitted my frame so I was well pleased. I was able to plan which photos I wanted in the template and swop and change photos until I was happy. Ordering the posters could not be easier, I was kept up to date with the delivery status and it took two days from ordering to delivery. I was very impressed with the quality of the product and will recommend to family and friends.

A Mix 'n' Match in service, I ordered the item twice as I made an amendment, I contacted Pixa and they were able to cancel the one I didn't need at no cost. Excellent. However, their selection of courier/delivery can be much better. My order was dispatched on 3rd April, I needed it for a project on 10th April and it arrived on the 11th!! They use Royal Mail, If they'd used a company with a better reputation, one than can deliver an express service I would've been 100% satisfied! Albeit, they did explain that it can take up to 10 days, I ran the risk, my fault but something a bit faster than 10 days will certainly aid their production. Again, I was very satisfied with what they are in control of, it's just their choice of delivery! Time factors are very important to new customers. Sorry for the negative feedback Pixa but well done on the Positive!!

Easy to use software. Packaging was good but took a while to flatten out for frame. Have used pixaprint since for canvas and was just as good quality. Will use again

Best photo printing company I've used. Will always use pixa prints

Fab photo collage. Just what I was after for a friend who is leaving work. A lovely thoughtful gift which went down well.

Excellent Quality and Fast Delivery

My friend was delighted by this as a special birthday present!

Very pleased with the way pixaprint dealt with replacement print for order lost in postal system. Very swift and efficient

Ordered a few days before the christmas cut off dates, ordered completed and dispatched very quickly. Good quality, very pleased.

I stumbled across your site when I was struggling to put together a collage print on another photo website, I was able to find and put together exactly what I wanted in a matter of minutes and the price was exceptional value too. My collage print arrived super quickly, and I was kept up to date with emails every step of the way. The print was packaged amazingly well and I was so chuffed with it as was my niece who it was a birthday pressie for. Overall, I will definitely be using pixa prints again, the service and quality are better than any I have used before!!

I left it a bit late to create the collage my mum in law requested for Christmas and pixa prints were the only company that had the option for fast delivery. The options for the collage seemed a bit limited until I realised you could manipulate the layout manually. Really pleased and will definitely use again.

So easy to design and the quality is fab. Will definitely order more!

Very happy looks amazing.

Very happy. Site was easy to use and package arrived within 2 days of order.

Collage was easy to design and edit if needed, quick service arrived within 3 days, well packaged and brilliant quality. Reasonable price and well worth it. This was a gift and was very well received. Will definitely use pixaprints again

Excellent quality print, very impressed given the price was cheaper than other companies. Easy to design.

Successfully mastered using the collage of photos and using text in white bordered on black. Finished product excellent and recipient very happy.

Once I got the hang of how it worked I could create the poster exactly as I wanted

Good quality print. Quick delivery.

As always good quality and came quick too. Very happy. Always use pixaprints !

Really easy site to use and shipped out quickly

I WAS SO HAPPY WITH MY CANVAS AND DINT BRAKE THE BANK THANK YOU SO MUCH WILL DEFINATLY OREDER AGAIN

Love these collage prints, really thick quality paper

Really quality thickness!
100% satisfaction guarantee
High quality printing
Fast delivery ,
receive Tuesday 10th