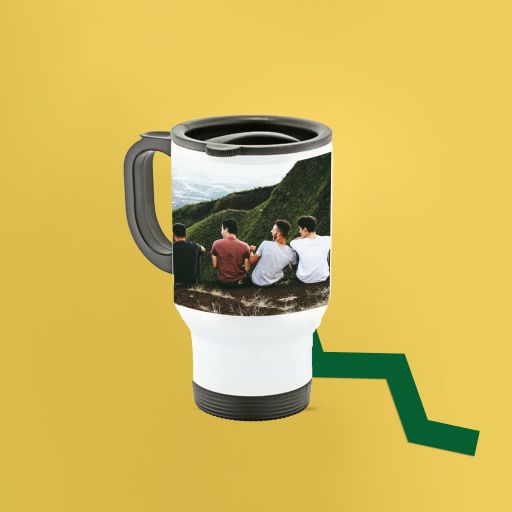 Personalised Travel Mug
100% satisfaction guarantee
No need for boiling coffee cups that burn your hands. This mug insulated with a vacuum features a plastic base and handle (much like a thermal flask): An insulated mug that keeps liquids hot and cold.
Send your loved ones off to work or school with an insulated travel mug. Perfect as a coffee mug, this acts as a thermal mug for cold and hot drinks alike.

Personalised travel mug
18 different design considerations
Stainless steel travel photo mug with a white coating
Thermal mug - perfect for hot and cold drinks
Coffee tea travel flask cup
Eco-friendly - use again and again
Lid closer to keep drink warmer for longer and two drink hole sizes
Great Christmas gift or teacher gift
190mm x 80mm
Plastic base and handle
Hand wash only
Delivery information and costs for this product range;
RM standard Non Tracked service
Estimated 3 to 5 days
from £4.80
Parcelforce Tracked Courier Service
Estimated 2 to 3 days
from £8.99
Royal Mail Special Delivery
Estimated 1 to 2 days
from £9.60
Priority Tracked - Royal Mail
Estimated 3 to 5 days
from £7.98
Priority Tracked - Royal Mail
Estimated 3 to 5 days
from £7.98
Courier - Parcel Force - Channel Islands
Estimated 3-4 working days
from £18
Courier - Ireland Tracked service
Estimated 2 - 3 Working days
from £9
RM standard Non Tracked service
Estimated 3 to 5 days
from £4.80
Instore Collection - Banbridge
Mon-Fri 9am -3.30pm
from £3
Courier - Priority
Estimated next working day
from £7.20
Priority Tracked - Royal Mail
Estimated 3 to 5 days
from £7.98
RM standard Non Tracked service
Estimated 3 to 5 days
from £4
Priority Tracked - Royal Mail
Estimated 3 to 5 days
from £7.98
Courier - Parcel Force - Highlands & Islands
Estimated 3-4 working days
from £15.60
Customer reviews
4.9/5
Based on 173 customers
Had and issue with handle. Customer service solved my issue immediately. Very positive experience. Mug looks lovely. Great for present.

So I ordered three travel mugs all different designs at 9am on Wednesday by 2 pm it had been shipped it said to expect them in 7 days and turned uo Thursday morning! Amazing quality amazing print totally recommend

I bought two travel mugs as a present and I'm very happy with their quality. Arrived in 5 days. Excellent.

I ordered personalised cup , it was a great gift???? Received next day . I am very happy with Pixa Prints.

I ordered a 5 picture personalised travel mug. It looks great, very happy with the quality of the item and the photos printed on it! It also arrived a week earlier than expected.

It was a birthday gift. Me and receiver been very happy. Super fast service i think i got it just after two days of placing order

Great Xmas gift, very fast delivery, thankyou

Love it!!!would be great if there were more colour options though!

Great product, really happy

My husband is over the moon with this mug. Thank you

It came super quickly and its very nicely printed, so happy with this I know my boyfriend is going to love it

Product exactly what i wanted arrived quickly

Perfect for use at school for a busy teacher. The personalisation means no one else can use it unnoticed!

Great quality and a nice gift. The order came in less than 24 hours too!

Great product. Made a lovely gift.

Bought this for my best friend for her birthday and it is wonderful! So pleased with the quality and can not wait to give it to her for her birthday!

Fast delivery, super easy to import picture and set alignment/addition text.

I was so happy with the quick service and great product. The lid was particularly good. It was for a gift and I was delighted to give over the finished product.

Ordered last minute as extra Father's Day present, really pleased with quick turn around, arrived in time, good quality of pictures, would recommend

This is the 2nd travel mug i've Ordered. Easy to design, quick to deliver. Very effective & hard wearing, The photos are really clear & don't wear off.

Thank you looks great and was very quickly delivered .

Made this as a gift for a friend. And she loved it! Definitely recommend it! Think I'm even going to order myself one! Loved that it had a handle as most other websites they don't. Perfect gift!

I had my son's football team logo put on a travel mug as part of a present for his managers. Easy process and delivered quickly.

I wanted to create a custom made coffee flask for my Father-in-law and tried to create the same design on several different websites. I found Pixa Prints by far the easiest to work with. The design process was intuitive. I was very impressed with the service. Delivery was fast and I was sent email updates at every stage of the process. The actual quality of the product was not five-star. The colours on the print could have been sharper and it was clearly a mass produced coffee flask that wouldn't have a very long lifespan, but it was acceptable. It was a novelty gift and it was good enough quality for its purpose. Overall I was happy

The pictures look better than I expected, and I received my order very quickly

Really happy with how it's come, didn't take long to get delivered, so pleased

i got this travel mug for my mum for mothers day and she loves it!! she's using it for work and football matches.!! brilliant product

Great quality of actual mug and design/photos were perfect!

Easy to use website. Product arrived well packaged and in good time.

The mug came out even better than I hoped. Really happy with it.

Ordered travel mug arrived well within the time. I love it looks brilliant keeps drink hot for long time.

The photos on the mug turned out brilliant. Very happy with the end result and the delivery time was excellent. Very quick.

Superb quality of the print & of the mug itself, would definitely recommend!

Really impressed with the quality of the product.

Printed nicely. Cup is spill proof

Another great product from PixaPrints. The mug is well designed and durable with the clear printing and great colour profiling I have come to expect from PixaPrints.

Bought this item as a Christmas gift, absolutely delighted with the quality of the travel mug. Thanks.

Mount Cross Contracts Ltd L.

Fast delivery, Good price and great quality - v.pleased.

Really happy with the quality of the product, the lid was unfortunately damaged in transit and I'd already ordered late for Christmas, after reporting this at 5:30pm, a replacement lid was with me by 11am! So appreciated for a Christmas present, fantastic service

I was very pleased with the quality of the printing and the overall design of the mug super quick delivery and regular updates about my order!

I designed a personalised flask with photos and found this very easy to use. The delivery was fast but sadly the mug handle had been broken off during transit. I emailed a pic to the company and they arranged a replacement immediately. This arrived on time for Xmas gift and the print quality was beautiful. THANK YOU

Quick and easy to use. The product is good quality and photos are really clear. Would definitely buy again.

Fast and efficient and amazing quality work. Thanks

The mug is lovely, had an issue with the lid but emailed Pixar and they responded straight away and are rectifying this - Brilliant

The website is so simple to use, great products and quick delivery! Really happy ????

Came out supper nice even picture I thought might be to blur thanks to fine turning during design. Really easy you on laptop to pick and design.

Bought this for my mum for Christmas and I'm sure she will love it- great quality and easy to upload the photos onto the design. Particularly impressed as I ordered late Sunday night and it arrived on Tuesday!

Great product and Really quick delivery thanks

Really happy with my order, really quick service, would definitely use again

Bought this as a gift. Very easy to upload a photo, use it, personalise and go! Gift received and loved!

Was fantastically surprised by the high quality of this product, the pictures were crystal clear on stainless steel, lovely gift for my aunt she's going to love it. It was really well packaged in double bubble wrap inside the box.

I have now brought three of these travel mugs... Great quality and super quick to arrive. I was made one for Christmas by my partner last year and its still looking good.

Superb quality exactly as described.

I bought these as gifts with a photo of a painting my son had done. The recipients were thrilled with them, as it was a lovely personal gift. I am thrilled with them, infact I am buying some more as the quality is so good.

The cup was great and the photo was good quality. Sadly i had used a coffee emoji along with the writing and it came out as "??" instead of the coffee picture which was a bit confusing - clearly it doesn't like emoji's! As it was a gift i had to explain this to the person i designed it for.

Easy build, great leaving gift and recipient very very happy with 16oz travel mug

Made an up to date travel mug of her grandchildren and their ponies for my mums birthday, her last one being 8 years old! Couldn't find many places that let you make your own collage with so many pictures on one travel mug until I found Pixa prints. Very easy to make apart from couldn't work out how to change the pictures around once placed, but it arrived very quick, well packaged and very high quality , love it.

great product, pictures printed on look great, just what I wanted when I'm on a night shift.

So happy with the print result on this travel.mug a great gift and fantastic reaction from recipient . Thanks Pixa Print

Well received by teachers- colours a little muted, but will rectify on next order!

I'm really happy with my stainless steel photo mug. Great quality & a lovely keep sake. The pictures are really clear & a very speedy delivery :) Thank you

Used to get these off Tescos photo website but they changed hands and been looking for another company. Hubby loves it I but him one twice a year. Will be buying again very soon

Excellent service, arrived within a couple of days. The design was as expected, although the colors could have been a bit brighter. But overall I am very pleased! I will have to actually use the travel mug in order to determine if it does the job, but it looks fine, just like any other travel mug, so I'm sure it's gonna be alright. I would like the packaging to look a bit nicer, since it's going to be a gift, I would prefer a box without any writing or stickers, like with color, a design, or even the company's logo would be ok. It was very protected though, with bubble wrap and everything. Thank you!

Love it. Didnt take long to arrive. Easy to set up. Just perfect.

Great quality Fast delivery

I've never used Pixa Prints before but i stumbled across them on my search engine and I am so glad that I did. Really easy to upload the photos, really helpful instructions, great choice of travel mugs to choose from and it arrived within a few days of ordering. I could not be happier and my friend whom it was a gift for, loves it. Thanks very much

The website is very easy to use, and the photos came out well.

I am rubbish at anything technical and I was worried about doing something like this as a gift. I found the process very easy and when the travel mug arrived it was as I hoped it would be. Very happy and now looking forward to giving it to my husband at Christmas. He will be so impressed with me and the mug.

Very good product. Easy to create and fast efficient service.
100% satisfaction guarantee
High quality printing
Fast delivery ,
shipped by Tuesday 5th
More about Personalised Travel Mug
Today's emphasis is on recycling, so this eco-friendly personalised reusable travel mug does its bit for the environment. This double-wall custom printed travel mug is great for those on the move.
No more disposable cups for that lunchtime jaunt to the coffee shop. Take your travel cup and fill it with your favourite beverage of coffee, tea or hot chocolate for a welcome break. Coffee houses know the value of a promotional item so it's no surprise to see promotional mugs bearing their brand name on sale.
Our eighteen styles of personalised mug layout are sure to accommodate your needs. Pixa Prints have been supplying printed mugs for years and a customised travel mug makes a great personalised gift.
Simply press the 'Create Now' button, and begin designing. Add a favourite photo (a personalised photo mug is all the rage nowadays) or brand logo, text or memorable saying, and we'll have it printed in no time.
Perhaps you're looking for a branded travel mug for your business or staff? A promotional travel mug is a perfect gift to introduce yourself to a potential buyer. Make your mug stand out from the crowd with custom travel mugs designed to catch office colleagues or family member's attention. If you're looking for something a little different, Pixa prints supply other photo gifts ranging from;
Desk calendars and mouse mats

Photobooks and canvas prints

Fridge magnets

Metal (enamel mug) and ceramic mugs

Retro Prints

Photo collages on a range of products
Maybe you're after a wall calendar or a pet gift? Take a look at our vast range of personalised gifts at Pixa Prints- we're not just about reusable coffee mugs!