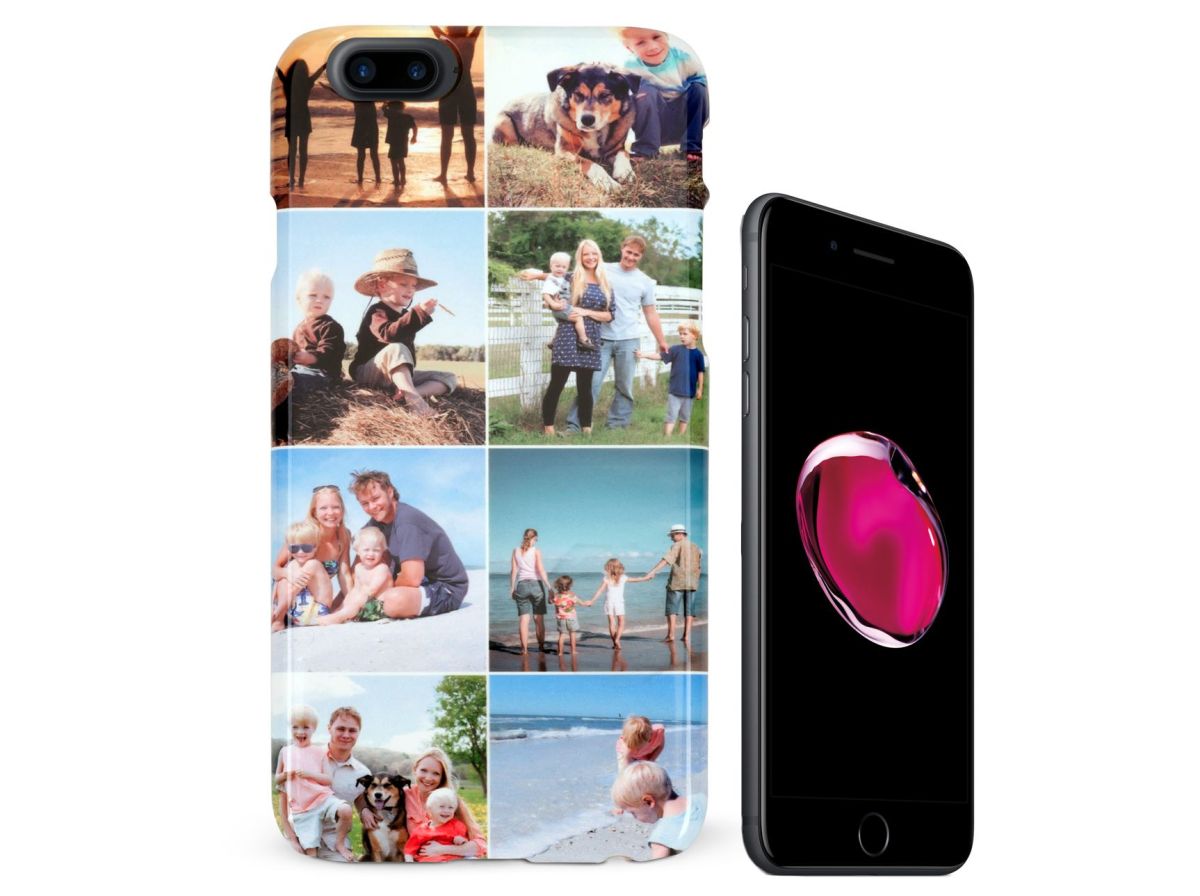 Personalised iPhone 7 Photo Case
A perfectly fitting, feather weight personalised case to protect your iPhone 7. A perfect gift for friends and family to showcase your favourite memories. Check out the case here for the plus version.
Precision positioned button and charging cut outs
High quality colour reproduction
Sturdy plastic case
Full case edge printing
Gloss finish
Product
1+
iPhone 7

£14.99

£14.99
Delivery is calculated and displayed at the basket. We combine orders where possible to ship items together. If items belong to the same shipping group we combine the number of items and only charge one fee. Prices shown below are the delivery fees for the category this product belongs to.
Channel Islands
| | |
| --- | --- |
| | 1 - 20 items |
| Parcel Force - UK 48hr Excludes Highlands & Islands | £18.60 |
| | | |
| --- | --- | --- |
| | 1 - 4 items | 5 - 9 items |
| Royal Mail Special Delivery | £9.60 | £12.00 |
| | | |
| --- | --- | --- |
| | 1 - 4 items | 5 - 9 items |
| Royal Mail Priority Tracked | £7.98 | £9.00 |
Ireland
| | | |
| --- | --- | --- |
| | 1 - 50 items | 51 + items |
| Courier - Ireland | £7.22 | £14.45 |
N. Ireland
| | | |
| --- | --- | --- |
| | 1 - 1 items | 2 - 2 items |
| RM 1st Class Not Tracked | £2.99 | £4.49 |
| | | |
| --- | --- | --- |
| | 1 - 50 items | 51 + items |
| Courier - Northern Ireland | £6.60 | £14.40 |
| | | |
| --- | --- | --- |
| | 1 - 4 items | 5 - 9 items |
| Royal Mail Priority Tracked | £7.98 | £9.00 |
UK (Mainland)
| | | |
| --- | --- | --- |
| | 1 - 1 items | 2 - 5 items |
| RM 1st Class Not Tracked | £2.99 | £4.49 |
| | | |
| --- | --- | --- |
| | 1 - 50 items | 51 + items |
| Parcel Force - UK 24hr | £15.60 | £31.20 |
| | | |
| --- | --- | --- |
| | 1 - 50 items | 51 + items |
| Parcel Force - UK 48hr Excludes Highlands & Islands | £9.00 | £18.00 |
| | | |
| --- | --- | --- |
| | 1 - 4 items | 5 - 9 items |
| Royal Mail Special Delivery | £9.60 | £12.00 |
| | | |
| --- | --- | --- |
| | 1 - 4 items | 5 - 9 items |
| Royal Mail Priority Tracked | £7.98 | £9.00 |
Create your own portable piece of art with a perfectly fitting, personalised phone case for your iPhone 7. It couldn't be easier to turn your snaps into a phone case that not only looks amazing but protects your phone at the same time. From your favourite picture of your partner or your kids, an unforgettable family holiday or your beloved pets, the possibilities are endless for creating a product that's unique to you and lets you stand out from the crowd. Can't choose just one picture? Create a collage with a selection of them!
What's more, creating your personalised iPhone case couldn't be simpler. First, choose your perfect photo. Secondly, decide whether you'd like a single image, a montage or to customise one of our pre-designed themes. Lastly, add it to the basket and complete your order to have your new case created – it's that easy. You can even add text to your design as well, such as your favourite song lyric, phrase or a fun message.
A customised phone case serves as a meaningful and personal gift for loved ones too, with memories they'll cherish and can be reminded of each time they check their phone. You carry your phone with you every day, so let it say something about who you are, your mood and your style. There's no better way to inject some fun and personality into your phone, making it the perfect accessory that really makes a statement.
Customer reviews
5/5
Based on 101 customers
I'm in love - exactly what I ordered, great quality and super quick service!

Really pleased with the phone case I ordered and super quick delivery, would order again.

The quality of the photo transferred onto the phone case is perfect. Turnaround was also spot on, I ordered it late on Saturday evening and received the product the following Tuesday.

Really pleased with the quality of the phone case. Quick delivery and regular updates as to what was happening and when to expect it

Love my phone case. Really high quality photos and finish. Super quick to get to me too. Highly recommend.

The picture is absolutely perfect better than what I expected, however the case bit at the top is split where a bit has come apart from the other side :( only thing I'm not happy with m!

I'm really happy with the design and outcome, great prices and it looks really cool!

Good quality and quality finish.

I ABSOLUTELY LOVE IT I CANT STOP LOOKING AT IT.

Bought for my partner as an early present for Valentine's Day.

Best personalised phone case - bought as a present, you are able to add as many photos as you want and move to a desired layout. Quality was brilliant and better than expected. Cannot fault the item!

Great phone case perfect quality photos had none end of comments of how nice the case is, really pleased

Always happy with the service, speedy delivery as well.

Made a phone cover with one of my photos. It was an easy experience, arrived very quickly and was an excellent product. The recipient (it was a birthday present) loved it both for the product quality and that of the photo. Well done Pixa prints!

It is great, i'm very Happy with your services and the quality of the products.

Great fitting case pictures all came out perfect the wife loved it.

Would definitely recommend, easy to upload and design my case. I was kept updated throughout my order process and delivery was quick and easy too.

Fabulous finish - really pleased!

Great all round service nothing to fault print was high detail to :)

Came the next day and I expected ok quality for price I paid but was so impressed With the overall quality.

Prompt arrival with excellent progress updates. So happy at the quality of the photos and case itself. Ordered again as soon as saw the overall product. Thank you very much.

Had many cases from here and they've always been great

Delivery was quick - updated all the way and end product was brilliant have highly recommended and would use again x

I'm very pleased with the phone cover I recieved it's great value for money

More than happy phone case fits perfectly nice glossy finish delivered in two to three day excellent easy to use website to upload pictures highly recommend which I have done 5 stars thumps up.

Great quality product, will order again.

I didn't expect to come out as well as it did, I thought some of my pictures would not have been uploaded fully on to my case, so I was really happy to see that they curved round making the case look amazing. Extremely happy with quality and design.

very pleased with phone case, well packaged and would buy again from pixie prints

Communication from start to finish was exceptional, if only all companies were the same. The quality of the product is also fantastic, really happy with purchase. Will recommend to friends and will certainly order again in the future.

Bought for my daughter , photos of her husband and little boy. Great cover - both practical and attractive. She loves it!

Absolutely chuffed with this phone cover. The quality of the print and the product are brilliant and the delivery was so quick! Definitely recommend!!

Great product as usual thanks

Thanks for the order great as always

I ordered myself one and my brother one from his little girl & we are both happy with the cases! We love them. It was easy to make and was a very quick delivery!

Love pixa prints products honestly!

Again nothing negative to say!

Great product and really pleased with the item ordered. Would fully recommend the company.

It was easy to do online. It came really quickly. The case itself is lovely and great quality. I will defo order from there again

Absolutely over the moon wth it!

I am very happy with my phone cases that I ordered from yaselfs the quality is amazing I was over the moon with them I have recommended you too friends and family thank you for doing a fab job on them

Bought this as a gift. The design process was easy and the product arrived quickly and matched the design perfectly.

Amazing value and it was delivered very quickly

Colours came out really well, very happy

I really love these colours and the cases are super good quality, very happy.

Happy with the quality of design

Very quick delivery and it's a very sturdy case.

These cases are great, highly recommend.

Arrived very very quickly, great quality, can't wait to give it to my boyfriend at Christmas for his new phone! Will defo recommend and use again.

Very happy as it arrived a lot quicker than I thought it would. Thanks.

Ordered my case Sunday afternnoon, delivered Tuesday ! Great fast service. Very pleased with the finished product,nice snug fit and looks good on my phone.

I love my new phone cover the photo wraps right round the sides and the quality is excellent, I have also got to mention the customer service is second to none the staff are so willing to help and they are super fast at responding to emails. Would most definitely recommend

Ordered a phone cover as a present. So super easy to design online. Arrived super fast and secure and really high quality and glossy. Thank you definitely use again!!

It's nice and cool .love it

Bought this as a Father's Day gift and my partner loved it. The photos are very clear and the product has turned out really well. Also could not fault their very speedy delivery. The only negative comment would be the difficulty I found in designing the case and adding the pictures but once I had worked out how to do this it was fine. Would definitely buy from this site again.

This is a fabulous company and these phone cases are brilliant quality. Very happy.
100% satisfaction guarantee
High quality printing
Fast delivery