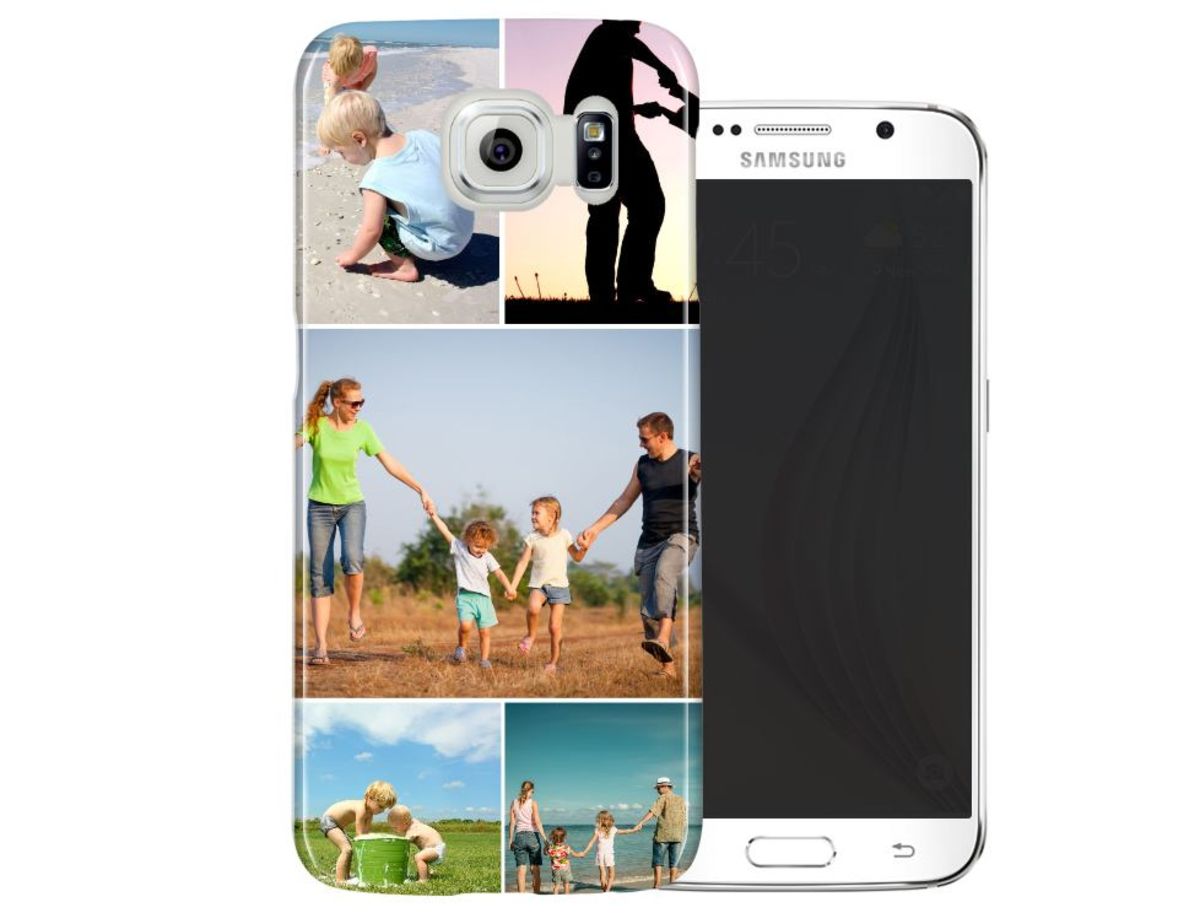 Personalised Samsung Galaxy S6, S6 Edge Phone Case
Perfect fit, lightweight and strong full wrap case for the new Samsung Galaxy S6, S6 Edge. Protect your device with a stunning personalised case. Feather light at less than 30grams
Design online instantly
Choose from templates or design your own
Protects your phone casing
Button and charge port cut outs
Thin sleek casing
Delivery is calculated and displayed at the basket. We combine orders where possible to ship items together. If items belong to the same shipping group we combine the number of items and only charge one fee. Prices shown below are the delivery fees for the category this product belongs to.
Channel Islands
| | |
| --- | --- |
| | 1 - 20 items |
| Parcel Force - UK 48hr Excludes Highlands & Islands | £18.60 |
| | | |
| --- | --- | --- |
| | 1 - 4 items | 5 - 9 items |
| Royal Mail Special Delivery | £9.60 | £12.00 |
| | | |
| --- | --- | --- |
| | 1 - 4 items | 5 - 9 items |
| Royal Mail Priority Tracked | £7.98 | £9.00 |
Ireland
| | | |
| --- | --- | --- |
| | 1 - 50 items | 51 + items |
| Courier - Ireland | £7.22 | £14.45 |
N. Ireland
| | | |
| --- | --- | --- |
| | 1 - 1 items | 2 - 2 items |
| RM 1st Class Not Tracked | £2.99 | £4.49 |
| | | |
| --- | --- | --- |
| | 1 - 50 items | 51 + items |
| Courier - Northern Ireland | £6.60 | £14.40 |
| | | |
| --- | --- | --- |
| | 1 - 4 items | 5 - 9 items |
| Royal Mail Priority Tracked | £7.98 | £9.00 |
UK (Mainland)
| | | |
| --- | --- | --- |
| | 1 - 1 items | 2 - 5 items |
| RM 1st Class Not Tracked | £2.99 | £4.49 |
| | | |
| --- | --- | --- |
| | 1 - 50 items | 51 + items |
| Parcel Force - UK 24hr | £15.60 | £31.20 |
| | | |
| --- | --- | --- |
| | 1 - 50 items | 51 + items |
| Parcel Force - UK 48hr Excludes Highlands & Islands | £9.00 | £18.00 |
| | | |
| --- | --- | --- |
| | 1 - 4 items | 5 - 9 items |
| Royal Mail Special Delivery | £9.60 | £12.00 |
| | | |
| --- | --- | --- |
| | 1 - 4 items | 5 - 9 items |
| Royal Mail Priority Tracked | £7.98 | £9.00 |
Customer reviews
5/5
Based on 154 customers
Really happy with my phone cover delivery was fast

Phone case arrived very quick. Picture quality was perfect. Can't fault product or the service. :)

This is roughly the 5th case I have bought with pixa print, always very happy with the service especially how quickly it is delivered.

Love, Will continue buying and recommend

Excellent product would recommend Pixa Prints

Love the quality of the product! Would recommend to friends and family x

These cases are amazing and will last you for ages. The quality is spot on and the price is too for what you get

The quality of the case is amazing even more so I've come back to get another for my new phone. Great customer service toi

Quick delivery. Amazing quality

Highly recommended good quality only took 2 days to come would definitely use again

I previously bought myself a case and got this one for my mum. She loves it thanks :-)

The case is high quality, really impressed with it. Arrived in a short time. Couldnt be happier

I really am in love with my phone case. cant believe the way its come out its amazing everyone asking were have i got it made from and i have recommended tgem to buy from pixa prints and i think i will be buying somemore items.

Would of liked case to of arrived a bit quicker than what it did .But it was between Christmas and New year when I ordered it . Kept me up dated through the process .

The product was a gift and my friend absolutely loves it and is very pleased with the quality.

Arrived really quickly after order.

Although I ordered my case in the middle of Xmas period it arrived in plenty of time and it looks amazing.

Fantasticservice easy to use website amazing value

Brilliant service. Fab quality. Speedy service

Fanstatic product! Better than what I was expecting

The Case has come very fast and great quality.

Great idea for the Kids mum,she loves it,it look really well and fits really well to will be recommending you guys

I would absolutely recommend this case to anyone - the case feels strong and durable, it was half the price of other websites, super easy to design and it looked beautiful when it arrived. All of the pictures are printed in really good quality and there are no gaps or unsightly white bits around the edges. Absolutely great product - will make a fabulous gift.

Delighted with my personalised phone cover. Great quality and very speedy delivery

Very fast delivery came within 1 day, kept me updated through email and product is exactly how I wanted it.

I'm really happy with my phone case, great quality photo case

Great photo case for my Samsung S8. Easy to upload photos and set design. Didnt select faster delivery but it arrived quickly. Lovely quality and easy to fit.

Very high quality, extremely pleased with the end result

I'm extremely pleased with my phone case! Love it!!!

Bought as a gift, very happy with the outcome of this phone

Great quality photo phone case. Was surprised at the outcome. Been using for a few weeks now and its still looks brand new. I've read reviews from other companies about photos fading after a few days, no such problems for me. Am really happy and will be buying more in the future.

I have ordered two phone cases now and both have been great I am really happy with the products

Looks amazing so happy with my phone case. It has a nice snug fit on my phone which I'm happy about as well

4th one of these I have ordered very happy every time

Perfect quality and exactly what i ordered 5*

Absolutely love my new cover! Fast delivery. Highly recommend this service

Phone case was very thin and not bulky, photos were great quality and was delivered in great time

Lovely case with great quality pictures on them, quite easy to use online, and came quickly, I was very happy and so was my mother

Bought this phone case as a gift for my wife's new phone, so easy to design on the website and the quality of the print on the case when it arrived was fantastic. Super fast delivery, highly recommended, will definitely be using pixa prints again.

This case was fantastic just a shame that I accidentally got the wrong case

I love it. Its well done and it come so fast

Photos very clear fits phone perfectly

Fab phone cover fits well. Photos great quality and placement. Husband loved his gift

I brought this as a birthday present from my son to my sister, was so easy to do and the results were great my sister loved it.

amazing print and arrived very fast will defo be ording againg with your site :)

After the mix up, I received the proper case and totally delighted with it.

My first order never made it to me and I was heartbroken but a very nice man from pixaprint contacted me and helped me get a replacement order. He was absolutely lovely so first off I want to say thank you to him. Secondly as per usual the case is amazing! Fantastic quality every single time with our fail. I use this company again and again and they never fail to deliver.

Really good quality phone case...love it

Very happy with my case came very quick

This product was so easy to create and was delivered within 2 days. I couldnt be happier. Good quality product.

Love my new phone case. Prompt service and good value.

Always great products and service.

fantastic quality, fits my phone snugly, easy to design and upload pics, love this phone cover :)

The quality was exellent and it was wrapped with bubble wrap for extra safety.

Really simply to choose photos, arrived really quick also ! Phone case is Amazing quality and fits my phone perfectly! Really happy would recommend! I would buy my cases from here again without a doubt !

First time using Pixa wasn't expectimg it to be as good as it was... Really great, adore my case! Top quality. Very, very happy

This is my 2nd phone case from pixa prints, both have been fab! great quality, excellent fit and high shine finish, love them!

Really great price. It was delivered within a few days. The quality of the case and photo is really good. I would definitely recommend this store.

I bought this as a present and I am not disappointed at all, the person I bought it for is so happy with his case. The only thing I'd day is it's difficult to upload certain pictures onto the pixa print website. Apart from that I can't fault anything at all.

My case is absolutely brilliant. This is the second time I've ordered a case from pixa print and I've always been so so so happy with the design, the case and the service. I'd definitely recommend them!

This is the 3rd case I have bought from Pixa Prints. I keep coming back as it's worth paying a little extra for the quality and is easy to design online. My only negative point is that the thin bits that go around the power/volume buttons can break off when you remove the case from the phone, especially on the Samsung Galaxy.

Very easy online ordering, quick postage, great product

Lovely glossy finish. Pictures really clear. Product came very quickly. Very easy to design.

Very happy with the product and how quickly they arrived :)

Very quick delivery service

Great design very clear,quick and efficient service,would order again from pixa prints.

Great product which was incredibly easy to design and exactly what I needed. The overall finished quality was better than I expected and was very reasonably priced

Extremely happy very quick delivery great quality this is my 4th phone case I've ordered

I love my phone case! The quality of the pictures on the case are great! It fits together well, the whole case is used up so no extra space that is empty. I love it!
100% satisfaction guarantee
High quality printing
Fast delivery ,
receive Monday 25th