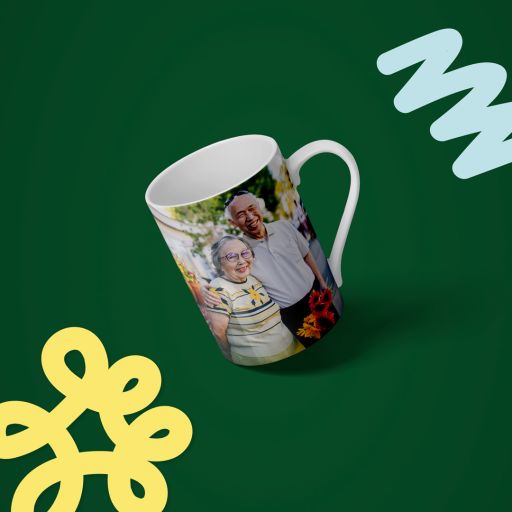 Personalised Porcelain Mug
100% satisfaction guarantee
An elegant personalised porcelain mug to enjoy the perfect cuppa.
Choose from over 20 designs
Stylish mug with elegant handle
Dishwasher safe
Microwave safe
| | | |
| --- | --- | --- |
| Qty | 1-1 | 2+ |
| 165mm x 65mm | £11.99 | £10 |
Delivery information and costs for this product range;
RM standard Non Tracked service
Estimated 3 to 5 days
from £4.80
Parcelforce Tracked Courier Service
Estimated 2 to 3 days
from £8.99
Royal Mail Special Delivery
Estimated 1 to 2 days
from £9.60
Priority Tracked - Royal Mail
Estimated 3 to 5 days
from £7.98
Priority Tracked - Royal Mail
Estimated 3 to 5 days
from £7.98
Courier - Parcel Force - Channel Islands
Estimated 3-4 working days
from £18
Courier - Ireland Tracked service
Estimated 2 - 3 Working days
from £9
RM standard Non Tracked service
Estimated 3 to 5 days
from £4.80
Instore Collection - Banbridge
Mon-Fri 9am -3.30pm
from £3
Courier - Priority
Estimated next working day
from £7.20
Priority Tracked - Royal Mail
Estimated 3 to 5 days
from £7.98
RM standard Non Tracked service
Estimated 3 to 5 days
from £4
Priority Tracked - Royal Mail
Estimated 3 to 5 days
from £7.98
Courier - Parcel Force - Highlands & Islands
Estimated 3-4 working days
from £15.60
Customer reviews
4.9/5
Based on 134 customers
Very pleased with quality and speed of delivery

Great quality. Delivery was a bit expensive but super fast

I buy these regularly for my parents on special occasions. They don't have any space left on the wall for pictures and they now get to see their grandchildren every time they sit for a cuppa!

I have purchased several items from pixaprints, always great quality and brilliant service. Thank you x

Excellent quality of the porcelain mugs, my design was replicated perfectly, easy to use creating system and each mug comes boxed. The whole order was well packed for sending. Well worth the cost.

The mug is nice and thin giving it a quality feel. The finish on the mug is durability and cannot fault it.

I wanted an original gift for a friend, and uploaded photos of her beloved dog on a mug. I thought the finished product was great value, it's a quality mug, and she loved the gift. The design process was straightforward, although the scale makes choosing background colours tricky and I did't quite get the bright yellow I thought I'd opted for, still happy though.

Arrived really quickly. Porcelain mug is good quality. Picture quality excellent. Very easy to use site

very easy to order and a fast delivery

Really happy with my Porcelaine mug , Gift for my sister she loved it

The mug is nice . Quite fine china. The print is clear. It was for a friend who thought it was great.

Exactly wot l ordered very easy to do turnaround didn't take that long excellent service many thanks

Good product,fast delivery,very pleased with the quality of the product

Fine china mugs that look beautiful with the printing on. Used scanned paintings from kids to make unique presents for grandparents, with great result.

Wonderful bone china mug, so lovely to have the choice of a more delicate mug rather than the heavy chunky ones especially as it was a gift for an elderly relative. Easy to make, fast delivery, excellent packaging. All together a positive experience

Easy to do, arrived on time and in perfect condition. I could not ask for more. Thank you

The design process is rather awkward because there is so little guidance on the website. However the end result looks great and they arrived remarkably quickly. Whether or not they are actually dishwasher-proof as claimed only time will tell.

Really happy with the product and service. I needed help with the design tool so I telephoned customer services and a very helpful guy chatted me through everything I wanted to do. My only recommendation for change would be to invest in an online tool to demonstrate the exact positioning of the images on the mug as I found it hard to visualise. The mug is of a good quality, with good quality print too. Very, very happy and will definitely recommend to others.

Great product, very happy with ordering, design and delivery. Thanks my wife loves the mug, it replaces a similar one that she broke. Now she can enjoy her tea again!

So easy to design and arrives super quick. This is the 3rd item I have brought for xmas. Great quality.

Delighted with the mug I ordered, nice bone china mug, clear print, easy to order & quick delivery. Would highly recommend.

great product have been looking for a porcelain mug to personalise, reasonably priced too. It looked great too and my mum loved it.

Fabulous customer service

I had left buying this gift to the last minute and hadn't researched it (my norm is to compare at least 5) and I was very pleasantly surprised! The website was easy to use and I really liked the fact I could personalise a good quality mug, more often than not you have to have a big chunky mug, but these are a nicely shaped bone china. It arrived on the day specified and well wrapped. The quality of the print was good, especially as one photo I had uploaded probably wasn't as clear as it could have been! I would definitely buy this again.

Very happy with mug, great gift and super fast and easy design and delivery. Images were very slightly muted, but could be my image quality as all from an iPhone!

Decent service, easy and quick to design. The downside is that the pictures printed on the mug looked a bit faded, which detracts from the look of the product, a bit disappointing.

Lovely mug, lovely design, so nice that I have placed another order!

I designed several porcelain mugs. I was so pleased with the quality of the product and the beautiful crisp colours of the printing that I rang pixaprints to thank them as soon as I finished unpacking them. Each mug can individually packaged and well wrapped. I will definitely be ordering more! Couldn't be happier.

Really happy with the end result, the receiver will love it too! Many thanks

I put one of my drawings onto a mug and sent it as a gift. The mug was produced the day I uploaded the art work and despatched the following day. The recipient was extremely pleased with the mug, so that meant I was too

Wanted to order 50 plus mugs for my business but you can't improve size or position of image so no good.

I love my mug. Now no one can steal it at work because it has all my photos on it of me, my cat and my daughter. I will be making another one for my daughter. Great quality and fast delivery.

Very well received as a present for my mum. Really easy to navigate website and super quick delivery.

Slightly disappointed that one of the pictures didn't work and you can't make anything out, the pictures are a lot lighter than they show on the computer. If it wasn't for that one picture I'd be extremely happy with it

excellent and quick service

The mug was exactly as expected, a high quality china mug with a high quality glossy image printed on it. The delivery was as forecast and I was kept updated as to progress. A great service from a great company. It was the second time I have used them and it will not be the last.

Two of these mugs were purchased for my parents Xmas present so that they could have 1 personalized mug each. The quality of the product is good although one of the photos is slightly washed out which is a little disappointment, but does not impact on their use. Overall an excellent product that my parents loved.

Loved it, arrived on time

A gift for my wife. Trilled with it would be an understatement. So nice to use She commented.

Only downfall is it's not a very large cup. Pictures and layouts are fantastic.

It's a Christmas present so hopefully they will be as pleased as me with it.

Love the look of it. Hasn't been used yet as a Xmas present.

What a lovely item! I wanted to personalise a mug for a girly friend, and thought a porcelain one a better option than the rather heavy, usual pottery type ones. I was thrilled with the result - thank you!

Very happy with product but I would say needs a little more packing around actual mug just for delivery purposes

The pic eas only in medium quality when uploaded and thought it will turn out quite blurry but instead was a really fine quality on the mug. Happy with it

The mug was a little smaller than I expected although my design looked flawless!

Beautiful Porcelain Mug. Easy to make. Mum loved it and now wants me to order her more. Loved the email updates of where the parcel was. Arrived a day earlier than expected. Definitely will use again and recommend to all my friends..

Bought 2 of these for nana & grandad presents from my little one, both had multiple pics on which was easy to put together. They arrived quickly & I was kept up to date with the process which was helpful knowing how long they were going to take with them being Xmas gifts. Chose these mugs because they aren't chunky builders mugs, nana & grandad are quite particular about the type of cups they drink their tea out of so these were perfect & will get lots of use. The quality is nice & the mugs look great. Recommend to anyone.

Very nicely produced with excellent colour and finish. i was disappointed with the size of the mug though. It's smaller than you think. And it was described as having a lip, which I like in a china mug, and it doesn't. The postage is also applied per mug which becomes extortionate if you want more mugs and there was no way of 'amalgamating an order' on the website. I won't order anymore because of postage costs.

Excellent product, easy to do and arrived quickly. Would use again

Was of great quality and it was with me within a few days

Loved how easy it was to create a personalised mug. Website clear and easy to use. Very happy with product.

The photo on the mug is excellent received it in 3 days from ordering excellent service

Lovely quality. Fast delivery, well packed

I'm really happy with this purchase as the mug was delivered to me very quickly and it looks great!

Great communication throughout process and mug was delivered within days.

The who experience has been well worthwhile. The service was great, the product was exactly as described, the quality was sound and the artwork was amazing. We were struck by the whole experience and are already planning a series of presents using this company. It is our very special find!

Very well packaged, recipient loved their ????

Very very happy with the mugs and especially the speedy delivery. Also item very well packed.

The mug was of excellent quality and photos were very clear and delivery was super quick to, would definitely recommend to friends and family

Five star as usual quality +service second to none,would not hesitate to recommend to family and friends.

Excellent quality gift and good image reproduction

Given as a gift. So nice to be able to choose bone china, not just a big, chunky mug.

The final product was exactly how it looked onscreen - easy to produce onscreen - really chuffed with it

Really happy with the picture on the mugs and the quality of the mugs

i have bought it is as christmas present, it was delivered suprisingly quickly. Very good quality of porcelain, nice and light. I have used my own pictures on a mug and it suited perfectly. Thank you very much to the team to do the great job!

Good qualiity, great service

Quick delivery and really well packaged. Quality is great as with all the products I have ordered from here.

Impressed by immediate delivery. Photographic quality reproduction is superb. Delighted with this purchase.
100% satisfaction guarantee
High quality printing
Fast delivery ,
shipped by Tuesday 5th
More about Personalised Porcelain Mug
Have your morning coffee in a custom-made photo mug that captures your favourite memories. These bespoke photo mugs make the perfect present for Mother's Day or Father's Day, as a stocking filler for Christmas, or as a great leaving present for a colleague at work. From meaningful to funny, there's no end to the possibilities with this product. They're the ideal way to put a smile on your face and brighten up your coffee break at work or at home.
With our easy-to-use photo editor, designing your mug is simple to do too. The most difficult part will be deciding which pictures to choose! With over 20 designs to pick from, these stylish mugs have a rimmed porcelain edge, elegant handle, and are microwave and dishwasher safe for convenience. From a single photo to collages of your favourite snaps, there are various ways to design your customised mug, so you can be as creative as you'd like. You can add your own text, from nicknames to a fun or thoughtful message, and change the background colour to anything you'd like, to personalise it even more. Alternatively, keep it simple to really let your photos pop – the choice is yours.
The possibilities are endless so let your imagination run wild. With high quality printing and vibrant colours, your images will really stand out – what better way to show off your favourite memories than with a product you'll enjoy using every day?