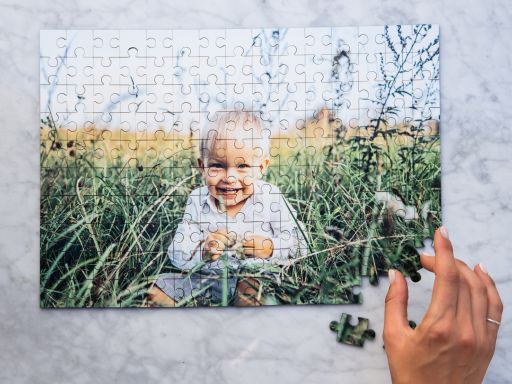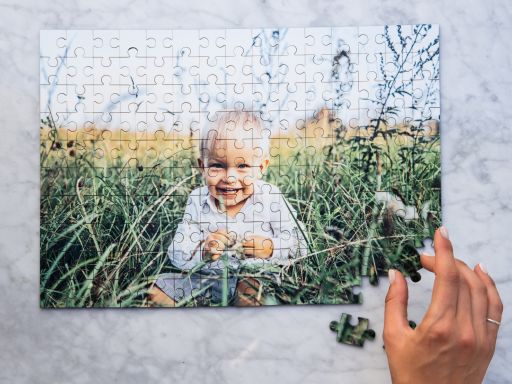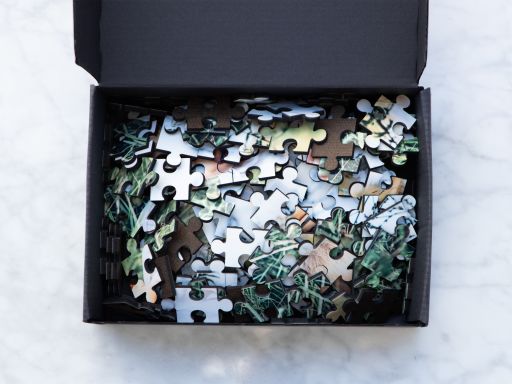 Personalised Photo Jigsaw Puzzle
from £4, shipped Monday 2nd
100% satisfaction guarantee
A personalised jigsaw puzzle is a great way to bring everyone together, have fun creating your own art.
Two jigsaw sizes - makes a perfect photo gift
60 piece jigsaws: 17.4cm x 24.8cm
150 piece jigsaws: 24.8cm x 35.6cm
Full colour photo printing
Cardboard pieces
Supplied in a plain box to allow gift wrapping of your choice
People ask us "Can you get a jigsaw made from a photo?" Yes you can!
"So, how do I turn a picture into a jigsaw puzzle?" Simply send us your personalised photo and we'll stamp out a custom jigsaw puzzle that's fun to construct and not too hard to complete!
120 board piece

£20

£10
60 wood piece
£16.80
150 wood piece
£24.95
Delivery information and costs for this product range;
Standard delivery - Royal Mail Non tracked service
Estimated 2 to 4 working days
from £4
Courier Standard - Parcel Force
Estimated 2- 4 working days
from £8.99
Priority Tracked - Royal Mail
Estimated 2 - 4 working days
from £7.98
Priority Tracked - Royal Mail
Estimated 2 - 4 working days
from £7.98
Courier - Parcel Force - Highlands & Islands
Estimated 3-4 working days
from £18.60
Courier - Ireland
Estimated to 2 - 5 Days
from £7.14
Standard delivery - Royal Mail Non tracked service
Estimated 2 to 4 working days
from £4
Courier - Priority
Estimated next working day
from £7.20
Priority Tracked - Royal Mail
Estimated 2 - 4 working days
from £7.98
Customer reviews
4.9/5
Based on 29 customers
I ordered the jigsaw as a Christmas present for my daughter. It was very easy to place order via the website, it arrived quickly and the quality is very good. I am very pleased with it.

A great little present if you want to personalized a gift for your loved ones

Here before I knew - after all I do live in Shetland. Pieces feel very substantial compared with the average modern jigsaw. Everything I have had from Pixa has been first class and I have been really pleased.

High quality puzzle, easily produced from your own photographs, reliably delivered.

The quality of the jigsaw was great, and the design/delivery process was quick and easy. Thank you!

Everything was perfect - timing, quality, everything!

Easy to create and order. Fast delivery. Packaging could be slightly more appealing as it is a gift but quality of product is good.

Jigsaw arrived and was absolutely beautiful. Ordered for child's Christmas present. I'm sure she will love it.

Decided to send my two elderly sisters, one in UK and one in New Zealand, a jigsaw each for Christmas...picked on this image of Charmouth beach as it looked fairly difficult...was really pleased with the quality of the wooden puzzle with its glossy and well-cut pieces...should keep both sisters who are in their 80's quiet for awhile!

Easy to create. A unique gift for a lover of jigsaws. Jigsaw comes in bag in plain delivery box. I bought a glittery gift box and used that to give as present. Comes with a picture of what the jigsaw should look like.

I ordered a personalised jigsaw puzzle as a Christmas present. It was very good quality, arrived quite promptly, and the online system was easy to use. However, the packaging was appalling - it was delivered in a plastic bag which was not even closed, so I wasn't even sure all the pieces were there! I had to then buy a box to present it in.

Really happy with my whole experience of ordering a jigsaw through pixa prints. Staff were helpful and polite when I called up to discuss my order, and product arrived quickly. The quality of the image was fantastic and I would happily order all my photo based products here from now on. Thank you!

I am so pleased with Pixa. I ordered a jigsaw from another website and had so much trouble trying to get it delivered to the Island where I live. So I emailed a few other photo websites, and Pixa was the first one to reply with a very helpful response from their customer service team. I put my order in and it was here within a matter of days. It was also about half the price of my original order and excellent quality. Thick wooden pieces with a high-quality shiny photo print on top. Absolutely wonderful!!

I wasn't sure what to expect but was so happy I ordered another photo puzzle for a friend.

Pieces are very good quality. Picture came out well. My only disappointment was it came in a clear bag. I expected to come in a box with the picture on the top. Other than that very pleased.

Website was easy to navigate. Delivery and packaging was excellent. I was extremely impressed with the quality of my order. The recipient was very pleased with his jigsaw. A superb service.

Quality of puzzle was really good, very happy with it would recommend to others.

I ordered two 120 piece jigsaws of a family gathering, they were that good I ordered two more, great fun identifying pieces of relations heads. Excellent quality item and very fast delivery.

Really happy with the look of the jigsaw, great quality and fast shipping and delivery

Excellent service. Will be back!

Really liked it, good fun for the kids at Christmas. Quick delivery
100% satisfaction guarantee
High quality printing
Fast delivery ,
shipped by Monday 2nd
More about Personalised Photo Jigsaw Puzzle
From retro prints, a family photo, to modern full colour, with a jigsaw puzzle any images are fun to build. The puzzle doesn't have to be an image either.
Photos and text, or just text alone will make a unique gift and a more challenging set of puzzle pieces! Even square photo prints can be used as the sides can be patterned to fill the vacant areas.
"Is there a strategy to jigsaw puzzles?"
Yes, most people will tell you to start with the straight edges and build in. We say 'that's cheating!' Make it more challenging and work from the inside out! Ours are not exactly a demanding puzzle for adults in terms of size, but younger children will adore a custom photo as one of their christmas gift considerations.
Our photo jigsaw puzzle is only one of the varied personalised custom items we manufacture and supply.
We sell poster prints and photo books,
To name just a few! Our delivery times are fantastic - look at our reviews from our satisfied customers. Send your custom print to Pixa Prints, we look after you