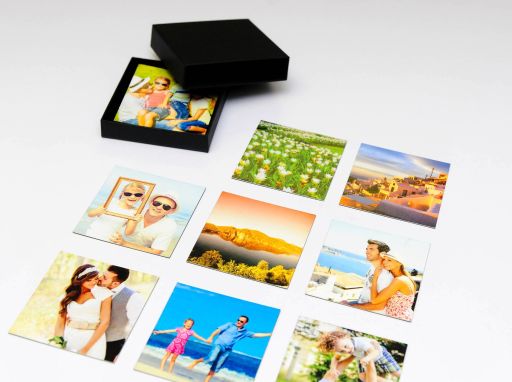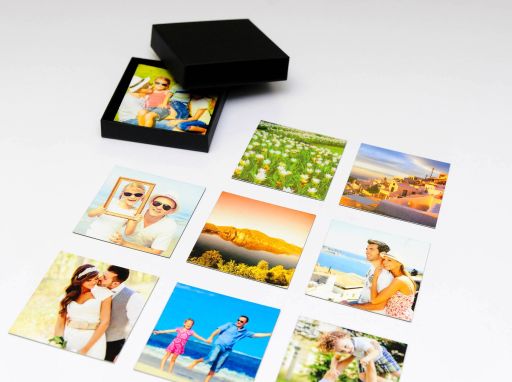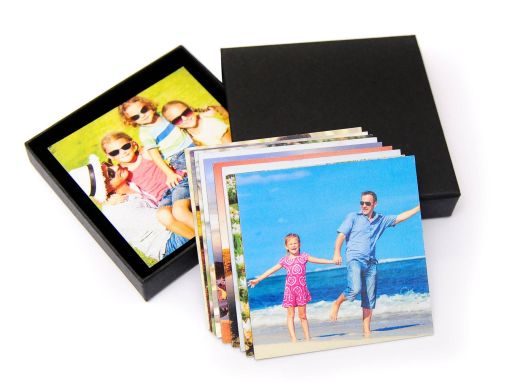 Photo Magnets
100% satisfaction guarantee
Place your favourite photos on to your fridge, freezer, iMacs, and more with personalised photo magnets! Choose from a range of pack options and sizes. Perfectly presented in a black gift box
Option 1: Pack 9 – 6cm x 6cm
Option 2: Pack 9 – 8cm x 8cm
Stunning photo print
Gift box included
Delivery information and costs for this product range;
RM standard Non Tracked service
Estimated 3 to 5 days
from £2.99
Parcelforce Tracked Courier Service
Estimated 2 to 3 days
from £9
Royal Mail Special Delivery
Estimated 1 to 2 days
from £9
Priority Tracked - Royal Mail
Estimated 3 to 5 days
from £7.98
Parcelforce Tracked Courier Service
Estimated 2 to 3 days
from £18.60
Priority Tracked - Royal Mail
Estimated 3 to 5 days
from £7.98
Courier - Ireland Tracked service
Estimated 2 - 3 Working days
from £7.14
RM standard Non Tracked service
Estimated 3 to 5 days
from £2.99
Instore Collection - Banbridge
Mon-Fri 9am -3.30pm
from £3
Courier - Priority
Estimated next working day
from £6.60
Priority Tracked - Royal Mail
Estimated 3 to 5 days
from £7.98
Courier - Parcel Force - Highlands & Islands
Estimated 3-4 working days
from £18
Customer reviews
4.8/5
Based on 276 customers
Loved making these and they are super cute also nice strong magnet

Such. Good quality product. Perfect for a pressie. Really happy with them!

Very pleased with the quality of the magnets, the ease of ordering and the boxes they came in.

I was really delighted with these magnets. Not only were they separated (I thought I may have to peel them apart), but also presented in a lovely slide opening box. Great as they were a pressie. Finish and quality of the magnets and photos were great, Mum was delighted with them.

Quick service excellent product fast delivery So easy to order,on my list to do again.

Great gift item. Nicely packaged.

The photo magnets were exactly what I wanted. Great quality and really clear photos. Thanks

These magnets are beautiful. Theu Y arrived in such a swwt little box which looked lovely. All packaging from Pixa prints is incredible and such good quality... which really makes a difference. No corners cut on this area. We'll done.

Fantastic photo magnets I bought for my boyfriend to celebrate being together a year & he loved them! They came in a nice box, in the time they said they would...all's good would order from them again :)

Thank you for an excellent product and brilliant customer service. Love the picture magnets, will definitely order more soon.

Grest set of photos to update what we had

Great quality product for a brilliant price.

These photo fridge magnets give me a ridiculous amount of pleasure. It's great to be able to survey my favourite photos every time I go into the kitchen. So much better than just storing them on my phone.

Bought photo magnets for my fridge in my new home. They turned out great! Clear images, well packaged and arrived quickly -thank you!

So easy to use, the quality's great. Delivered in a few days, gift box is a lovely touch. I uploaded my own designs for a gift, and I'm so happy with the result. The colours are vibrant & the details are clean. Excellent price too! Highly recommend

I loved these - amazing quality and such a reasonable price.

Happy with the quality of the pic's. And the turn around was supper fast very impressed. I would recommend to friends.

Absolutely love my magnets, I get so many comments on them and for the price they are great value and great quality

So happy with my product of fridge magnets. Will be ordering again soon x

Great product.will order again

Purchased for the fridge. Such a cute item to remind us of happy times. Would buy again as gifts. Highly recommend.

I've been looking for some photo magnets for a while. These were the best priced I found and so easy to upload your own photos. They Arrived within a few days and packaged in a lovely little box. I kept for myself but they would make a lovely gift.

Exactly what I was looking for, fun item

great quality, really quick delivery, had them in 2 days from ordering. Great packaging, designed to fit through letterbox so no waiting for parcels to be delivered. I ordered 3 sets of 9 magnets and will be ordering more, because I was so impressed with quality and service.

I have bought several photo magnets over the years since our daughter was born. Annoyingly I ordered the smaller ones this time without realising (but that was my own fault) - still they are a lovely gift to share great memories. Quick efficient delivery as always.

Very pleased with purchase

Great magnets.Very happy with them

So happy with quality and very speedy delivery, thanks!

Very pleased. Final product is very nicely printed, the website is easy and the customer communication is first rate. Have now ordered 3 batches of fridge magnets and recommended to a friend. Overall, great!

Quality service and beautiful packaging. Thank you

Very nice product, just the quality in the pictures could be a little better.

Lovely pictures! Super cute packaging. Very happy with purchase.

Will make a brilliant gift. Speedy delivery.

Great product that allows me to capture so many more memories for display. Great quality and clarity of pictures.

Such a great service. The second set I have ordered and about to get more!

Great product, quality isn't amazing but ok!

Very happy with the final product. Can't wait to order more.

Great product would reccomend pixa print for all printing projects and gifts never been disappointed with there service quality or results .

Bought for a birthday present to go with a noticeboard! The recipient was very happy as the photos were of his grandkids!

I bought these for my mums birthday and she loves them. Every time she goes to the fridge she can see her grandchildren.

Really happy with the photo magnets, good quality and fast delivery. The packaging was also quite nice, great for a gift.

Great quality as for this price, definitely worth

great pictures if photo is good quality

Amazingly done and really happy with the product and quality

I was very pleased with the quality of the product and speed of delivery

Recommend them to everyone quick fast and excellent quality's

Very happy with my fridge magnets. Great quality and super fast delivery would definitely use again

Perfect magnets to put over your fridge to brighten up your kitchen ????

Beautiful magnets,the photos on them were very clear. Fast delivery, price was very reasonable,I will definitely buy from them again.

Product was great, really happy with the outcome! Didn't take long to arrive and was a great product for a present. Really like them, will buy more again.

Website was so straight forward and easy to use. I ordered some prints to be put on magnets cannot recommend more highly. Also going to order much more. Reasonable price also!!

Great service magnets look amazing as always

Could not be happier, incredibly quick turnaround from order to delivery. So pleased with the results. Packaged really well in a nice box. Thank you so much :)

Good quality, lovely packaging

Really happy with product. Extremely pleased with service & delivery of items.

The best photo magnets I've stubbled across. My fridge is full of smiling faces.

Arrived fast, great quality! Photo taken with iPhone X

Didn't think the photo quality would be as good as it is, very pleased will make a lovely gift.

Really great quality, I've had photo magnets before but these are much better in terms of quality and they were cheaper. They were beautifully packaged too, I didn't want to throw the box!

So pleased with these, the pictures came out perfectly clear and sharp and the look of them is of a superior nature. Ideal as gifts to anyone. Just lovely

Great product! we love the magnets :)

So happy with my order, we have now been ordering for over a year and every order has been faultless. The simplicity of the packaging is classy and unique.

Really pleased with my first order. Very good quality, lovely little box they come in. Super quick postage. Liked it so much I've just placed another order with you!

Well printed,fast service. Could be thicker to look better quality.

These personallised fridge magnets are prefect as a christmas stocking gift. I can't wait for my mum to open them.

So pleased with this product, will be ordering more for the whole family

My fridge is looking perfect

Good quality magnets presented really nicely.

Good price and fancy product. Great as gift

Thank you for our lovely pictures. My husband was over the moon with his present

Really pleased with the quality of the photo magnets. The turnaround time was excellent. Thank you very much

Bought as a gift for my sister in laws birthday! She loved them! Fantastic product fast delivery and great cost! Would order again for another occasion
100% satisfaction guarantee
High quality printing
Fast delivery ,
shipped by Tuesday 5th
More about Photo Magnets
Create your own montage of precious memories with a selection of photo magnets, each customised with your choice of images. From your fridge or freezer to your iMac, these magnets look great in the home. Although we do love them when used as personalised fridge magnets. Why not purchase a magnetic board and create your own personalised display of photo memories, such as an anniversary or honeymoon, to give as a unique gift or to brighten up an area of your home?
If you want to make a fun and distinctive creation, you can opt for a single photo that will be split into nine magnets – a great present for kids to have fun putting back together. Alternatively, you can add text to your design to create a unique 'save the date' message for your wedding or to announce the arrival of your baby. There are numerous options to make a photo magnet personal to you.
With a choice of two sizes available, each set of nine magnets arrives in a gift box and serves as the perfect present for any friend or family member. You could create a themed selection that capture a memorable holiday or pick varied snapshots of your loved ones for a special birthday – there are countless options for ways to tailor this fantastic gift idea. These customised magnets make lovely keepsakes to dot around the home or the office, to liven up filing cabinets with photos from the work Christmas party, or to use as wedding favours.