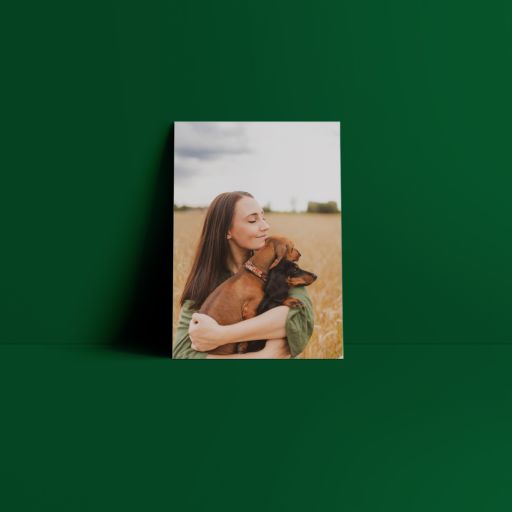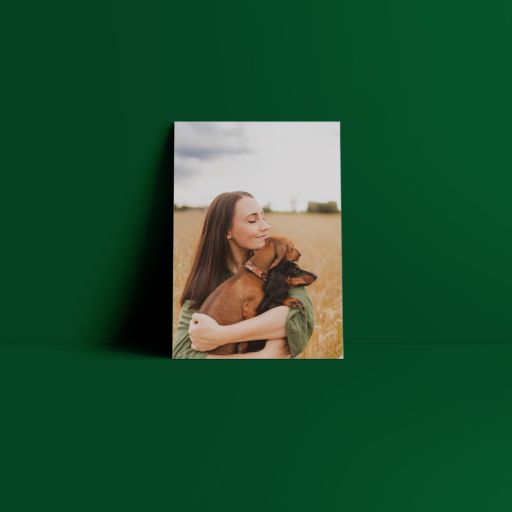 Standard Photo Prints
100% satisfaction guarantee
High quality photo prints printed on high definition printers for excellent prints.
Gloss and Matt options
Shrink to fit or adjust each photos crop
FujiFilm Crystal Archive Media
Supplied in paper pouches
Rectangle
| | |
| --- | --- |
| 5.3" x 4" | £0.12 |
| 6" x 4" | £0.12 |
| 7" x 5" | £0.20 |
Delivery information and costs for this product range;
RM standard Non Tracked service
Estimated 3 to 5 days
from £2.99
Parcelforce Tracked Courier Service
Estimated 2 to 3 days
from £9
Royal Mail Special Delivery
Estimated 1 to 2 days
from £9
Priority Tracked - Royal Mail
Estimated 3 to 5 days
from £7.32
RM standard Non Tracked service
Estimated 3 to 5 days
from £3.98
Parcelforce Tracked Courier Service
Estimated 2 to 3 days
from £12
Priority Tracked - Royal Mail
Estimated 3 to 5 days
from £7.32
Courier - Ireland Tracked service
Estimated 2 - 3 Working days
from £7.14
RM standard Non Tracked service
Estimated 3 to 5 days
from £2.99
Instore Collection - Banbridge
Mon-Fri 9am -3.30pm
from £3
Courier - Priority
Estimated next working day
from £6.60
Customer reviews
4.9/5
Based on 252 customers
Great service, great price. My order was one print short but it was a simple matter of contacting pixa and hey presto the missing print arrived a few days later. Great service, thank you pixa, will certainly use again

Loved my prints, will be ordering more!

I'm creating a photo album for my husband's 50th birthday - Pixaprints has been the perfect resource. Very happy.

Great quality, my pics turned out perfect.

Great product. I couldn't recommend this company enough. Looking forward to being able to complete all of my tasks within the app.

My 7"x5" pictures are very nice. Happy customer here :)

Lovely quality print.

Easy to use and finished product is just what I wanted.

Stunning..

First time using pixaprints & i am very pleased.Superb quality & fast delivery.I recommended to everyone.It won't be the last time i use pixaprints.You have a fan for life..Thank you...

As always great colour and quality, in comparison with others printers.

Great company lovely prints

I have purchased several items from pixaprints, always great quality and brilliant service. Thank you x

High quality, well packaged. Colours vibrant.

Lovely photos. Good quality paper which was easy to experiment and design on.

Excellent service, kept up to date with progress of order. Well packed. My only criticism would be that the quality of the prints paper wasn't too good. Quite thin. Otherwise good service.

Absolutely happy as always, brilliant colours, perfect quality. Thank you team !

great product and great s

Some photos are reprints and the focus and colour are excellent.

I cannot believe how good my pictures look. Great service and second to non. Use these guys, you won't be disappointed 10/10

Prints were ok however all were cute wonky with bits of a white border which I had to trim myself

I've discovered pixaprint while looking to print my wedding pictures. The quality was amazing and the job was done quickly. Now I am coming back for more. Easy to upload and edit your pictures, everything can be done in a few steps. Even when photo quality is not great, the pictures come out looking fine.

good price and fast delivery. recomend

Excellent quality prints, quick service, reasonable price

Very pleased with service from ordering, packaging and delivery.

Very happy with prints & customer service.

Good quality prints, packaged well

Really easy to place the order and very nice delivered!

Images include 50 year slide - very taken with all prints.

Good quality, however unfortunately some of the photos I requested were printed

Quick and easy and prints arrived very quickly, I'm happy with the service. Though it is a pity that the website does not give any of the important information about the image printing so its very hard to know how the prints will turn out as there seems to be random contrast and gamma correction made on each print and the colours come out very warm (5000k) so all the photos had a strong yellow hue. the website really should give this key information and also give an option to switch off colour and contrast correction and select whether it's sRGB or Adobe rgb colour space.

Really good quality, very affordable price, delivered quickly. I'm really happy. I hope you can also include a Pocket size photo for the size choices.

Ordered some photos. They are very clear, could edit, fast delivery, packaged very well, would recommend and using again!

Great quality prints at very reasonable cost . Have used before and will be using for all future prints.

Always great quality ! Defiantly recommend :D

Very good prints as usual, well packaged and quick delivery

Easy process to upload and print - would prefer if the items came as one shipment to reduce packaging

Good quality and fast delivery

Happy with prints received, just find the process of ordering, selecting and downloading not so straight forward. Had several copies of each photo selected and had to go through them to avoid duplicate copies.

I was very pleased with quality of paper/printing.

The paper used is of good quality, easy to use ordering service, overall excellent product and service.

I had some very old photos, over 55 yrs old, pixaprint did a brilliant job, now in an album for my brothers Xmas present, he'll love it

Buzzing with my Pixa Print experience. Was a bit nervous regarding how quality of photos came out but I am totally chuffed. I chose a Matt finish and the quality was lovely. Will deffo use you again. Thanks xx

bright, glossy, clear photo and brill service

I ordered these for a wedding album and they didn't disappoint. Really quick production / delivery and great packaging.

Quality prints easy to use site and quick delivery

First time I have used Matt finish turned out well. Delighted with them.

Photos came with no damage, great colours and wrapped safely!

Prints were great quality and all I needed

Excellent service easy to do and regular updates on what was happening with order really quick delivery and excellent price will use again and would highly recommend

Excellent service, easy to order, will only use Pixa Prints in future

Really happy with the prints

Good product, fast delivery

These were free photos but you pay postage (you don't necessarily know how much until you check out) making the prints about 6p each. Many of the prints seemed very true colours but some not as bright as if I had printed them out myself. I didn't feel the issue was big enough to contact Pixa and after all the pictures are only as good as the photographer i.e. me!

The pictures were printed well and the price was better than any of the competitors I checked. I would definitely recommend this service for printing 6"x4" prints.

Great quality and price for my prints! Also speed of delivery was great

I didn't expect so fast delivery and very good quality, super price

Very easy to navigate and download,super quick delivery,great quality prints.
100% satisfaction guarantee
High quality printing
Fast delivery ,
shipped by Tuesday 5th