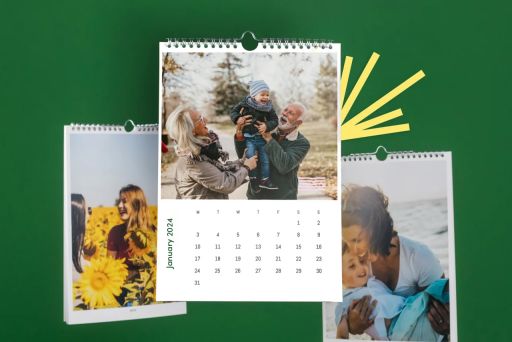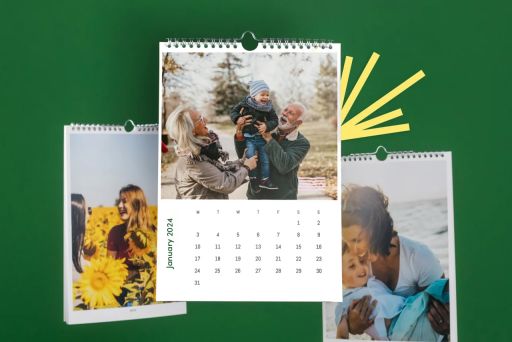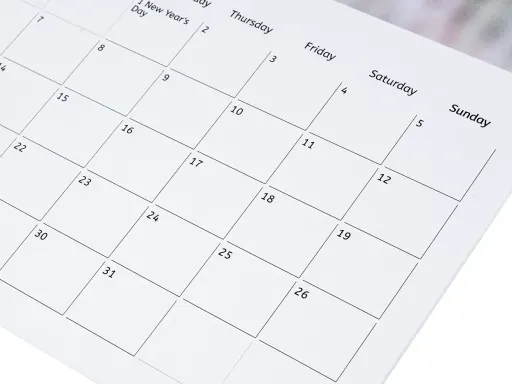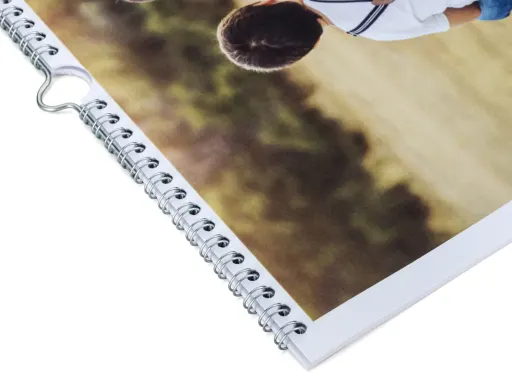 Personalised Calendar 2024 - A4 Photo Calendars
100% satisfaction guarantee
Pixaprints 2024 personalised calendars are;
Great quality. Printed on premium paper- 250gsm silk card throughout
A4 portrait (210mm x 297mm)
Fitted with a thumb hook at the top
Wire bound for a quick month to month page turn
Available with the ability to choose the day and month to start your custom calendar
Able to add text, image or photo to any date
Priced per personalised calendar. No need to buy in bulk.
Ready to ship within 24 hours
read more
Nothing quite measures up to the convenience of having a desk or wall calendar. Once in the habit of using a calendar, one glance highlights important dates, birthdays, meetings and appointments.
A personalised calendar attracts even more! Favourite pictures of friends, events and loved ones make a perfect gift when coupled with a photo calendar. A personalised gift shows you've put some thought into buying a present, and Pixa Prints specialises in the art of calendar design.
Our simple to use design software allows you to easily make personalised calendars by adding text, positioning your photos, rotating and cropping to suit.
You're able to personalise any date with a photo and text and never forget the event again, start creating your 2024 personalised calendar online.
| | | | | | | |
| --- | --- | --- | --- | --- | --- | --- |
| Qty | 1-4 | 5-9 | 10-29 | 30-49 | 50-99 | 100+ |
| A4 210mm x 297mm | £8.99 | £7.99 | £7.50 | £6.90 | £6.30 | £5.99 |
Delivery information and costs for this product range;
RM standard Non Tracked service
Estimated 3 to 5 days
from £2.99
Parcelforce Tracked Courier Service
Estimated 2 to 3 days
from £9
Royal Mail Special Delivery
Estimated 1 to 2 days
from £9
Priority Tracked - Royal Mail
Estimated 3 to 5 days
from £7.98
Parcelforce Tracked Courier Service
Estimated 2 to 3 days
from £18.60
Priority Tracked - Royal Mail
Estimated 3 to 5 days
from £7.98
Courier - Ireland Tracked service
Estimated 2 - 3 Working days
from £7.14
RM standard Non Tracked service
Estimated 3 to 5 days
from £2.99
Instore Collection - Banbridge
Mon-Fri 9am -3.30pm
from £3
Courier - Priority
Estimated next working day
from £6.60
Priority Tracked - Royal Mail
Estimated 3 to 5 days
from £7.98
Courier - Parcel Force - Highlands & Islands
Estimated 3-4 working days
from £18
Personalised Calendar 2024 - A4 Photo Calendars templates
Customer reviews
4.9/5
Based on 1,563 customers
Absolutely delighted with my photo calendars! Really can't beat Pixa Prints for the best quality and value. It's my first choice for all my photo printing needs!

Pixa prints is a fabulous company to deal with. Great quick communication. The quality is great and I would definitely recommend to anyone.

Another fantastic calendar! Whole process easy and straightforward and the quality is excellent. Love the flexibility of being able to choose different layouts for different pages and being able to add text to personalise dates and images. I've bought these for myself and also as presents for several years now and wouldn't go anywhere else. Delivery is also very quick.

It was easy to design and create my calendar. Once ordered I had regular emails telling me what stage of printing or delivery the calendar was at. The calendar itself looks great. I would definitely use Pixaprints again!

Received the A4 calender very professionally wrapped and delivery was very quick. Extremely pleased with the quality of the photos on the calendar...

Superb quality, super fast production, and much better value than Photobox

Great product, very happy with delivery, delivery was much faster than expected.

The website is so easy to use. Clear instructions.

Very good product, professional looking.

Ordered a few times now and have no complaints! Great product and quality.

Quality of the 30 calendars I ordered is excellent as always.

Great personalised calendar, I like the way you can add birthdays and events to each date - picture quality good even though some of the photos weren't the best quality - would buy here again

Great looking product and price

Fast efficient service with positive feedback on my 2024 photo calendar

So happy with the calendar definitely will be ordering from this company again. Thanks

Very happy as usual with my calendar. Will order more soon.

A great product, lovely quality, I've ordered lots over the last 3 years to use as fundraisers.

Easily constructed with efficient delivery.

Easy to do very quick print fantastic quality. Highly y.

I had a few of these A4 calendars made up for friends in the Relative Hills Society. The landscape photos look superb in every month and the overall finish of each really is great quality. Thank you Pixaprints!!

Can't fault this firm and happy to recommend to friends and family. It always delivers an every love Can't fault this firm and I have used it several times and recommended to friends and family- always impressed with the product ,communication and delivery

Great calendar and quality

Good service. Good quality Thank you

This is the second year in a row we have used pixa prints for our community wildlife calendar. The quality of the product is great and they all come well packaged to avoid damage.

Very happy with the print quality though feel there should be more freedom granted in the design

Superb quality, swift production and delivery as always.

Terrific quality, exactly what I ordered. Prompt service.

Great product. Little bit fiddly for some of the photos but overall good quality.

Great calendar which will make a great Xmas present for my parents and one for myself!

Excellent product as usual, done within 24 hours as promised pitty Parcel Force took 6 days to deliver the 48 hour service promised by them (sat at local depot for 5 days)

Our annual calendar for friends. Fantastic product and service ....again.

Happy returning customer.

Good quality paper and printing, delivered in record time

Very pleased with my calendars and will make nice gifts.

I loved the ease in which I was able to put this calendar together. The option to work on photos to make them a better quality was good. The speed in which they were dispatched was also good.

Exactly what I was hoping for.

Fab calendars and Excellant quality.

Was so excited to receive my calendar and I wasn't disappointed at all. Great quality and will definitely be ordering more.

Really happy with the outcome and quality. its such a unique idea, I made one for my mum for mother's day and she loved it! Now everyone in my family wants one. I'll be making these every year for sure.

Excellent service. Tried other companies and the quality of the print is so much better with pixaprints. Very easy to design and will definitely use them for next year's calendar.

Perfect gift for the new year and was loved as a present. Fantastic quality as always. I always come to Pixa Prints when it comes to pictures, canvas and calenders.

Really easy to use website and so easy uploading pictures

Amazing value for money!! It was easy to create & the pictures were big & colourful, I could add special dates & a front cover (all in with the price!!!). When it came it was super, better then I thought.

Great, will have no hesitation to recommend pixaprint - great quality & service

Ordered a personalised calendar, website easy to navigate, order process was simple, calendar looked fantastic. Great quality, delivered in time. Would definitely order again. Thank You.

I created two calendars for family members as presents and they're lovely - much better quality and service than I've had previously from a very well known bigger brand

I have been ordering calendars at Christmas for my family for the last few years and new to Pixa but by far the best one I have ever ordered thankyou very happy ????

Really good product with good delivery

Great service. Excellent calendar. Thank you.

Fantastic service and product excellent Well printed and put together

Very pleased indeed with the A4 calendar for close friends and ordered some more from Pixa as a result, which are due any day. Compared with other Print brands I tried out, Pixa's design method was the best!

It's so easy to make your own calendar with Pixaprints plus the quality of the product is excellent and the service is prompt.

Really good product, excellent quality and great service.

Feels a quality product and delivered quickly too

Nice and easy to make up and great that you can duplicate and change only a few things to personalise for family members

Good quality product well produced

Great product, easy to add the photos and great value for money

Great company to deal with. Hassle free and quality product.

Great Calendar - just what we wanted (as always)

Was so happy with my product the quality and finish for the price was super would use this company again thank you

Really happy with my calendar. Will definitely use again.

First order with pixaprints. Very easy to design the calendar and was delivered within a few days. Good quality

So easy to do from start to finish, arrived so quick , great quality

I run a automotive group in East Yorkshire with some friends and showed them this calendar I made up to see if any of them would like one, so I have now placed another order of this design x7! Very good quality and great designs, will be ordering more soon. Thanks!

We have been doing calendars every year of the grand kids as Christmas presents and the nanas always love them!!

Very happy with everything and price.

Very happy with the quality of my calendars & service.

I actually look forward to making this calendar before Christmas. So many designs and colours to choose from. Not complicated or fiddly to make. I m new to uploading photos/designing personalised products and I find this very user friendly!? Great quality calendar, great paper and lovely bright clear photos.

The product, price and service compare very favourably indeed with a rival company I used last year. I couldn't believe how quickly they arrived!

I am very happy with the products I have received so far.
100% satisfaction guarantee
High quality printing
Fast delivery ,
shipped by Tuesday 5th
More about Personalised Calendar 2024 - A4 Photo Calendars
Make every day a memorable one with our personalised photo calendars. Present a different collage every month to a full photo gallery showing off your favourite memories, with a customised calendar.
Take a trip down memory lane as you scroll through the year with a new personalised calendar 2024. A personalised calendar makes a thoughtful and also useful gift for loved ones, reminding them of great memories. Our online editor software allows text wherever you want and to place, rotate and crop your own photos for a perfect finish.
It's an ideal format to recall favourite pictures, meetings and birthdays. Use the photo wall calendar as a diary too. There are options to personalise each month with a photo or text to ensure you never forget a date again. Pixa Prints offer a selection of backgrounds and colours, from simple white to patterns and pastel shades.
Our custom calendar is completely flexible for personalisation. Display photos you want, text you want to add, and even which day and month you want to start the calendar. Each A4 wall calendar is printed on 250gsm silk paper and arrives in A4 portrait orientation.
A thumb hook and wire binding along the top makes for easy hanging anywhere in a home or office.
Looking for something a little bit bigger? Our A3 photo calendar is twice the size!