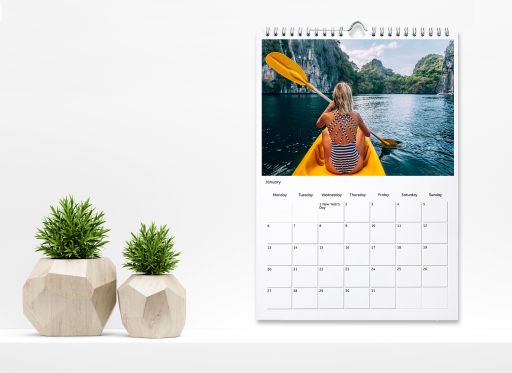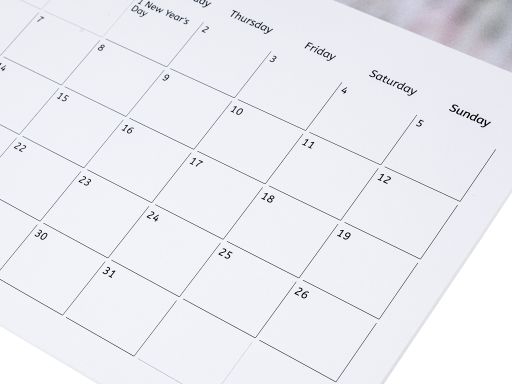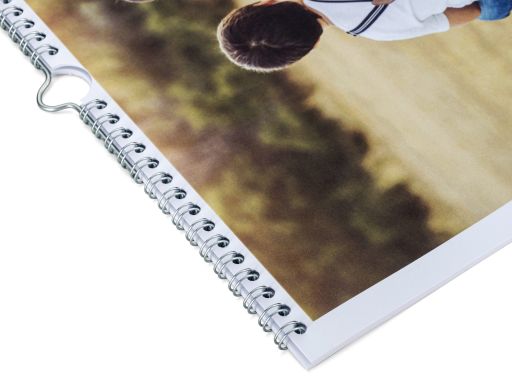 Personalised A4 Photo Calendar
from £2.99, shipped Thursday 28th
100% satisfaction guarantee
Pixa Prints 2022 calendars are;
Great quality. Printed on premium paper- 250gsm silk card throughout
A4 portrait (210mm x 297mm)
Fitted with a thumb hook at the top
Wire bound for a quick month to month page turn
Available with the ability to choose the day and month to start your custom calendar
Able to add text, image or photo to any date
Priced per personalised calendar. No need to buy in bulk.
Ready within 24 hours for delivery
Nothing quite measures up to the convenience of having a desk or wall calendar. Once in the habit of using a calendar, one glance highlights important dates, birthdays, meetings and appointments.
A personalised calendar attracts even more! Favourite pictures of friends, events and loved ones make a perfect gift when coupled with a photo calendar. A personalised gift shows you've put some thought into buying a present, and Pixa Prints specialises in the art of calendar design.
Our simple to use design software allows you to easily make your own calendar by adding text, positioning your photos, rotating and cropping to suit.
You're able to personalise any date with a photo and text and never forget the event again, start creating your 2022 personalised calendar online.
read more
close
| | | | | | | |
| --- | --- | --- | --- | --- | --- | --- |
| Qty | 1-4 | 5-9 | 10-29 | 30-49 | 50-99 | 100+ |
| A4 210mm x 297mm | £8.99 | £8 | £7.50 | £6.90 | £5.95 | £4.90 |
Delivery information and costs for this product range;
Standard delivery - Royal Mail Non tracked service
Estimated 3 to 5 working days
from £2.99
Courier Standard - Parcel Force
Estimated 2- 4 working days
from £9
Priority Tracked - Royal Mail
Estimated 2 - 3 working days
from £7.98
Courier Standard - Parcel Force
Estimated 2- 4 working days
from £18.60
Priority Tracked - Royal Mail
Estimated 2 - 3 working days
from £7.98
Courier - Ireland
Estimated to 2 - 5 Days
from £7.14
Standard delivery - Royal Mail Non tracked service
Estimated 3 to 5 working days
from £2.99
Courier - Priority
Estimated next working day
from £6.60
Priority Tracked - Royal Mail
Estimated 2 - 3 working days
from £7.98
Courier - Parcel Force - Highlands & Islands
Estimated 3-4 working days
from £18
Personalised A4 Photo Calendar templates
Customer reviews
4.9/5
Based on 1,251 customers
Intend on ordering another

Ace company,excellent customer service and speedy delivery too will be using Pixaprints loads ????

I have used Pixaprints for a few years now and am very happy with their service and particulary the product. I make a set of calendars with them every year and this could only be improved if envelopes were provided too.

Really simple to make my calendar. Easier than I expected

We are very impressed with the quality of the calendar. Not only have the pictures printed beautifully but the paper quality is exceptional and the calendars arrived well packaged and in good time. We would certainly recommend Pixaprints.

It is what I expected and will be an excellent gift for my friend!

The calendars arrived very quickly and well-packaged. Good quality also.

Very happy with my order, Top quality

Very easy to do and really happy with it

Am really happy with my products it's just as a design it

Easy to use, fast delivery, reasonably priced and good quality! Definitely recommend!

Will be placing another order with Pixaprints now. I have been super impressed with the quality if the A4 calendars, the speed in which they arrived, the way they were packaged and most of all the customer service. Its been fantastic. I'd 100% recommend.

Excellent Calendar, speedily produced and delivered, great quality, design issue picked up and easily resolved

Really good quality product. Have used many times over and always been an excellent end product.

Fast efficient service and delivery

The products are excellent quality and the site is easy to use m, thank you

I was really pleased with how easy the calendar template was to use, especially being able to use photos with different aspect ratios. I was pleased with the quality of the calendar and the colours were true. The customer service provided by phone was excellent and pixaprints were flexible with some last minute changes I needed to make. Delivery was quick and efficient. Happy customer.

As usual excellent product especially for the money - so well printed and packaged.

Easy to make and great looking calendar.

I was so pleased with my order that I phoned the company personally thanking them. I shall now be purchasing all of my product's through Pixa prints

Very quick delivery and good quality.

These calendars are quick and easy to do and look great - perfect for family gifts. Would be helpful if could save each "version" with a different reference otherwise when ordering multiples with different event dates etc. it can get confusing as to which is which - that is my only gripe.

I liked this calendar so much, I created a second one for a different fundraiser and even ordered more copies! The quality of the calendar and how each page came out is really pleasing, especially for someone who is not that creative!! The only thing I can suggest is that envelopes for mailing the calendars are offered as an optional extra, as it was not so easy to find decent but cost effective ones that would cope with being posted to Europe and the US.

great quality and perfect size

bought 14 calendars and am really really happy with them so good am going to order some more thank you pixaprints x

Decided to create a calendar for my elderly mother to cheer her up during the lockdown - I didn't tell her it was coming and she had a pleasant surprise. Despatch time was amazingly quick and it arrived at my mum's address the next day after posting. Very impressed with the service!

Great quality at a great price. Exceeded expectation

Really happy with the product and quality. Fast delivery and excellent packaging.

Found the layout options a bit limited, and would like to be able to name the product as I was making a few similar items and would like to differentiate between them. Basically very easy to use, incredibly quick delivery and reasonable price. Will use again.

Very good quality and fast delivery,

Quality calenders, only problem was I put a love heart after each name of the month & when I received them, there was a question mark, surly this should be looked at before printing , or a message to ask what i would want !

I thought their service was outstanding. I was able to size my pictures without any blurry warnings. When my item was delivered, the pictures came out nicely. I would highly recommend.

I have been designing and ordering calendars for years from Pixa. I have tried other providers too, but always come back to Pixa because the quality ist just next to nothing! Can only recommend

Absolutely love my calendar I did for next year, so easy to use and swap and change pictures if need be, good quality print/paer, really pleased with it.

It took a long time for me to upload the photos. I could not crop the photos once they were in position, so I had to do this on my photos first and then upload them. I searched and searched for a different way to do this but there was none. Also I had to upload photos one by one because it was not possible to scroll across past more than about 4 photos. Auto fill placed them in at a size I could not adjust so I could not use that feature either. Some of my photos were smaller than I wanted in the spaces because of the trouble I had with putting them in. It was worth it though because my calendars are good quality, arrived well packaged and in good time. I would buy again but would appreciate the process of creation of the calendar being easier.

So pleased with my calendar. Brilliant quality. Customer service very helpful. Would definitely recommend.

Brilliant product for the price

Excellent product, always been very pleased with Pixaprints over the years. Highly recommend.

Ordered 2 Calendars for Xmas presents, and the quality, service, and delivery are all top class. I will definitely use Pixaprint again.

Very easy process to create calendars. Excellent quality and fast delivery.

Excellent range of photo calendars. I was very pleased with this one and the print quality is great. A lovely gift for my hub.

Calendars look amazing, excellent quality, very professional! Thank you

Easy to use and very quick delivery.

It's a basic service. It does the job, and was delivered very quickly

Great quality, fantastic price and super speedy delivery. Will definitely use again

Great product, quality better than expected. Will come back next year.

I have ordered from other big online printers and been happy, this year from Pisa, I'm exstatic the quality, clarity, is the best. Easy to use design service. Outstanding results will be back

Had a lot of great comments from my customers about the quality of my calendar

Wanted a different Christmas present for a friend (relatively light, as it was going across the pond). Grabbed photos from a shared holiday in Italy and hopefully produced "memories" that should last throughout 2021! More than pleased with the result; very professional.

Really happy with end result

I have purchased quite a few batches of personalised calendars from these guys. Top quality and great communication. I highly recommend Pixaprints.

Everything about the product and the service is great

Very easy and quick to put together and very quick delivery, 1st class

The calendar was great. When I was building it, it warned me some of the pictures I was using would print as lower quality, but I needn't have worried as it was good quality. Some if my text didn't print though, it cut off half way down. So watch this when you design

Very pleased with the quality of my calendars.

Very efficient service and a great quality product.

Easy to upload photos and produce an excellent calendar.

Easy to use sight and lovely quality

Very pleased. I have made many calendars with Pixaprints and have always been delighted with the results. Quality and speed of service are excellent

Excellent product. Photos are taken from my iPhone mostly and they look great. It does tell you if they are substandard. I use my iPad to produce the design, really easy except it would be perfect if I could cut and paste my words instead of writing every word.

My photos never looked better. Thanks

Extremely pleased with my calendars and the courteous, helpful advice. Happy customer

Fantastic company and quality calendars!

Absolutely love this product I bought two worth every penny

Easy website, good variety, superb reproduction and fast delivery. *****

Quick service and professional finish.

Top quality and quick process. RECOMMEND HIGHLY

Very good product my personal calendar, easy to download, etit, pay Calendars arrived promptly beautiful

Was really happy with the calendars, excellent quality and so easy to do

The room for entering information on the calendar was a bit small for us.
100% satisfaction guarantee
High quality printing
Fast delivery ,
shipped by Thursday 28th
More about Personalised A4 Photo Calendar
Make every day a memorable with a personalised photo calendar. Present a different collage every month to a full photo gallery showing off your favourite memories, with a customised calendar.
Take a trip down memory lane as you scroll through the year. A personalised calendar makes a thoughtful and also useful gift for loved ones, reminding them of great memories.
Our online editor software allows text wherever you want and to place, rotate and crop your own photos for a perfect finish.
It's an ideal format to recall favourite pictures, meetings and birthdays. Use the photo wall calendar as a diary too. There are options to personalise each month with a photo or text to ensure you never forget a date again.
Pixa Prints offer a selection of backgrounds and colours, from simple white to patterns and pastel shades.
Our custom calendar is completely flexible for personalisation. Display photos you want, text you want to add, and even which day and month you want to start the calendar.
Each A4 wall calendar is printed on 250gsm silk paper and arrives in A4 portrait orientation.
A thumb hook and wire binding along the top makes for easy hanging anywhere in a home or office.
Looking for something a little bit bigger? Our A3 photo calendar is twice the size!