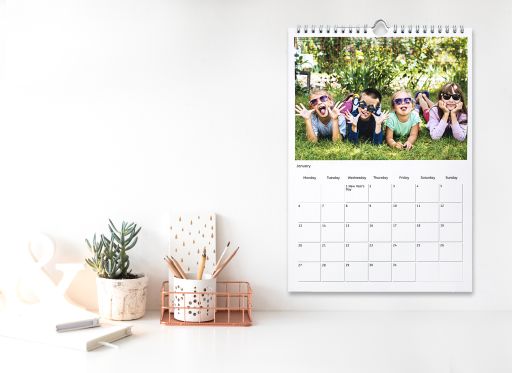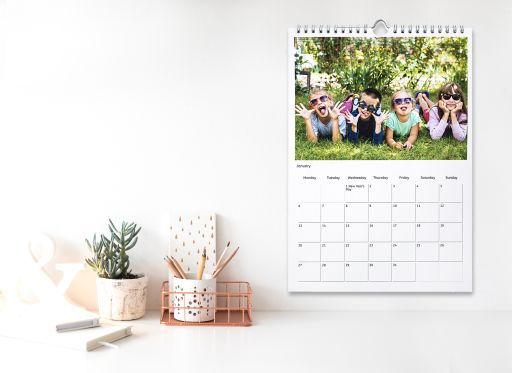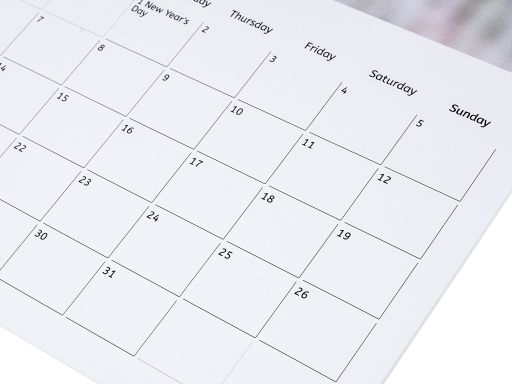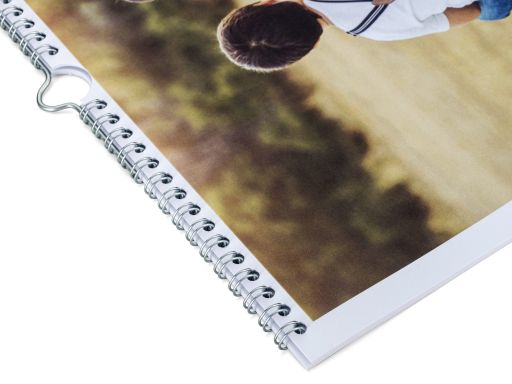 Personalised A3 Photo Calendar
from £4.49, shipped Friday 29th
100% satisfaction guarantee
13 pages - 1 cover and 12 months
250gsm silk art paper, quality throughout
Ready to hang
Customise each date with photos and text
29.7cm wide x 42cm tall
A3 photo calendar printed on 250gsm silk art card. All our calendars are printed full colour and come wire bound with a thumb hook ready to hang instantly on the wall. Choose from a range of photo layouts.
Looking for something smaller? Checkout our A4 photo calendar
| | | | | | | |
| --- | --- | --- | --- | --- | --- | --- |
| Qty | 1-4 | 5-9 | 10-29 | 30-49 | 50-99 | 100+ |
| A3 297mm x 420mm | £9.95 | £9.50 | £8.50 | £7.80 | £6.94 | £5.95 |
Delivery information and costs for this product range;
Standard delivery - Royal Mail Non tracked service
Estimated 3 to 5 working days
from £4.49
Courier Standard - Parcel Force
Estimated 2- 4 working days
from £8.99
Priority Tracked - Royal Mail
Estimated 2 - 3 working days
from £7.98
Courier Standard - Parcel Force
Estimated 2- 4 working days
from £16.80
Courier - Ireland
Estimated to 2 - 5 Days
from £7.14
Courier - Priority
Estimated next working day
from £5.99
Courier - Parcel Force - Highlands & Islands
Estimated 3-4 working days
from £18
Personalised A3 Photo Calendar templates
Customer reviews
4.9/5
Based on 934 customers
Great quality, so easy to design. Very quick delivery, will certainly be ordering from here again

Superbly made, couldn't have wanted better. Incredible turn-round time too. Thank you.

Thia is my second year ordering calendars from Pixaprints and i did shop around if anything a little expensive but ease of ordering and creating your design is fantastic and excellent customer service and quality

Loved so much by my friends, had to order more for them!

A really excellent product, quality materials used, packaged really well, so a very happy new customer who will be ordering again :)

A beautiful product with a stunning finish. A great keepsake

I love these personalised photo calendars. A great way to share memories of a year. It would help with design if could save each "edit" with a new reference/name however when designing multiple versions.

Very happy with the finished product. The images for each month were of excellent quality and the overall finished calendar was far better than I expected.

Excellent service and very quick to arrive

It would have been nice to be able to copy and paste text into date boxes when designing a personalised calendar as typing is now the only option being offered. Overall very good quality and fast delivery,

What can I say. Great service ( thought it maybe delayed due to COVID) but no arrived as said. And the quality is Excellent. We have been having a personalised calander for a few years now with you, perhaps the lovely pics themselves have enhanced the calendar this year. But we are delighted and thank you.

The calendars were to a high quality. I have used Pixaprints for several years and really happy with the printing.

Excellent product, third year of ordering, never been disappointed. Would not hesitate to recommend

I bought a full-page photo calendar and initially didn't realise I could add multiple pictures - once I realised that it was very easy to make a fab calendar. Provided you have good quality pictures to put in the resulting calendar looks brilliant.

This is the third year I have ordered a calendar from this company, easy to do a d quick delivery. Love looking at my grandchildren pictured on each month especially this year as I have not seen them much

Ordered for charity. Well made. Customer very happy and speedy delivery of calendar direct to their home

Very pleased with my personalised Calenders Thank you.

Love it and delivery was very quick

This is such a great calendar. Easy to design and to change the photos around if you change your mind. Love the fact that you can put personal info eg: birthdays or anniversary details on too.

Easy to use and really quick service. Very helpful when I need to cancel an order when I spotted a mistake I had made!

A Great product that looks amazing , I couldn't be any happier with my calendars Thank you.

Best calendar I have ever had produced, superior quality in every way. About to order another, different one x

After years with another company I didn't think I'd find anything as flexible and with such a quick turnaround but Pixaprints is that company. I wish the "enter text" print were a little larger - it's easy to miss- but I've found a way around that when editing apertures etc. Also I think if the cardboard packaging were a little stronger it would reduce possible damage. I make about 8 or 9 calendars a year for family and friends so will definitely be back.

Absolutely fantastic quality calendars, so delighted I have ordered a second batch! Excellent fast service, superb packaging. As a photographer I have found happy perfection with pixaprints! Thank you so much!

Placed the order Sunday afternoon. By Monday lunchtime received email advising that the calendars had been printed, packed and were awaiting collection by the courier. Delivery was on Wednesday morning, even though I had only chosen Royal Mail standard service. What more could you ask for?

I think the best calenders to date that I have had will certainly order more products again later

Excellent photo reproduction quality - exceeded expectations

The website is so easy to use and it's easy to make your design. Once I received the calendars I was overwhelmed by the quality of the product and how beautiful my pictures finally looked! Would definitely recommend and will use the service again for sure.

Just what we needed, quick delivery and at a good price point compared to others doing similar , def use again

These calendars are always excellent and so is customer service, I've had several and will have more. I'm sorry tho, but i do think packaging could be sturdier.

Easy to make calendar and fantastic quality product quickly supplied

I am very pleased with the quality of the printed photographs. They do justice to the originals

The A3 calendars are amazing quality. We ordered 2 for both sets of grandparents and it was very easy to design and order. We'll do this every year, very pleased with the entire process.

Easy to use the site, the calanders were amazing, used this site before will use it again

We had a problem with damage caused by the delivery. The response from pixaprints was fantastic. Very helpful and a speedy resolution to the problem. Very impressed.

This was my first time using Pixaprints so I was a little bit anxious about the process and quality. But I had no need to worry. The whole thing went easily, and the product arrived early too. Quality is fantastic, better than other similar companies that I've used. I will be coming back!

Received my personalised calendar today (quick service!) and absolutely love it.

The process is so easy. The quality is superb. The prices are good. All in all a fantastic product. I highly recommend if you want to produce something personal for a gift to someone special.

Love . Good quality and super quick delivery ????

I am thrilled with my calendar. It was delivered promptly and safely.

This was very easy to design the calendar I wanted. Very simple with a good choice of layouts. Printed quality is excellent and a very reasonable price. Would definitely recommend and I will definitely use again.

Quality pleasingly good - Despite a couple of our photos not being best quality - will use again

For grandma in lockdown- a lovely surprise

I received my calendar today, which consisted of over 60 photos (some submitted as collage) and I was amazed at the quality of paper and the printing. I can thoroughly recommend Pixaprints. Fast efficient delivery.

Quick and easy and simple to use - a great service!

Very easy to realise. Quick delivery. Amazing product.

Choosing the photos was much harder than adding them to my chosen calendar. Looks beautiful on the wall. If you choose the best pictures the picture quality will be excellent. I did use a few not so good ones and was pleasantly surprised how well they turned out.

Clean design, high quality paper, super fast turnaround.

A really lovely calendar, I can use it for all the family appointments. Lovely quality, great quality. A very good company to use.

This A3 calendar will make a wonderful gift. Great service as usual.

The calendar I designed worked out beautifully. All the family are really pleased with their own copy.

Easy, divers, quality, professional. This was my third calendar that i've design myself with Pixaprints and i'll do it again next year. ??5 from me. ????????

Really happy with the calendar fantastic quality

I am very happy with my purchase and the end result. I would definitely recommend this site to anyone.

Have made calendars with other companies, this is far better quality and a reasonable price

Excellent product, swift service. But inability to transfer data to a second format (eg make both A3 and A4 calendars with same photos) a drawback. You have to enter it all again.

Our calendars arrived very quickly. They were well packed and were excellent quality. Will be using pixaprints again.

I have been using pixaprints for several years now and each time the quality has been excellent. Also, the web software gives freedom to chose layouts to suit any creative ideas.

Exactly what I wanted plus arrived before expected date.

Arrived very quick. Quality pictures and nice finish.

Great quality and Looks great in person, super easy to do online too!

some functionality didn't work but I managed Don't understand why the range of options on the UK site are not available on the Irish site

Have been making photo calendars at Christmas for many years with different websites. PixaPrints is easily the best in all areas. Will be back next year.

This is the third year running i have ordered a calender, but the first year using pixaprints, definately the best one i've used

Amazing! Fantastic quality! Couldn't be happier!

All easy and fantastic quick turn round and delivery after completing the design.

Brilliant service and product

Great calendar, can't fault it

The paper is very good quality and the printing is excellent - I make up composite pictures before uploading with a variety of colours and styles (line art as well as photos and writing) and it is all perfectly reproduced, the colours are exact. And it is done so quickly, in less than a day all my calendars were printed and posted. Remarkable, and very impressed. Only 4/5 for ease of design because it is not that obvious how to achieve the optimum positioning and I would not attempt a complex composition using it, but overall fairly simple to use tools.

The simplest but most classy photo-calendar creator I've used in 10 years.

Easiest website to use. Great quality. Fast delivery. Best value. Best company out there offering this IMO

From start to finish i was impressed with this product. The site make it easy to compose and the company kept me well informed of the progress

Such great quality print for the price, always quick delivery! Packaged with care

Bought for close family, and everyone loved them.
100% satisfaction guarantee
High quality printing
Fast delivery ,
shipped by Friday 29th
More about Personalised A3 Photo Calendar
Super size your photo's
Our largest calendar in the range, A3 measuring 29.7cm wide x 42cm tall. We have a range of templates to choose from that make your photograph print full page or half page sized photographs. Why choose the half page template when you can get photo's the full size of A3? The half page designs allow for a larger calendar area that has boxes you can write on so you remember those important dates :) They are also the most popular choice for our customers.
250gsm silk art & the environment
We call this the "good stuff" and the final product showcases it. Every one of the 13 pages in our calendars is printed on 250gsm silk art paper. The paper is sustainably sourced ensuring trees are replaced.
Carbon offset
Pixa Prints care about the environment and we are doing our bit to help where we can. Each month we contribute to carbon offset programs based on the paper we use, this is on top of the paper being sustainably sourced already. We are certified by our paper providers monthly as having offset the carbon produced during production of the paper.
Customise each date
Each date can be customised with your own photo or text, never forget that important birthday or meeting again. This option is available on most of our templates.