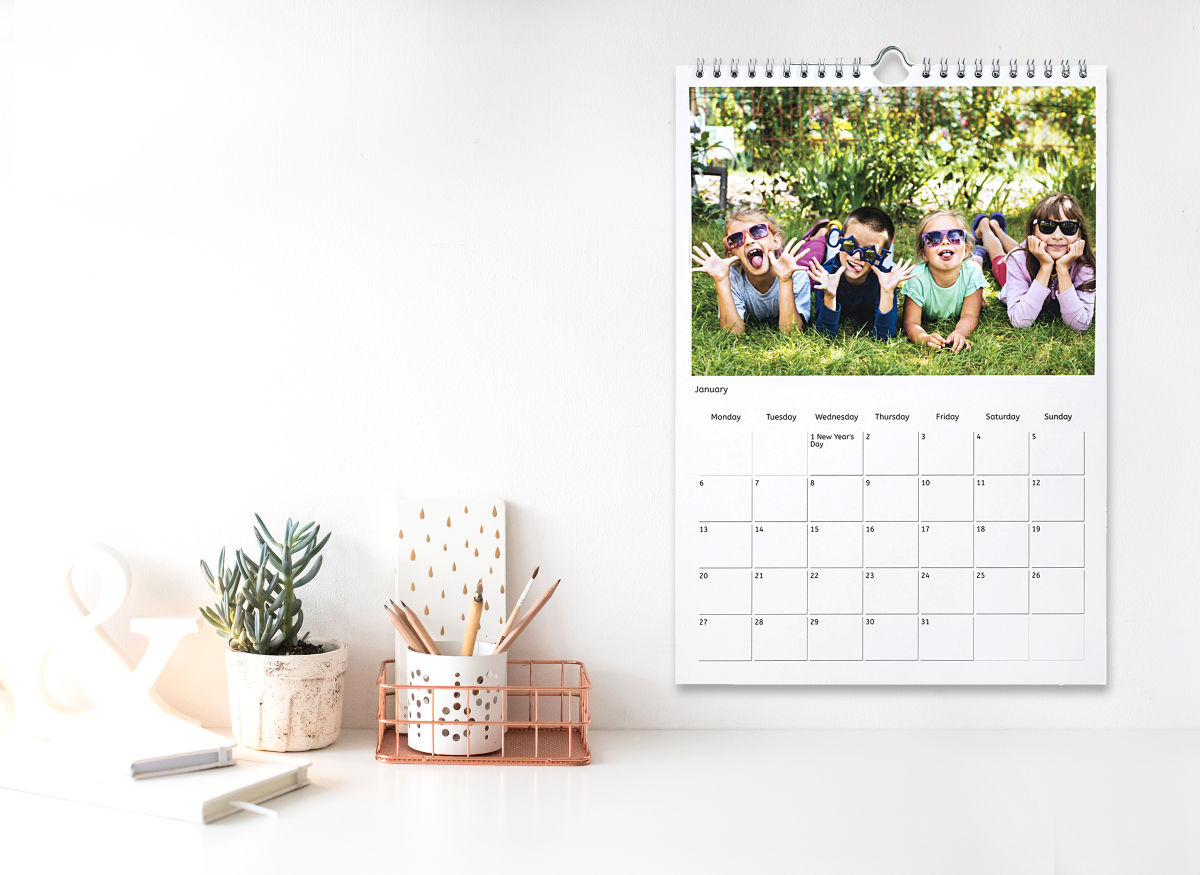 Personalised A3 Photo Calendar
A3 photo calendar printed on 250gsm silk art card. All our calendars are printed full colour and come wire bound with a thumb hook ready to hang instantly on the wall. Choose from a range of photo layouts.
Each date can be customised with your own photo or text, never forget that important birthday or meeting again. Simply click on any date to enter your own text. Looking for something smaller? Checkout our A4 photo calendar
13 pages
250gsm silk art pages
Silver wire bound with thumb hook
Customise each date with photos and text
Product
1+
2+
10+
30+
50+
100+
A3 297mm x 420mm

£19.99

£10.90

£19.99

£10.15

£19.99

£8.88

£19.99

£7.81

£19.99

£6.94

£19.99

£5.95
Delivery is calculated and displayed at the basket. We combine orders where possible to ship items together. If items belong to the same shipping group we combine the number of items and only charge one fee. Prices shown below are the delivery fees for the category this product belongs to.
Channel Islands
| | |
| --- | --- |
| | 1 - 20 items |
| Parcel Force - UK 48hr Excludes Highlands & Islands | £18.60 |
| | | |
| --- | --- | --- |
| | 1 - 4 items | 5 - 9 items |
| Royal Mail Special Delivery | £9.60 | £12.00 |
| | | |
| --- | --- | --- |
| | 1 - 4 items | 5 - 9 items |
| Royal Mail Priority Tracked | £7.98 | £9.00 |
Ireland
| | | |
| --- | --- | --- |
| | 1 - 50 items | 51 + items |
| Courier - Ireland | £7.22 | £14.45 |
N. Ireland
| | | |
| --- | --- | --- |
| | 1 - 1 items | 2 - 2 items |
| RM 1st Class Not Tracked | £2.99 | £4.49 |
| | | |
| --- | --- | --- |
| | 1 - 50 items | 51 + items |
| Courier - Northern Ireland | £6.60 | £14.40 |
| | | |
| --- | --- | --- |
| | 1 - 4 items | 5 - 9 items |
| Royal Mail Priority Tracked | £7.98 | £9.00 |
UK (Mainland)
| | | |
| --- | --- | --- |
| | 1 - 1 items | 2 - 5 items |
| RM 1st Class Not Tracked | £2.99 | £4.49 |
| | | |
| --- | --- | --- |
| | 1 - 50 items | 51 + items |
| Parcel Force - UK 24hr | £15.60 | £31.20 |
| | | |
| --- | --- | --- |
| | 1 - 50 items | 51 + items |
| Parcel Force - UK 48hr Excludes Highlands & Islands | £9.00 | £18.00 |
| | | |
| --- | --- | --- |
| | 1 - 4 items | 5 - 9 items |
| Royal Mail Special Delivery | £9.60 | £12.00 |
| | | |
| --- | --- | --- |
| | 1 - 4 items | 5 - 9 items |
| Royal Mail Priority Tracked | £7.98 | £9.00 |
Customer reviews
4.9/5
Based on 692 customers
Great service and product. This is my 4th annual run of calendars with Pixa Prints.

I have been using Pixaprints every year for the last 3 years. I purchase 3 x A3 yearly calenders. They are easy to design and are of exceptional quality

Quick turnaround of the test print for my calendar. As always great service, and quality product.

Great calendar quality prints and a step by step service

I am very happy with my calendars. Such good quality. Wouldn't go anywhere else

Have ordered many times and have never been disappointed

This is the second year I have ordered calendars from Pixaprints and they are beautifully made, crystal clear photographs and delivery is second to none. Thank you once again! Hendricks

the second year I have done one of these calendars. They are so easy to do and so well received by all who see them.

Found this really easy and result terrific, the A3 size if great for a calendar. I used to print my own on A4 photo paper - but when you factor in the cost of paper, ink and binding this is really more economical and a superior result. Thank you Pixaprint, will be using again for presents for friends and family.

Ordered three times. Great quality, fast delivery and no problems with the service whatsoever. Will be using Pixaprints again for our yearly calendar. Top marks!

I have used Pixaprints a number of times now and and as I am looking for a high quality calendar to send out to family and friends I will be using Pixaprints again in the future. My carefully taken photographs are well represented in colour and black and white. Kept up to date of order and postage tracking.

Everything about the process was easy to manage from design to receipt of my order. I was very impressed with my calendar, as are my customers. I will definately be ordering from you again. Thank you.

My personalised calendar was so easy to design. There are many layout designs to use. The printing is super, clear and bright colours. The calendar arrived in very good time and was well packaged.

My calendar is a thing of beauty. The printing is lovely. Clear and bright colours which match my photographs. The design stage is so very easy, there are many layouts to choose from. The calendar arrived in very quick time and was well packaged.

My personalised calendar is beautifully printed, bright clear colours which match my photographs. The design stage is super easy to accomplish. My calendar arrived in very good time and was well packaged.

Another great personalised calendar from Pixaprint. The design stage is so easy to complete. The layouts can be customised too. The printing is clear and bright and the calendar arrived well packaged and in good time.

Once again Pixaprints has excelled itself with my latest personalised calendar. The printing is spot on. The design stage is really easy. The calendar arrived well packaged and in very good time. I will be ordering more personalised calendars, in due time.

What a great way to generate your own calendar with your very own special and meaninful prints. This is the third year I have done this and I love them !

I have ordered my calendars from Pixaprint for quite a few years now, and would never go anywhere else. Superb quality, brilliant Customer Services, and fast and safe delivery. I will be placing an order for more this week

The software which allows one to place photos onto the layouts is superb, so easy to use. The printing appears to be top-notch. The turn-around time is, on average, about 5 days. I gave only 4 stars for packaging as the corners of the calendar arrived a little bit battered. The Post Office mail system is not known for being gentle..

Product arrived quickly and was to extreme liking

Decided to do some calendars for friends and family this year. Design process was relatively easy, but had to be done on PC as it didn't work perfectly on iPad. A few glitches in design program, but overall fairly easy. Ordered just one to start to check quality, etc. Glad I did as I found a few bits on my photos I used that I had missed. Finally did finished order. Very pleased with quality and printing, will definitely use again. It would be nice if calendars came with envelopes, but it wasn't a problem.

Really pleased with the finished calendar. Very quick turnaround, just waiting for orders. Very pleased.

Great product, i ordered a larger batch this time round and was happy with what i received.

i had, previously, used a different printing company but they are no longer printing personalised calendars. The service from Pixa Print is certainly 5 star. putting the calendar together could not have been easier and when it arrived i was pleased with the quality of both paper and printing. the packaging was more than adequate and delivery was speedy too. i was so satisfied with the calendar that i immediately ordered two more.

Now my go to printer for my yearly company calendar Highly recommend

This is the second year I have designed and ordered a calendar and the service is once again excellent. I shall shortly be placing a bulk order. Superb.

Great A3 calendars produced once again by Pixa Prints. Always quick in production and with a great print quality. I don't think they can be beaten for the price and value.

Have been ordering calendars for several years now - as always the whole service and product design is excellent

I just received my A3 Calendar. I wanted a back cover as well so messaged online and had so much help from Glenn. Happy with this Calendar doesn't cover it, the paper and print quality is exceptional. I will be placing an order for 100 soon as they are to promote my Artwork and this Calendar exceeds all my expectations. Very happy customer

Very helpful and easy way to upload and arrange photos. The end result is spectacular. Thank you for sending it so promptly. I will definitely be using you again next year!

Easy to design via the website and looks brilliant

The calendar was easy to design and delivered promptly. I was really happy with the quality too.

Great product, arrived in good time. I will be ordering a large batch very soon

Pixa prints remain the best company to use

Even better than last year!

I was impressed at the quality of the paper used for the calendar and how detailed the prints were. After seeing a lot of modern printing which can be dire quality, Pixa prints was pretty good quality and the colours were reasonably accurate. Expect colours to be very warm 5000k so adjust your monitor accordingly.

Very happy with the calendars I received, and with the service

A3 size calendar with 30 pic. uploads was on Special Offer and cheaper than smaller A4 , so I thought I'd give them a go ( have always used Vistaprint previously as they were cheaper). I was amazed by the quality of the calendar and very pleased with the speed of service and price.

I have ordered around 25 A3 Calendars through pixaprint. The quality is great and the delivery is quick. The website makes it easy to create your own calendar. All round very happy ????

A simple operation. Design good. Were there other choices of layout?

Easy to add photos and text and clipart, printed to a high quality and for a very reasonable price. Delivered quickly as well, all in all a perfect service from Pixa Prints ! Thanks

Really pleased with finished product!

My pictures came out brilliant and the calendar is fantastic, I love it!

Pixa prints yet again surprised me with the speed of their service and the quality of the personalized calendar I made on their site was, as usual, better than the competition and at a better price as well. Honestly can't think of any reason why I'd go with any other company when the service is this good.

My calendar is great nice sharp pictures on very decent backing with deep distinct colours! Perfect

Excellent service. Great quality product and super fast delivery service.

This it the second year I've used pixa prints to design our work calendar. The ease of design, the efficient delivery service and the quality of the paper and resolution of the images is really great. I couldn't recommend this company enough. Thank you for caring about your customers!

Great product. Easier website to use than other similar websites. Only issue is that you can't zoom in on the dates very easily and it would be useful if you could order the same design in different formats I.e. an a4 and a3 of the exact same calendar without having to 're do it each time from scratch.

I chose pixaprints due to the ease of design was much easier than other calendar providers to design the layout I wanted. Very happy with the quality.

I've used Pixa a few times now and will continue to use them for my calendars as I'm very happy with the quality they deliver.

A3 size whole page photos looks good. Good quality and fast service.

The item arrived very quickly & was well packaged. The quality was as good as expected ( had ordered previously) & would not hesitate to recommend to friends.

Really fast delivery, well packaged, exactly how i designed it, easy website, unlike other websites, highly recommend

Nice surprise to open the calendar and such clear good definition photos on good quality paper. Will certainly use Pixa again for a calendar.

Ordered 3 of the same photo calendar but 1 of them had missing pixels in the photos and ring binding at top was pulled out slightly.

Had a slightly higher contrast been used in these monochrome images then the product and production would have received excellent.

Very happy with quality of product. I make 25 individual calendars each year as Christmas gifts and am delighted that this company give muti buy discounts on these as others don't. Just need to be able to save and reuse events.

Very happy with quality of product. I make 25 individual calendars each year as Christmas gifts and am delighted that this company give muti buy discounts on these as others don't. While card packaging is eco friendly, my calendar got wet on the edge which caused some damage, so maybe plastic has its uses sometimes!

Very happy with quality of product. I make 25 individual calendars each year as Christmas gifts and am delighted that this company give muti buy discounts on these as others don't.

Value for money calendars - good quality. I do around 25 individual calendars for family and friends as Christmas gifts, Very few companies give the chance to get multi buy discounts on different calendars so I am very happy with this company and will continue to use them every year. They just need to develop a way to save my events for repeat use to save me putting birthdays in every time!

Good quality paper and prints - really nice calendar!

Excellent service and company...

Fast delivery and excellent quality. Really impressed. Special Christmas offer pricing also made it impossible to beat for price. Thanks.

very happy with this calendar
100% satisfaction guarantee
High quality printing
Fast delivery ,
receive Monday 25th