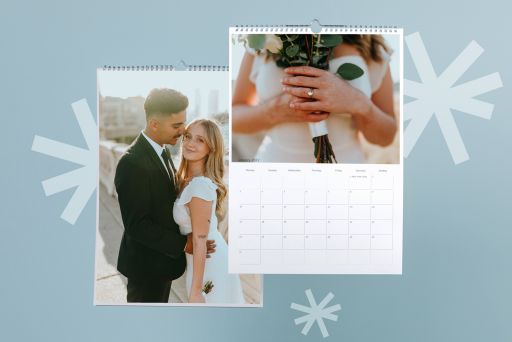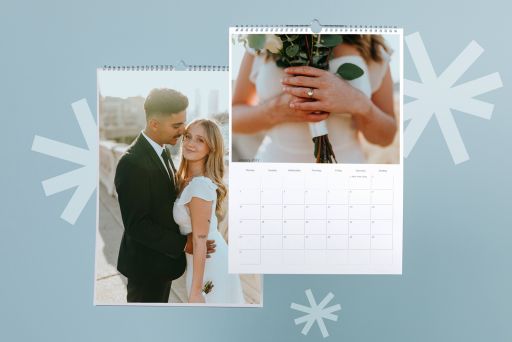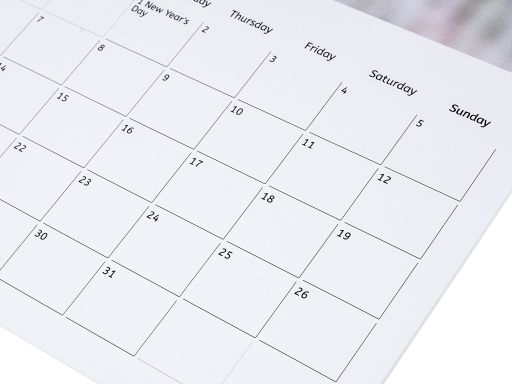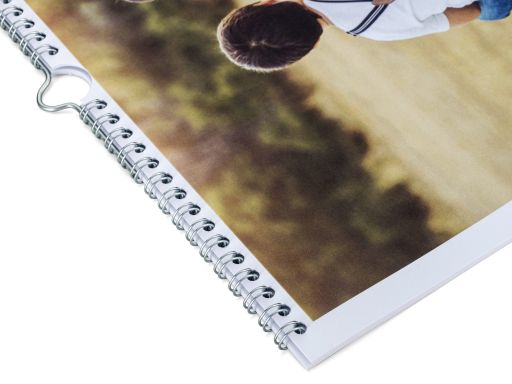 Personalised A3 Photo Calendar
100% satisfaction guarantee
13 pages - 1 cover and 12 months
250gsm silk art paper, quality throughout
Ready to hang
Customise each date with photos and text
29.7cm wide x 42cm tall
A3 photo calendar printed on 250gsm silk art card. All our calendars are printed full colour and come wire bound with a thumb hook ready to hang instantly on the wall. Choose from a range of photo layouts.
Looking for something smaller? Checkout our A4 photo calendar
| | | | | | | |
| --- | --- | --- | --- | --- | --- | --- |
| Qty | 1-4 | 5-9 | 10-29 | 30-49 | 50-99 | 100+ |
| A3 297mm x 420mm | £9.95 | £9.50 | £9 | £8.50 | £8 | £7.50 |
Delivery information and costs for this product range;
RM standard Non Tracked service
Estimated 3 to 5 days
from £4.49
Parcelforce Tracked Courier Service
Estimated 2 to 3 days
from £8.99
Priority Tracked - Royal Mail
Estimated 3 to 5 days
from £7.98
Parcelforce Tracked Courier Service
Estimated 2 to 3 days
from £16.80
Priority Tracked - Royal Mail
Estimated 3 to 5 days
from £7.98
Courier - Ireland Tracked service
Estimated 2 - 3 Working days
from £9
Instore Collection - Banbridge
Mon-Fri 9am -3.30pm
from £3
Courier - Priority
Estimated next working day
from £5.99
Courier - Parcel Force - Highlands & Islands
Estimated 3-4 working days
from £18
Personalised A3 Photo Calendar templates
Customer reviews
5/5
Based on 1,179 customers
So well made, quality is fantastic and arrived really fast! Will be ordering again.

Best price around and Fast delivery. Thank you!

I am absolutely delighted with my personal calendar. Had great fun creating it and it arrived in just a few days. The quality is excellent & I think they make a really good Christmas present with a personal touch. I've since ordered another 2 & can't wait to give them to the recipients. Thank you !!! ????

Superb image quality, very fast production, much better value than Photobox

Really happy with these as usual, great contact & calendar looks brilliant.

The Joy that I get from looking at my images (and the memories they offer) throughout the year - priceless. High quality product.

As always first class service and product

I was really pleased with the quality of the prints and speed of delivery.

Excellent quality as always. I will be ordering some more calendars.

Wonderful calendar. This is my 3rd purchase. Very happy.

Always happy with results

Great product, great quality, fast service, highly recommend

I had a few of these A3 calendars made up for friends in the Relative Hills Society. The landscape photos look superb in every month and the overall finish of each really is great quality. Thank you Pixaprints!!

Extremely happy with our calendar . It was a joint project and it came out a treat . We're very happy .

It made my photos stand out and I was very pleased with the calendar.

Have ordered these calendars 3 years in a row & we've been thrilled with them every time. Great product, great price, fast shipping & helpful customer service team on the phone!

2nd time I have ordered the A3 photo calendar, excellent quality and easy to make up, well packaged and delivered quickly by Royal Mail, keep up the good work.

I ordered 29 calendars for our camera club members. They were delighted with the quality and the price.

I have been using Pixaprints for my annual A3 family photo calendars for several years. The quality of the product is always great and this year's was no exception. I also really like the ease of use and flexibility of the site to design the calendar the way I want it. There are several templates you can use, and some of them can be tweaked to your own preferences (e.g. the layouts). Pricing is reasonable too.

Excellent quality and delivered very fast

Great Product overall easy to design

Yet again, as a repeat customer I'm really happy with the calendar. The quality, ease to design and the speed of the whole process is fab. Thank you

Great print and paper quality, quick delivery and I am very happy with the product.

As always, easy to make up my calendar at a good price and a quick delivery.

Great product ( A3 vertical phoro calendar) and reasonable price. I am placing orders regulary and always great quality! Thank you!

Excellent Calendars: we have used pixaprint for a number of years to make calendars to distribute for Christmas. We have never been disappointed with the quality of the product or the pixaprint service.

This calendar was done to generate funds for the village first responder's. Pixa print was a recommended by a mate who had done a calendar to support his local food bank. And I have not been disappointed the calendars are outstanding in there quality of paper and the clarity of image printing. These calendars are a level above the bonus print type they are that good. Really pleased with the end result.

Good printing and fast delivery. Four stars rather than five because the Months on the calendar appear on the picture area rather than the parts with the dates. I hadn't noticed while editing on a dark background.

Every year I use Pixa Prints for my calendar printing and they never disappoint. Great quality, well put together, quick delivery, well packaged. Plenty of room for them to be written on. Good photo size and brilliant print quality.

So happy with my purchase which is a gift for Christmas for a friend it's the first time using this site after using various of other sites and I will be sticking with these as the quality is amazing can't wait to give as a gift at Christmas

Same excellent product as previous years. Very speedy delivery.

Good quality and great value

I ordered one photo calendar to see how the quality was. Very happy with the received product, very easy to design & very fast delivery. Excellent product .

Absolutely love everything about the calendar. It looks and feels of great quality, especially considering the very reasonable prices. Great for surprising loved ones with. Delivery was super quick too, which sure does justify the slightly higher delivery fee. The design interface is also very user-friendly and straightforward (unlike others I've tried), an added bonus. Overall extremely happy with everything.

Great product, quality thick paper and clear photos!

Really nice and better than expected tbh

Very happy with finished product and will definitely use again

Firstly, I find it far easier to position,resize and centre the images than on other sites. Also the button for maintaining the correct ratio/scale of your image is invaluable. Secondly the speed of processing,printing and delivering. For example, I ordered on the 24th December, it was delivered New Year's Eve, which considering involved days off at Christmas, boxing day etc. Was very fast. Third and most importantly, the images were sharp,crisp and incredibly accurate colours . I had previously used Asda calendars and all the images were chronically underexposed (too dark).

Great and easy website to use. I found the site very easy to create my own personal designed calendar. There is a vast range of styles to create from, from backgrounds to font styles and image displays. This was the first time I have done anything like this and it was so easy! Your website helps you through all the stages with ease until you create your perfect calendar at a great price. Will definitely use you again.

Brilliant calendars, quality is amazing wouldn't go anywhere else, see you next year!

Ordered a few years in a row now. Very happy with quality and ease of design and upload. Customer service prompt and efficient too. Thank you

It would be good if Calendar birthdays and other key dates were kept on file to avoid having to keep checking them.

glad i swopped to pixaprints

Superb calendar and images.

Excellent

Quite good print quality and thick paper.

great product, brilliant print quality and fast turnaround from a professional company. My customers love them

The calendar was easy to design, quickly produced and delivered, and of very good quality.

I am very pleased with the quality of my calendars. The delivery time was also good. I will be ordering some more soon.

Order these in the past from other companies and had problems with quality and delivery. No such problems with these guy, it came within 7 days and was great quality. I was kept up to date with the whole process, from printing to making and then with all the shipping updates. Fantastic!!!

Nice layout, easy to design, good paper thickness and print quality. Wish there were more discounts, but you get what you pay for.

Great quality, so easy to design. Very quick delivery, will certainly be ordering from here again

Superbly made, couldn't have wanted better. Incredible turn-round time too. Thank you.

Thia is my second year ordering calendars from Pixaprints and i did shop around if anything a little expensive but ease of ordering and creating your design is fantastic and excellent customer service and quality

Loved so much by my friends, had to order more for them!

A really excellent product, quality materials used, packaged really well, so a very happy new customer who will be ordering again :)

A beautiful product with a stunning finish. A great keepsake

I love these personalised photo calendars. A great way to share memories of a year. It would help with design if could save each "edit" with a new reference/name however when designing multiple versions.

Very happy with the finished product. The images for each month were of excellent quality and the overall finished calendar was far better than I expected.

Excellent service and very quick to arrive

It would have been nice to be able to copy and paste text into date boxes when designing a personalised calendar as typing is now the only option being offered. Overall very good quality and fast delivery,

What can I say. Great service ( thought it maybe delayed due to COVID) but no arrived as said. And the quality is Excellent. We have been having a personalised calander for a few years now with you, perhaps the lovely pics themselves have enhanced the calendar this year. But we are delighted and thank you.

The calendars were to a high quality. I have used Pixaprints for several years and really happy with the printing.

Excellent product, third year of ordering, never been disappointed. Would not hesitate to recommend

I bought a full-page photo calendar and initially didn't realise I could add multiple pictures - once I realised that it was very easy to make a fab calendar. Provided you have good quality pictures to put in the resulting calendar looks brilliant.

This is the third year I have ordered a calendar from this company, easy to do a d quick delivery. Love looking at my grandchildren pictured on each month especially this year as I have not seen them much
100% satisfaction guarantee
High quality printing
Fast delivery ,
shipped by Tuesday 5th
More about Personalised A3 Photo Calendar
Super size your photo's
Our largest calendar in the range, A3 measuring 29.7cm wide x 42cm tall. We have a range of templates to choose from that make your photograph print full page or half page sized photographs. Why choose the half page template when you can get photo's the full size of A3? The half page designs allow for a larger calendar area that has boxes you can write on so you remember those important dates :) They are also the most popular choice for our customers.
250gsm silk art & the environment
We call this the "good stuff" and the final product showcases it. Every one of the 13 pages in our calendars is printed on 250gsm silk art paper. The paper is sustainably sourced ensuring trees are replaced.
Carbon offset
Pixa Prints care about the environment and we are doing our bit to help where we can. Each month we contribute to carbon offset programs based on the paper we use, this is on top of the paper being sustainably sourced already. We are certified by our paper providers monthly as having offset the carbon produced during production of the paper.
Customise each date
Each date can be customised with your own photo or text, never forget that important birthday or meeting again. This option is available on most of our templates.