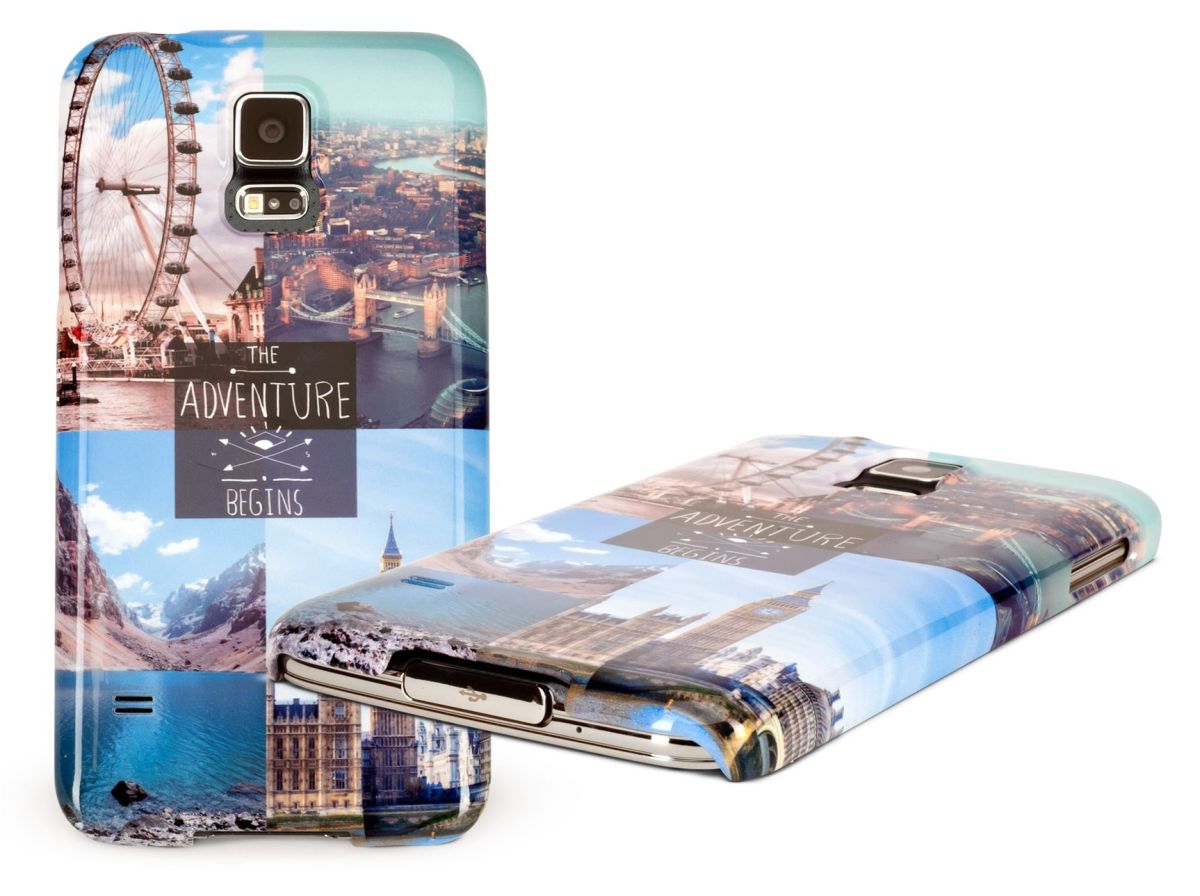 Personalised Samsung Galaxy S5 Phone Case
A great way to protect your new pride and joy. A snug fitting snap on case that will protect your phone from bumps and scratches. Perfectly placed cut outs allow you to use the buttons as normal on your phone without the need to remove.
Printed full colour
Gloss finish
Protects your phone
Ultra thin snap on case
Design online from range of templates
Delivery is calculated and displayed at the basket. We combine orders where possible to ship items together. If items belong to the same shipping group we combine the number of items and only charge one fee. Prices shown below are the delivery fees for the category this product belongs to.
Channel Islands
| | |
| --- | --- |
| | 1 - 20 items |
| Parcel Force - UK 48hr Excludes Highlands & Islands | £18.60 |
| | | |
| --- | --- | --- |
| | 1 - 4 items | 5 - 9 items |
| Royal Mail Special Delivery | £9.60 | £12.00 |
| | | |
| --- | --- | --- |
| | 1 - 4 items | 5 - 9 items |
| Royal Mail Priority Tracked | £7.98 | £9.00 |
Ireland
| | | |
| --- | --- | --- |
| | 1 - 50 items | 51 + items |
| Courier - Ireland | £7.22 | £14.45 |
N. Ireland
| | | |
| --- | --- | --- |
| | 1 - 1 items | 2 - 2 items |
| RM 1st Class Not Tracked | £2.99 | £4.49 |
| | | |
| --- | --- | --- |
| | 1 - 50 items | 51 + items |
| Courier - Northern Ireland | £6.60 | £14.40 |
| | | |
| --- | --- | --- |
| | 1 - 4 items | 5 - 9 items |
| Royal Mail Priority Tracked | £7.98 | £9.00 |
UK (Mainland)
| | | |
| --- | --- | --- |
| | 1 - 1 items | 2 - 5 items |
| RM 1st Class Not Tracked | £2.99 | £4.49 |
| | | |
| --- | --- | --- |
| | 1 - 50 items | 51 + items |
| Parcel Force - UK 24hr | £15.60 | £31.20 |
| | | |
| --- | --- | --- |
| | 1 - 50 items | 51 + items |
| Parcel Force - UK 48hr Excludes Highlands & Islands | £9.00 | £18.00 |
| | | |
| --- | --- | --- |
| | 1 - 4 items | 5 - 9 items |
| Royal Mail Special Delivery | £9.60 | £12.00 |
| | | |
| --- | --- | --- |
| | 1 - 4 items | 5 - 9 items |
| Royal Mail Priority Tracked | £7.98 | £9.00 |
Customer reviews
4.9/5
Based on 108 customers
great quality, fast shipping, will always order again.

Although the first one that was delivered was the incorrect size, they dealt with the problem quickly and I still received the right one in time for Mother's day. Very happy with the product, would definitely recommend.

lovley case again this is the 2nd time i have brought off you and both times they have been fab

Couldn't fault the product or quickness of delivery, amazing quality pictures, amazingly speedy delivery, couldn't fault anything! Would highly recommend and will definitely use again!

Bit of a last minute purchase for a present.. simple and easy to order on my phone. Placed the order about 6pm Monday evening and the item arrived with the recipient on Wednesday morning!! I did pay the higher postage but even so, I was impressed! It's good service for any item let alone a personalised one! Even more importantly I was really impressed with the quality of the product and the recipient loved it so a huge success and will definitely be using this website again! Thank you ????

I'm absolutely in love with my case. Really good quality and arrived quickly as well. Money well spent!!

I ordered 2 covers, 1 for mum's phone and 1 for mine to replace older Asda printed ones. We had always used Asda as we liked that they always provided a little extra case at the sides so that if our phones fell face down, there was a reasonable chance our screens would be fine. However, at £18 plus delivery i decided to shop around and I'm so glad I did! These cases are exactly what I was after. The print quality is good, they still offer the extra protection on the sides, mum was able to do a collage at no extra charge, and it was only 1.5 days for delivery! I was also very impressed with the email system, which let me know whenever the cases moved up the process for delivery as it gave me a good idea when to expect them. I can't recommend pixa prints highly enough and will definitely be back!

I must admit I was dubious, given the price, but I couldn't be happier with my phone case. I chose to use the design from the cover of my book, and I have had a few people ask me about it as a result! Thanks for prompt service and a fantastic product!

Great quality and a great price

Love my new phone case, great quality photos and excellent service. Would highly recommend.

Very happy with the cases and how quickly they arrived :)

Really happy would use again

My partner loved this gift!

The options are endless on what you can print, the quality is great and the designs are top notch. Will be purchasing from this site again in the near future.

I love the cover it's a great way to look at photos of my family all the time it's great value and I was extremely happy with the cost and delivery time

Arrived quickly and looks great.

I have use this company a few times now and could not name a single issue that I've had. Great service.

Easy to order and to apply to phone. Looks great!

So quick and I was kept up to date throughout the full process.

Thank you! I am so happy with these cases, they fit perfectly and look amazing.

The phone case is a real success and was fairly easy to put the photo on. The only downside was that it took a long time to be delivered by Royal Mail.

I was very pleased with my phone case, the quality of the case and the printing were excellent and fast delivery too!

Gift for hubby... great quality case and images came out really well. He loves it. A bit tricky to position pictures exactly how I wanted but was doing it on my phone... would probably have managed quicker on the pc. Super fast delivery. Thank you!

This was a mothers day gift I. So easy to pic favourite pics and arrange . I abs adore my case as it so original and personal .

Easy to design & phone case was delivered promptly. I'm very pleased with my new phone case, the quality is high and the pictures have come out really well, bright & colourful. Would definitely recommend this product.

First time I have used pixa prints . Wanted something original for my daughter of her little ones .. They picked the pictures for the phone case making it even more special for her . Result = she absolutely adores her case . Would highly recommend and will definitely use again . Ordered on a Tues . Delivered Thurs ! Fantastic value and service ..... Thank you .

I love my phone case easy to design and quick postage, very happy

My sister in law love her gift. The package came right on time thanks Pixa Prints

Great photo quality! Easy to design and was delivered quickly. this product is definitely worth the money!

Good quality product, one of the best prices i could find.

Thanks for sending a replacement so fast, this one is perfect.

Arrived quickly, well packed, easy to design but one small scratch.

Fantastic quality. Can't believe the quality of the pictures. So clear.

Havnt tried fitting the case on the phone yet as it's an xmas gift but it looks really good

Overall, I would say that it is a great design, the pictures came out clear and the quality of the case is really good. I do like the gloss finish on it

Really very pleased with the service and the quality and the price highly recommended

The glossy finish was great and the pictures good quality. Will definitely use in the future.

Great quality.fast delivery.Just as I asked for Very happy and will order more.x

Pictures were of high quality. None of the image was lost.

I was really happy with quality of the picture on my phone case would recommend them to anyone I shall be purchasing more products off them

Very pleased with my order. The phone case is strong and the printing of the image on it is great, with a lovely glossy finish. Ordered on Thursday evening and arrived on the Tuesday which was impressive having it been a bank holiday weekend.

Looks great in the flesh. Nice and glossy. Took a little positioning of the photo on the website to get the wrap effect to work properly, but looks fantastic on the phone. The plastic is better than many others I have used, doesn't feel brittle at all. Easily would buy another when I change my phone.

Why a big N on the back of my case in the middle

Second case i have ordered and once again it is fantastic. The quality of the pictures are amazing and i couldn't be happier

Very clear can't get any better.

Stumbled across pixa on google and read good reviews. They were justified. Easy to design and came the day after I ordered via royal mail! They kept me up to date throughout the printing process which was a great touch. Product is perfect. Thank you!

Really happy with the quality of the case and the support of the company when I had to change it!

I decided to design my own phone case. I was worried it wouldn't be printed because it was illustrative rather than photographic. But it printed well, and I'm so happy! The only thing is if anyone decides to design their own covers, the colours may come out slightly duller than on-screen, but it still looks good!

Galaxy S5 phonecase with single photo was better than I expected. Excellent quality , very clear print, very pleased. Lots of folk admiring it.

Great quality prints. Very nice phone case

Great quality product that made my husband really happy on Father's Day.

This is the second case I've ordered from here and both have been excellent products. Great quality, fast delivery, no complaints. Well definetley order again and again

I am thrilled with my phone case,it's perfect,beautiful gloss finish to the photo's..Many thanks to my granddaughter who showed me the one she had had done.Case fits perfeclty as well. Excellent fast service,excellent product. I am more than happy!

The only website I've come across that offers great quality printed phone cases. This is glossy, high quality and sturdy with no signs of chipping or scratching. My only qualm is that you really do have to ensure your photos are properly aligned to eachother, as this is a mistake I made, although this doesn't affect the quality of the product.

I got update emails all the way through. very helpful. Item arrived quickly but with excellent finish :)

Fantastic item great quality and fast delivery

Really happy with the result the quality of the pictures is fabulous and it was a fast delivery too

Great product! Very easy to upload the photos and they are extremely good quality. Very happy

Good product, good idea for a personal gift. Only downside is the pictures aren't aligned properly on the edges

Brought for a birthday present, arrived very quickly through the post and was well packaged. Photos are a good quality, and the case fitted the phone well. Tempted to buy one for myself!

The cover arrived the following day, and I chose the cheapest shipping option! The material is solid, the plastic shines just right and the image has been rendered beautifully and flawlessly. I will recommend Pixa to all my friends, as it's cheaper and *way* better than the alternatives. Thanks for a job well done guys, and see you soon! :)

my order came very quick and the quality of the pictures were excellent.

Very pleased with phone case. Came next day at no extra charge

the photo quality on the phone cover is crystal clear. absolutely over the moon with this product, looks like its worth double what it cost. unbelievably fast delivery too. cant recommend highly enough. I'll definitely be using this site again

great product, fast service and good communication

I am really impressed with the quality of the phone case. The product arrived within 4 days of completing the order online. The company keep you informed of the process of your order and let you know when its completed and posted out.

I ordered this on Friday morning and it arrived Saturday morning, The quality is outstanding and I'm very happy with the product. I would highly recommend Pixa Prints to anyone who needs a photo phone cover.

I am so thrilled that I came across this site. I now have a case that I truly love and I couldn't be happier. The delivery was pretty quick too. Thanks guys. :) Go on. Buy one. You know you want to.

Really pleased with the cover for my galaxy 5 .

A great product and a great service received

The picture quality is amazing! And at such a great price! Will definitely be using this service again. Thank you!

Over the moon with my phone case, good quality and service. Love it.

First time I have used pixa prints but will definately use this company again highly delighted with this product & the cost.
100% satisfaction guarantee
High quality printing
Fast delivery ,
receive Monday 25th