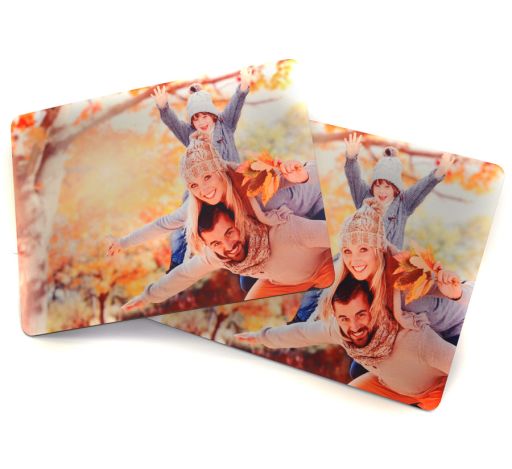 Personalised Placemats
from £2.99, shipped Thursday 26th
Pack of 2 hard wearing wooden personalised placemats that are heat resistant. Get your very own unique photo put onto your placemats with a gloss finish. Can be wiped clean with a damp cloth. Perfect gift to brighten up the table, especially when paired with a matching set of custom coasters
23cm x 19cm
Heat resistant
Easily wiped clean
Pack of 2 placemats of same design
| | | | |
| --- | --- | --- | --- |
| Size | 1+ | 5+ | 11+ |
| Placemats - 19cm x 23cm | £16.50 | £15 | £13.40 |
Delivery information and costs for this product range;
Standard delivery - Royal Mail
Estimated 2-3 working days
from £2.99
Courier Standard - Parcel Force
Estimated 2 working days
from £9
Priority Tracked - Royal Mail
Estimated 1-2 working days
from £7.98
Courier Standard - Parcel Force
Estimated 2 working days
from £18.60
Priority Tracked - Royal Mail
Estimated 1-2 working days
from £7.98
Courier
Estimated 1-2 working days
from £6.32
Standard delivery - Royal Mail
Estimated 2-3 working days
from £2.99
Courier - Priority
Estimated next working day
from £6.60
Priority Tracked - Royal Mail
Estimated 1-2 working days
from £7.98
Customer reviews
4.8/5
Based on 12 customers
Got some more of these for my parents as the other ones I got for my auntie n uncle went doon a storm....very, very happy with !

I have ordered from pixaprints on several occasions. Always a top class service. Beautiful placemats, thank you x

I recently got a new dining table so thought i would treat myself to some custom place mats with my own photos, as always the quality of them is second to none, hard wearing and easy to clean and the photo quality on them is superb!

Lovely finish on high quality place mats. Really pleased with the photos (despite a couple of them being poor quality from my upload). These are going to make two people very happy and they made me happy too. Am now thinking who else I can buy some for!

I am a pro photographer and to be honest I didn't expect the quality I got from the Placemats and Coasters I ordered. The colours were true and lovely print quality.
100% satisfaction guarantee
High quality printing
Fast delivery ,
shipped by Thursday 26th
More about Personalised Placemats
The perfect way to brighten up your table and make meal times more fun, personalised placemats give you the opportunity to decorate your dining area with your own photography. From holiday photography of sunsets and beautiful beaches to family snaps, pet portraits or scans of your children's artwork, you can let your creativity run wild to create truly unique placemats. These placemats are wonderful keepsakes that the whole family will love, and also make great gifts for friends and family for Christmas presents or birthdays.
Choose from a selection of templates, from single images to pre-designed collages, to suit your style. Kids enjoy seeing their own artwork and photos, so why not create a selection of your kids' snapshots for their party? Alternatively, create a fun talking piece for a dinner party with montage placemats that show off your latest trip abroad – the perfect conversation starter.
You'll receive a pack of two hard-wearing, heat-resistant placemats that will not only look great imprinted with your photos but will protect your table as well. Each mat features the same design and a high gloss finish. These mats are easy to wipe clean of any spills with a damp cloth, ensuring they'll be easy to maintain through everyday use so you can enjoy them for years. Creating your customised placemats couldn't be simpler with our easy-to-use editor. Upload your image, edit and adjust until you're happy with your design, then wait for your custom placemats to arrive.