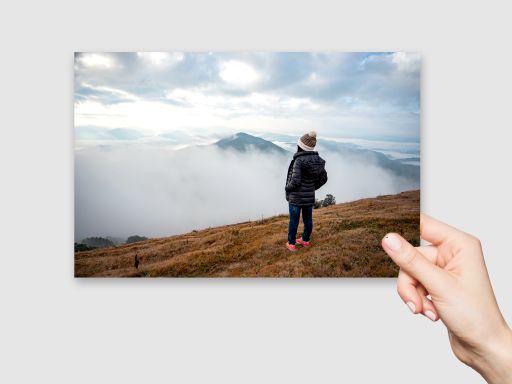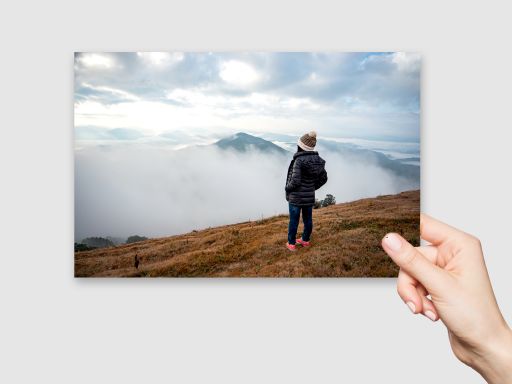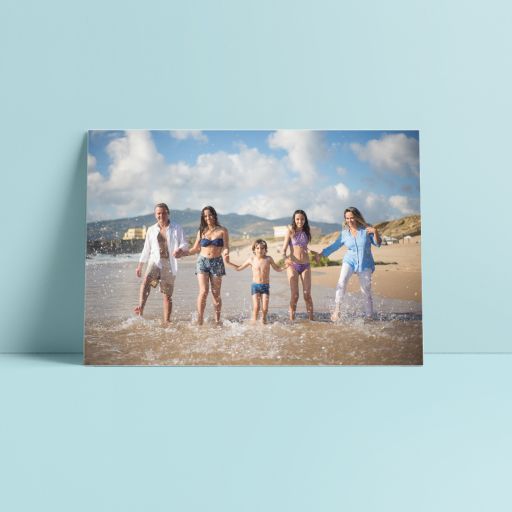 Large Photo Prints
100% satisfaction guarantee
High quality, large photo prints printed in our photographic lab.
Many sizes to choose from; starting at 8"x6"
250gsm Premium Photo Paper
Quick 1 day dispatch
Gloss and Lustre finish available
Image colour enhancement
8 x 10 large photo printing is a popular size, frames are easy to buy and fit perfectly on shelves or coffee table. But if you want a super sized big photo print choose our 8 x 12 photo prints. Whatever you choose when you print large photos, make sure you upload the original photo to give the best quality possible.
| | |
| --- | --- |
| 8" x 6" | £0.50 |
| 8" x 10" | £1.14 |
| 8" x 12" | £1.30 |
| 15" x 5" | £3.90 |
| 24" x 8" | £5.50 |
| 12" x 16" | £6 |
| 36" x 12" | £8.99 |
Delivery information and costs for this product range;
RM standard Non Tracked service
Estimated 3 to 5 days
from £2.99
Parcelforce Tracked Courier Service
Estimated 2 to 3 days
from £9
Royal Mail Special Delivery
Estimated 1 to 2 days
from £9
Priority Tracked - Royal Mail
Estimated 3 to 5 days
from £7.32
RM standard Non Tracked service
Estimated 3 to 5 days
from £3.98
Parcelforce Tracked Courier Service
Estimated 2 to 3 days
from £12
Priority Tracked - Royal Mail
Estimated 3 to 5 days
from £7.32
Courier - Ireland Tracked service
Estimated 2 - 3 Working days
from £7.14
RM standard Non Tracked service
Estimated 3 to 5 days
from £2.99
Instore Collection - Banbridge
Mon-Fri 9am -3.30pm
from £3
Courier - Priority
Estimated next working day
from £6.60
Customer reviews
4.9/5
Based on 156 customers
Speedy service and product of a high quality.

Would definetly use again

Yet another great print . Very good quality and fast delivery

Great photos, super quick delivery and awesome price

Amazing quality prints and great value for money. Love the offer of 25 free prints. I also tired and tested Pixa's bigger formats. Highly recommended! It's always a joy when postie comes with

Very easy to use. Quick time to dispatch. Would definitely use again and recommend

So happy with the prints and this was one of the few companies to be able to provide the prints in the size I wanted. Also received product as advised and I will definitely recommend.

Excellent service, brilliant prints and top value for your money. I certainly will use again. Thank you. Pixaprints.

Would use this service again

My pic turned out perfect

Ordered with 24 hour guarantee to arrive in time for Mothers' Day, it took a week to arrive

Good quality and very quick service. Will order again.

I ordered these prints and they were actually cheaper than other places that I viewed first. I wanted to print out over 100 images and decorate my home with them before Christmas. I ordered them a few days before Christmas and they came on Christmas Eve. I was able to decorate my home. The packaging was amazing and I felt really sure my images were protected throughout the whole journey from print to home. I am honestly so pleased that I discovered pixaprints and will be using them religiously for all of my photo printing needs.

Really pleased with the print, is exactly what I wanted - great price too.

Delighted with this large print for framing. Thank you.

Very quick delivery and amazing photos

Prompt delivery. Competetive prices

110% as usual..

Always a pleasure to deal with..Highly recommended.

Super quality , colours fantastic.

Selected set size but did arrive bigger than stated. Otherwise all good.

Happy quick service lovely prints

Excellent print of a poster i designed, highly recommended

Very pleased with the print, the speed of delivery and the progress updates, all top notch, great service!

High quality print, perfect sizing & we'll packaged. I now have it framed & on prominent display.

Excellent products and fantastic delivery time.

Ordered this square 12x12 photo and both time it came damaged due to being sent in a flat envelope. Pixaprints had sent theirs rolled in a tube which meant it arrived damage free and the print quality was excellent.

Great print, delivered quickly

First class picture and service, will definitely use again.

First print I ordered (via my phone) was very poor quality (imagine was very blurry). I was offered another print for free, which I uploaded via a laptop and I am very pleased with this.

This was my 2nd poster collage, really pleased with the results. Highly recommend.

I use Pixa Print year on year for my calendars as they are great thick quality pages, the print is excellent and overall look very pleasing.

Speedy delivery; good quality.

First time I had ordered prints of a large size from Pixa Prints, but as with other products I was very happy with the service and quality of these prints.

I am very happy with my photos, great quality, and very well packaged. Came quickly and I will definitely be using again. Highly recommended. Thank you.

I ordered 8 x 6 and 7 x 5 prints, both were very good. The only issue I had was the blacks appeared to be a bit lighter on the 8 x 6. When the 7 x 5 arrived, they looked much better. As the 7 x 5 is my preferred size for framing, I have since ordered more and they have been really good, the quality is equal to a print that cost me £14 from elsewhere. As far as value for money and quality, you can't really go wrong.

Great quality super fast delivery will definitely recommend

Fantastic product. Delivery was so fast- I ordered late on a Sunday night and they were with me on Tuesday morning. Quality was great- exactly what I was hoping for.

The whole pixa prints experience is great

Super transaction from beginning to end.

never can complain great quality and service

I had given the original away and wanted a copy for myself. I sent the photo with hopes that it would be OK and I was amazed at the quality of the print I got from Pixa. I'm already planning to buy several more.

Ordered a 16x12 lustre print of a sunset over the Baltic Sea. No problems at all. Kept informed by e-mails of what stage the order was at. Duly delivered though I did have to go to the Post Office to collect as we were out at the time of delivery. Overall an excellent service.

Good quality, great service as always. Fast post as well! Thank you.

important wedding photos - fine for framing

Having struggled to find a company that prints large prints on quality paper, I was delighted to receive our large poster prints which are of excellent quality

As I've come to expect from Pixa prints... great quality prints and super fast delivery.. Perfect colour match which is something so many other printing companies struggle with in my experience.. So glad I discovered this company...

Great speedy service, quality is amazing. Very happy will be using again

i got the prints very fast very happy

Very happy to have recieved my quality prints. I was updated on every stage of the order process and they arrived quickly. Would recommend

Great product, rapid delivery (just used standard delivery), really impressed. Design programme for the collage super easy. Will definitely use again!!

Although the process of ordering was simple and the product arrived promptly, I must say that I was very disappointed with how dark the print came out. I could hardly see the faces od the people in the photo! I am unable to frame a print that came out so dark, and so the photo is useless to me. Pixa Prints: Hi Bradley, Very sorry to hear of the issue. I have emailed you directly so we can fix the issue for you and provide a reprint.

Lovely print quality. Easy site to use. Very efficient. Will definitely use again

Great quality produce received quickly.

Made a mistake when ordering, rectified in no time and the prints were with me 36 hours later! Impressed!

Excellent quick service - especially since it was over the Chistmas period. Thank you.

The quality of the print was amazing, the package and sped of delivery was far better than expected, used many other sites for prints, this firm beats them easily
100% satisfaction guarantee
High quality printing
Fast delivery ,
shipped by Tuesday 5th
More about Large Photo Prints
Increase Impact With Large Photo Prints
Canvas is the mainstay for photo printing, and we can't think of anything that provides a better feature on a wall. However, if you're after poster size photo prints or have a customised query, feel free to contact us to see if we can accommodate your needs.
Large photo prints created in fine detail create a wow factor that smaller photo prints can't quite live up to. Large format printing has its drawbacks if the quality of the photo provided is lacking.
Image Resolution
The resolution of a photo image needs to increase with the size of the print area. For example, a 16" x 20" photo image should have a pixel resolution of around 1600 x 1200 to reproduce high-quality photo prints.
Example of a low vs high resolution image.
What are Pixels?
Pixels are the smallest recognisable element of a digital image. The number of pixels in a digital photo determines the resolution of the image. As a general guide- the minimum resolution you should consider for a standard print 6"x4" photo should be 1024x768 pixels. This equates to a camera of around 1 megapixel.
Photo enlargements are generally fine for large photo reproduction with today's digital cameras. If unsure, please contact us as, after all, it's our job to advise! Pixa Prints have invested heavily in high definition digital printers for optimising the resolution required for large format prints. More resolution means sharper detail and clarity and greater customer satisfaction.
How Large Is A Large Photo Print?
What constitutes a large canvas print is a question we're often asked, and the answer is subjective. Here at Pixa Prints, we decided 'large' starts above a recognisable print page, the A4. A4 pages are 210mm wide by 297mm long. Any print over that size usually would require special printers. Our large print sizes start at 12"x12" and larger sizes go to 36"x48" as standard.
Large prints, 8 x 10 Inch upwards.
Most of us are aware of the power of the digital camera within our phones, snapping away when an opportunity arises. Yet we tend to forget the reason for taking the photo in the first place! Surely, it's not to store them inside the camera? Events captured on a digital camera make perfect photo gifts. A well-conceived large photo print can enhance any room design acting as a work of art in itself.
Whether a one-off or collage print, we've got you covered- just picture it and we'll do the rest! Our large photo prints are produced on the latest silver halide photographic printer equipment and printed on Fujifilm crystal archive paper. Glossy or matte finish is available, as well as vibrant colour enhancement to make your photos pop. (Think Andy Warhol vibrant colours!) If you prefer the style of retro prints, that's fine too. To top all of this, we provide a quick turnaround! Simply send your favourite photo along with your chosen requirements and within 24 hours it will be whisking its way back to you!
Pixa prints- for large format photo printing.