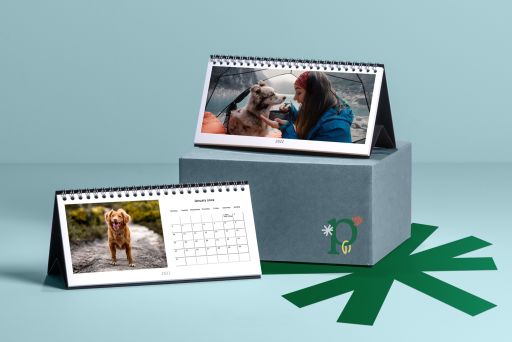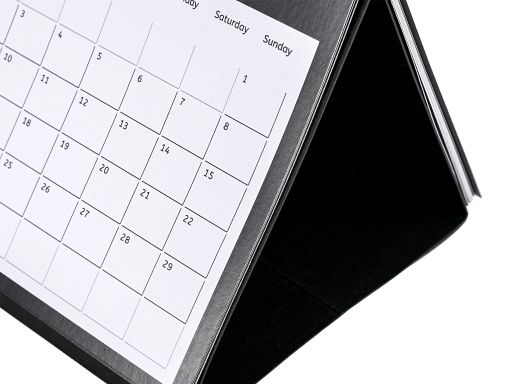 Personalised desk calendar
100% satisfaction guarantee
This stunning 2023 personalised desk calendar is printed on premium 250gsm silk paper.
Our handmade offering of a personalised desk calendar is a perfect gift for friends, family, or even to promote your business.
With a Pixa Prints personalised calendar you get;
An easy access diary with your own photos
An opportunity to add an individual calendar month image to each page and the front cover
A chance for a business to promote branding
Great quality 250gsm Silk Paper and artwork
A 210mm x 99mm print area
To choose the starting month for your calendar
A personalised gift that lasts all year!
Why not create your own 2024 photo desk calendar today? It's simple to do and once you're happy, will be ready to ship within 24 hours!
Qty
1-4
5-9
10-29
30-49
50+
210mm x 99mm

£13.99

£9.98

£13.99

£7.98

£13.99

£6.76

£13.99

£6.20

£13.99

£5
Delivery information and costs for this product range;
RM standard Non Tracked service
Estimated 3 to 5 days
from £2.99
Parcelforce Tracked Courier Service
Estimated 2 to 3 days
from £9
Royal Mail Special Delivery
Estimated 1 to 2 days
from £9
Priority Tracked - Royal Mail
Estimated 3 to 5 days
from £7.98
Parcelforce Tracked Courier Service
Estimated 2 to 3 days
from £18.60
Priority Tracked - Royal Mail
Estimated 3 to 5 days
from £7.98
Courier - Ireland Tracked service
Estimated 2 - 3 Working days
from £7.14
RM standard Non Tracked service
Estimated 3 to 5 days
from £2.99
Instore Collection - Banbridge
Mon-Fri 9am -3.30pm
from £3
Courier - Priority
Estimated next working day
from £6.60
Priority Tracked - Royal Mail
Estimated 3 to 5 days
from £7.98
Courier - Parcel Force - Highlands & Islands
Estimated 3-4 working days
from £18
Customer reviews
4.9/5
Based on 146 customers
Really pleased with this desk calendar I purchased for my son. The quality of the photos on each month is excellent...

Very professional service. Flexible templates/designs Speedy results

Website is very easy to follow and the end product is excellent quality. Fast processing time also and notified throughout.

Amazing this is now my 3rd product and all have been so nice

Great product and efficient service

Very pleased with the quality of the calendar.

Lovely calendar bought as a gift. Good quality printing. Love it!

Very happy with my desk calendar and can't wait to be using it from January quality is great one very happy customer :)

Having got calendars printed elsewhere previously, these are by far the best. To be able to put multi-pictures to a page solves a lot of my decision-making.

Made this for myself and it became a personal unique gift for myself each year now!

Such an easy process and a gift that will be cherished by the recipient.

Great looking calendar. Did it for my son who says it is fantastic!

After finding that my long-term printer (of some 12+yrs) had ceased to create this style of calendar, I decided to try Pixa. Whilst pricier, the product is great quality and the service/delivery incredibly good!! Thanks Pixa

I created a 21 x 10 cm desktop calendar using movie posters. Very pleased with the quality and speed of delivery BUT the dates on the calendar site are far too small. For ten years I ordered from Vistaprint but they discontinued their 'small' calendar so PIXA were the only company who provided a calendar of the same size. Any chance of making the date numbers fill the squares in the future?

I keep buying calendars for others so treated myself this year

Had issue but it was sorted and resolved quickly

I ordered a desk calendar as a gift and personalised it with family photos and so happy with the quality of the photos and the product overall and it was easy to navigate through the site and to change photos until you were happy, would definitely recommend to family and friends.

My only quibble and why I only gave it 3 stars for Ease of Design is that I would have preferred to be able to drag photos in directly rather than having to download them first.

Really good quality photographs and calendar. All Pictures clear, website easy to use. Well done Worth tying

The desk calendars arrived really quickly. They are good value and good quality.

Pictures great just as I wanted them in the calender No mistakes great quality

Bought a photo desk top calendar for my son for Christmas as he is now working mainly from home and is in thd process of setting up his home office. This is a great, and useful, item that doesnt take up much space but gives the office desk a more personal touch. Love it

Really happy with the results. Will use again.

Only downside was that national holidays etc were added that I didn't know would be and didn't want, but the quality of the product itself is lovely

Happy with the product and everything was good from start to finish.

This product was quick and easy to design and delivered well packaged in super fast time, however it was very small so not really practical for writing on - could do with being a little larger for me to order again.

It was quickly delivered and really good quality

Really easy to design and came quickly. For suggestions it would be nice to have more background choices but the calendar came nicely packed and in time so 5/5 for me

Quality exceeded expectations, which was great as it was a personalised present for a friend.

Easy to use and quality of the product is great.

Ordered this last minute for a Christmas present and was worried it would not arrive in time. Cannot thank you enough for the quick design and delivery time especially at this time of year. Absolutely love this product, exactly what I was looking for :)

Just the right size quality excellant,very pleads,

Excellent, easy to make calender.

Very easy process to create calendars. Excellent quality and fast delivery.

I love that you can add extra photos in the actual calendar dates as well, eg for people's birthdays - the finished result was brilliant.

I have ordered from other big online printers and been happy, this year from Pisa, I'm exstatic the quality, clarity, is the best. Easy to use design service. Outstanding results will be back

Absolutely perfect, what a fantastic gift this is going to be ,so easy to create and a super fast delivery. Thank you.

Fantastic quality. Really easy to make which is great for someone with poor It skills! Great calendar.

Really easy to create and looks good. Nice present for someone.

This is the first time I've ordered from Pixa (having been let down by other companies) and I was pleasantly surprised and the quality of my calendar, the speed of the service and the price. I will be back!

Quality great, delivery speed amazing. Highly recommended

So pleased with the Desk calender. Fabulous quick service, definitely will order again and definitely will recommend to friends and family.

So quick and easy to do will definitely be becoming a regular thing

They said the delivery will be next week, and it has arrived more earlier!! The quality is also very very good. Positive!!

Incredibly easy to use for my leavers calendars. I highly recommend pixaprints, the instant on the phone support by Glynn was brilliant. Recieved the order within a week of placing it. Thank you so much. I will recommend you to my colleagues. Can't wait to use pixaprints again.

Easy to put together with my favourite photos and very quick delivery afterwards. Very pleased with the finished product. This is a great idea for a gift also.

I tried to make a calendar on a number of different websites before I came to Pixaprint but gave up because the software was just too frustrating to use. This was so simple and I could add multiple pictures to each month. The calendar was smaller than others I've had but, actually, it fits better on my desk. Great quality and I would definitely use Pixaprints in the future. Delivery was exceptionally fast too!

I designed a desktop calendar for a friend, it was an easy process and once I placed the order delivery was quicker than I expected.

Love the product, amazing gift. Smaller than I would've expected but then again I didn't check dimensions. Pages could also be easier to turn the binding is quite tight

Excellent service and a quick response for calendars to arrive before Christmas. Easy to operate system.

Good product for the price. Easy to use and quick delivery

Great, quick service, really easy to go and fab Christmas presents!

I ordered a photo desk calendar and after trying several companies, used pixaprints and I found it the easiest to use to design what I specifically needed. I also left it quite late to order for a Christmas present but arrived really quickly. Very impressed!

Very quick service. Came out well. Recommended

I designed a desktop calendar for my mum, it was an easy process and once I placed the order delivery was quicker than I expected.

Very easy to upload photos and to place the order, very happy

I love this calendar! It is very good quality and looks really nice. Really pleased with it !

I ordered this for my son for Christmas, so pleased with it. Can't wait to give it to him. Great service, only waited few days .

Made a great job of some of my very average photos!

So fast and at Christmas too. Really great quality

I think my partner is going to love this present it will bring back happy memories thank you the order came back very quick .

A little hard to put product together on iPad/phone. Other than that great.

I was so pleased when this arrived it's perfect size for desk and the quality was really good. Prompt efficient service.

Overall pleased with the calendar but disappointed at the size of the 'daily boxes' which are fairly small and have little room for writing in. Other than that, they are easy to design, the colours are quite good and delivery was fast.

I was very pleased with how this turned out and have ordered further copies.

Great quality and quick delivery.

My order came super quick, very impressed with turn around and quality of product. Would recommend 10/10

This was so easy to make and really enjoyed how creative I could be and speed of delivery was great not to mention the price and quality of the gift too I shall certainly be using pixaprints in the future

I normally order calendars for a charity I help with, but as funds were short I went for the desktop calendar as they are a little cheaper. I was a little nervous in doing so. When they arrived I was blown away by the quality and the look of them & I'll certainly order desktops next year as they are cheaper to send also. Thank you all so much for the quick delivery Sharon Mock (Volunteer Devon Equine Crisis Support)

An excellent product. Easy to make. Speedy service. I could not have wished for more.

Would recommend to anyone! Very good product, excellent service. And great value for money!
100% satisfaction guarantee
High quality printing
Fast delivery ,
shipped by Tuesday 5th
More about Personalised desk calendar
Photo desk calendar
We all know how inconvenient it is at times when waiting for a calendar to load up on a computer or phone. Most people still prefer something more tangible and we're happy as our personalised desk calendars are popular.
A custom desk calendar for 2024 with your favourite photos on display proves a perfect gift for that special occasion.
Simply choose the design for your layout, the start month and photos for each month and you're set!
Once designed, printing is usually completed in less than 24 hours and your desktop calendar is with you in no time.
That's why our client base comes back to us year after year- because we care.
If you're looking for something bigger, check out our personalised A4 wall calendars.