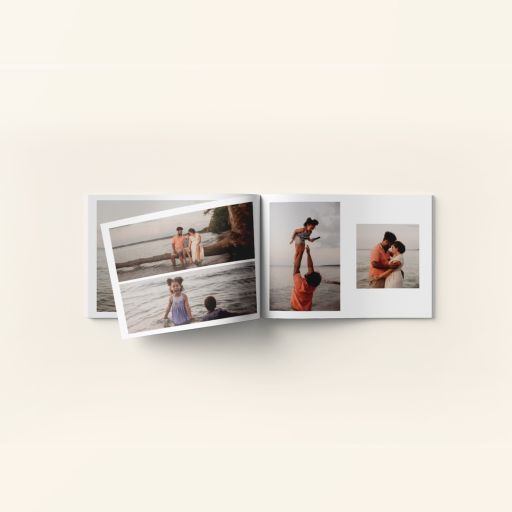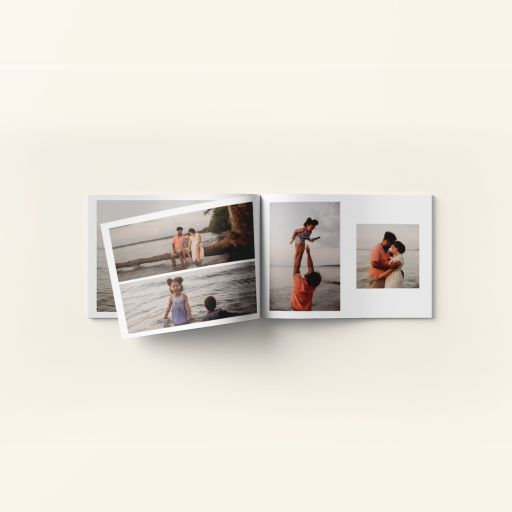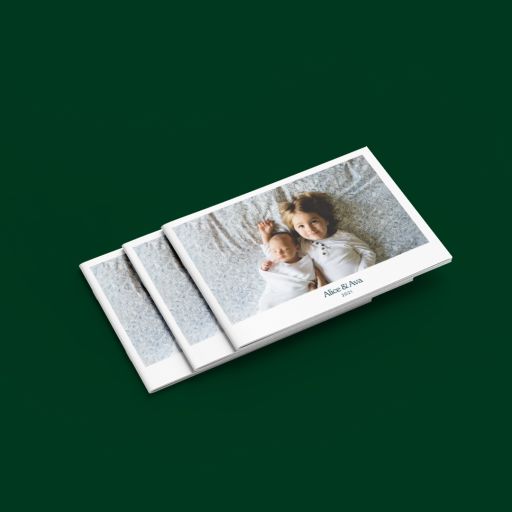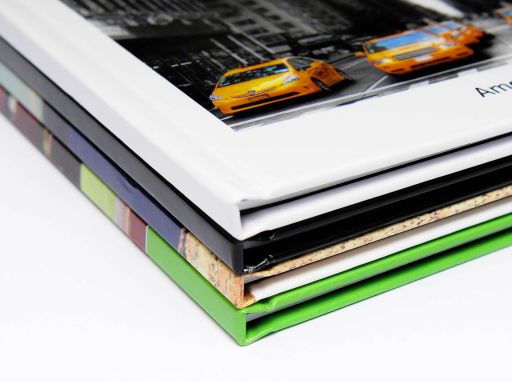 Personalised A4 Photo Book
100% satisfaction guarantee
Create a personalised A4 photobook online using mobile, tablet or PC. Superior quality, thick 200gsm satin paper is a standard feature of our books ensuring stunning colour reproduction.
Size: 27.5cm x 21cm
Paper: 200gsm satin paper
Page count: 22 pages as standard
Maximum pages: 152 pages
End sheets: Cream end sheets front and back
Binding: Traditional glue bound inners
Cover: Gloss laminated, hard cover
Delivery information and costs for this product range;
RM standard Non Tracked service
Estimated 3 to 5 days
from £2.99
Parcelforce Tracked Courier Service
Estimated 2 to 3 days
from £6.98
Royal Mail Special Delivery
Estimated 1 to 2 days
from £9.60
Priority Tracked - Royal Mail
Estimated 3 to 5 days
from £7.98
Courier - Ireland Tracked service
Estimated 2 - 3 Working days
from £6
RM standard Non Tracked service
Estimated 3 to 5 days
from £2.99
Courier - Priority
Estimated next working day
from £6.60
Priority Tracked - Royal Mail
Estimated 3 to 5 days
from £7.98
Customer reviews
4.9/5
Based on 90 customers
Refund provided without problem

Very happy with the quality of this book!

Lovely photobook and fast delivery

So easy to make compared to others I have tried in the past

Absolutely beautiful book, the recipient was over the moon. Not my first order and it definitely won't be my last.

With this particular item I had a minor issue on one page, but PixaPrints very kindly issued a new copy straight away and it was delivered within a couple of days. Very pleased with the finished book and my cousin loved it.

Easy to upload and edit photos. The photo book is very good quality and the speed of printing and delivery excellent.

Really pleased with the quality of the book. The order was processed really quickly too.

Such a great way of displaying favourite photos. Great quality product. Easy to make with plenty of design options. Will always use Pixaprints.co.uk for this type of product. Excellent.

Having spent a lot of time cropping photos prior to upload and arranging within templates, was disappointed a number had been cropped further in final product, losing important elements. It was a shame, otherwise excellent service as always.

My first try at one of these, and I was so happy with the whole process

This was, as usual easy to put together. The quality of the product is fantastic and I am really happy with pricing. Delivery was spot on and packaging perfect. As usual a great purchase, which will give hours of happy memories.

Very pleased with quality of photo book.

I can't believe how fast jobs are turned round, completed and delivered. Super quality but creator must take great care with the location of text so that it all appears on the image.

Fab quality, easy to put together :)

Nice feel to the book. Quality was excellent, photo reproduction very good. This was a gift for a couple we know and they were also very happy with the book. We were delighted with their response when we presented them with it.

Beautiful photobook which the recipient will be able to enjoy leafing through for years to come.

Super service. Very easy to use and the photo book is super quality.

Really happy with. quality, some of the photos were about 80 yrs old but still good quality

A beautifully made photobook - great as a gift

Really please with the photo book, 66 pages and prints are good reproduction of the original, good colour and clarity.

Fantastic product, very happy family members. Easy to use templates with plenty of choices to personalise made a great photo book. 80th birthday party so not all photos taken were great quality but able to do simple editing for lovely end result. Excellent prices, other sites charge extra for everything (thicker paper, glossy paper, editing covers etc) this is all included in already low price. First time have used Pixa Prints but only site will use in future and have recommended to all my friends and family.

Order this photo book for my son - he's going to be so happy with it

Very easy to put together, a great looking book at this price. Very pleased with the finished product.

So very happy with the photo book - the quality of the prints and overall product is amazing. Thank you

I received my photo album and was very happy with how it looks! Perfect as a gift or even a little keepsake for yourself! Defiantly will be ordering from pixa prints again!

great quality photo book! I'm really pleased with it.

great service start to finish. tracking process worked very well.

First time I have ordered a photobook, and I have been delighted with the service. I did at first try to make up a book with of a different style (or "theme") with spaces for different shapes and sizes of photos, which was taking a time, so I reverted to this one, which has all full pages size photos, and it was so easy to do, so suited me well. The book was delivered very speedily - it arrived before the estimated despatch time, which was a real bonus, and the quality is superb.

Very fast , high quality turnaround- I will definatley be using you again!

Bought my first album and had an issue with it taking a date out I didn't want in but came with the date on (my fault as cannot take date out) so reordered the album but put a date in that space. Flicking through to find a picture missing that had previously been printed. When notifying company got told they are looking in to it but not heard anything back yet. Unfortunately had to give the album as a present with the picture missing and explain the issue. Hope to hear from company and receive corrected album soon.

Quality of finished product was very pleasing. Arrived quickly.

Overall very pleased with the photo book and my partner absolutely loved it!! Packaged really well, no problems with delivery, very smartly finished and looks brilliant!! My only issue, and it's a slight one but unfortunately had to miss a star on the quality rating because of it, is that on one of the quotes the authors name overlaps the actual quote itself (as shown on photo)...apart from that, everything is perfect

This deserves 10 stars, I was absolutely delighted with this product, the quality is of the highest standard, it was so easy to do, and the customer service is amazing.I have recommended this to all my friends and intend to use them many more times myself. A beautiful way to store your photos and memories. Well worth every penny.

My family want me to get extra copies for them. Fab quality, I will use this company again.

Very pleased beautiful photo book

Great service from Pixa Prints, very pleased with the quality of the photos. Will use Pixa Prints again.

Not cheap when you put loadsa pictures in your book, why's it not cheap........because it's QUALITY......outstanding prints in the book and the quality, heavy gram paper is fantastic ! Made this for my memories with my buddy, wildlife, he loved it............customer service, second to none, huuuuuuuuuuge "well done" to Richard and ALL the team !

Easy to put together photo book and with the 50% offer, it mean that 130+ pages of photos cost around £40, which was great value. The only thing I would say was that with so many pages, the programme slows down a it as the book gets full, and it gets harder to line up the photo boxes to the guides.

really good value and service

Had a few problems when I created the album as when I added pages I didn't spot that the 22nd page was being pushed forward and ended up as the last page. As it wasn't noticed until after creating the order I wasn't able to change it so I had to order a second album which caused unnecessary expense. The system is a bit too automated as there should be some way of correcting it for a given period before it goes to print or if this is not possible a much clearer warning should be given that changes can't be made after the order is made

Didn't have to wait long for the order to be delivered. Quite easy to design the book and very pleased with the quality of the book! Definitely will use again!

Pixa Prints continue to be best value in both quality and price and thats why they get my business

I love Pixa prints and having used Pixa prints to design a photo book, calendar and fridge magnets, along with coasters and placemats, you would think this was a straight forward five stars across the board. However, I was using an iPad, and found that by scrolling along the pictures at the bottom of the page, I actually moved the pages around which messed up the continuity of our holiday, on more than one occasion! To rectify this, I had to almost date every page using the text box, so I knew everything was in the correct order before ordering. Some times when moving a picture or text box, these would turn, even though I was some way from the scroll button. A useful button would be one that turns the text 90 degrees at each click. Downloading the photos to the Pixa print library was very easy, a definite plus.. It also allows you to see which photos have been used and how many times, another plus. There are many different page layouts you can use, along with various themes, fonts and colours. This also makes for an interesting project. All in all, a very good service, but little tweaks here and there and it could be awesome. All the things I have mentioned above, are just minor issues, and would not put me off using Pixa prints again. I have recommending using this to a friend and with my help we have created a wedding book for her.

Really disappointed about the end pages. They should have been black not white and I don't recall being given an option. I did a 2016 book and didn't have this problem. Totally spoils the overall book.

I've used other companies for photobooks but found Pixa prints' system to be easier to use and with a great range of layout options. The finished product is very high quality and was delivered quickly. Very pleased.

Really nice design I would recommend pixa prints all the time.

Absolutely love my photobook and can't wait to have more once I have taken more photos!

This is the first photobook I have created. The software was extremely easy to use, the product was delivered promptly and the quality is excellent.

I ordered photobook in PixaPrint first time, i was wery surprise with the quality of images. Quality is near to real one, i'm very happy with my first book!!!

Great product. Easy to design once you upload all photos. Templates are very useful and the printing is of high quality. Perfect packaging.

I was shooting a wedding and gave the happy couple a photobook as a present and they were very happy with it. The making of the book was easy and quick, and the colours were true when i got the book back. I cannot fault anything and I recommend Pixaprints to anyone for any product.

Book has a nice feel. Well put together. Slight problem with the laminate at the back but I'm willing to overlook it considering the overall quality. Designing the book is quite easy. Just make sure you submit high res photos.

Myself and my children were so over the moon with this product!! It was simple to make but the finished product was fun and original. Would definitely recommend :-) Thank you.

I love getting my pictures into a book as it keeps them all together in one place. There is no sorting to do and this Pixa Prints book is top quality and very well priced. Thank you Pixa as I am profoundly disabled you make my photography easier to look at and to bore other people with.

It is very easy to create your perfect photo book on pixaprints website! I am very satisfied with quality,fast producing and delivering of finished product.Definitely,I will create my next perfect photo book again, after my holiday! All holiday pictures looks stunning,especially when you will create your photo book in size A4 landscape.I highly recommend to create your photo book here on pixaprint web site because quality,good price and fast delivery is worth of it!!

The 4th time I have used Pixa Prints would highly recommend. Speed of delivery is excellent. Kept up to date with order status.

My wife and I were very pleased with the photo book which I had produced for her as a record of the great holiday we had in California. The layouts were good and the software is fairly easy to use but you really need either an online manual or tutorial to help you to get started, although I was very impressed by the email help I received. Text handling is not very versatile, needs a way of selecting and applying the same colours and formats to a number of text boxes at the same time, rather than having to try and select the same colour for each piece of text individually. Having said that I have already started planning the next project. Thanks again for a great final product.

My absolute savour when another company let me down- I had spent weeks designing a photobook with another company and went to log on to order and nothing had saved! My partner recommended Pixa Prints (at the time I didn't know this was as he ordered a phone case for my Christmas present and the service and quality was brilliant) I managed to design and order my photobook in 2 days due to the ease of design and the quality of service I received through the email/live chat. The book arrived well within the time frame given and I was the quality was excellent. I will definitely be using Pixa Prints in the future as another photobook has already been requested! Thanks so much for all your help! I really appreciate it!

Really pleased with the photo book, will definitely be ordering another in the future, thanks!
100% satisfaction guarantee
High quality printing
Fast delivery ,
shipped by Tuesday 5th